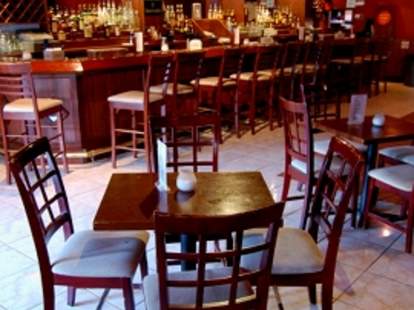 While Miami's abundant clubs serve their purpose, sometimes a man needs a place to kick back, sip a cold one, and wonder when that shiny shirt's coming back from the cleaners. That place is here: Jada Coles.
The brainchild of a couple Bougainvillea's workers who wanted to strike out on their own, JC's tucked along tree-lined Coral Way between Brickell and the Grove, and goes against the Miami grain by delivering a straightforward neighborhood bar whose pub-ish vibe includes darts, a dark hardwood bar, sports-flooded flatscreens, a small stage for local live acts, and fireman paraphernalia on the walls, for reminding you that people can actually be brave. The bar's stocked to craft pretty much any classic cocktail or martini, offers staple brews, and ramps up the kitchen on game days (and eventually full-time) with hangover helpers like fries loaded with bacon and cheese, burgers, blackened chicken sandwiches, and spicy boneless wings with cheese -- simultaneously a tasty snack and cutting referendum on McCartney's post-Beatles work. There're loads of specials throughout the week: Sun's In The Biz with half-off all day for service industry peeps, Mon's karaoke with five-bottle buckets for $10, Tues is poker night, and on Thurs you don't have to buy ladies drinks from 10pm to 1am; JC's also committed to live music five nights a week, with acts like Subprime (90s alt rock covers), The Robby Hunter Band (hip hop covers via Robby's Jack Johnson-esque acoustic vibe), Juke (Blues), Soul do Mato (soft rock), The Real Easy ("haunting space super drive"), and Miller Road, who describe themselves as a jam band, 'cause marmalade doesn't work well in veggie burritos.
Weirdly, one of the owners is a die-hard Red Sox fan, so expect plenty of their games to be up on the flatscreens -- letting Marlins fans sit back, sip a cold one, and wonder when Josh Beckett is coming back.