Lovingly steeped soup in a Columbia Heights basement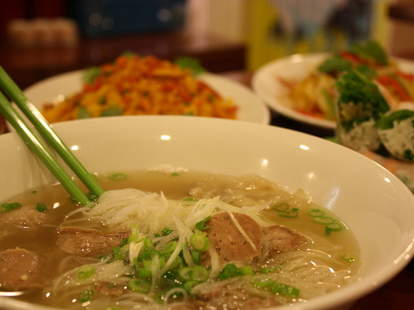 Diligently monitoring prolonged, delicate processes can lead to a huge payoff, or a huge letdown: staring at bacteria yields groundbreaking medicines, while staring at childbirth yields only bank-breaking babies. Producing something great from endless hours of pot-watching: Pho Viet.
Just opened, Pho's a take-out/eat-in, subterranean 30-seat hole-in-the-wall, run by a Vietnamese family so dedicated to traditionally prepared beef & noodle soup, they'll mind the kitchen the entire 8-12 hours necessary for their broth to properly boil, the most protracted Boiling Point since Gandhi agreed to go on MTV. Flavored with cow bones, the pho's served with a plate of garnishes (sprouts, jalapenos, lemon, & Asian basil), and comes loaded with proteins like "beef eye round", "well done brisket", meatballs, flank, and "soft tendon", the same nickname Grecian mean girls gave Achilles. If you're not feeling soupy, there's plenty more Viet-fare, like vermicelli rice noodle bowls with lemongrass beef, pork, or chicken, and fish-sauced rice plates like a grilled pork chop/dried shredded pork combo, and a "special dish" with egg noodles, ham, and carrots mixed with Chinese sausages and egg yolks, the same snack Rocky funneled in between sets of rickshaw shoulder presses before his underdog victory over a juiced up Yao Ming inspired even hardcore Party members to stand up and cheer, and then there's no more Communism ever.
Pho ain't got no liquor license, but are whipping up unique non-booze, like the Tapioca Pearl Smoothie, Iced Vietnamese Espresso, and Ice Tamarind w/ Crushed Peanuts, a very painful way to ensure no more babies.