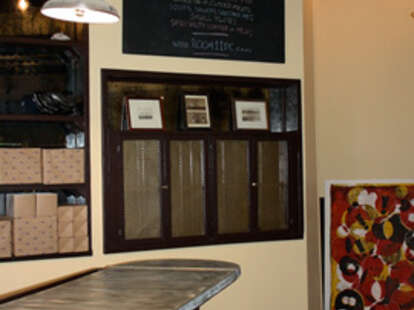 So many great things get needlessly intertwined with expense and pretension: golf started out with shepherds knocking rocks into holes, or was that just a euphemism for that other most shepherdly of activities? For a wine bar stripped of nonsense, hit Room 11.
A "pinky-down" vino cubby founded by four why-the-hell-not-minded buddies, R-11's an L-shaped den made ultra-relaxed with end-grain wood flooring cut from 80-year-old yellow pine, a pearl-colored zinc bartop, and walls covered with inlayed wine racks and blackened, distressed mirrors, just like the ones in Donatella Versace's bedroom. Insistently going with 6oz-pours, they've set most by-the-glasses at $6-8, including the lauded rose Costieres de Nimes' Chateau Guiot, whites like Anne Amie Vineyards' Cuvee A Muller Thurgau, and reds like Southern Australia's Luchador Shiraz, with hints of vanilla, black licorice, and masked flying elbow. The tight-but-tough beer list proudly sports Orval Trappist Ale, Rasputin Imperial Stout, and Victory Hop Devil Draught, while house cocktails get mongoose-y with the "Rickey Tikki Tavi" (Hendrick's, tamarind syrup, lime, soda, house bitters), the "Cristobal" (Torres Spanish brandy, Carpano Antica vermouth, Angostura bitters), and the Compass Box Asyla Scotch/lemon-barley water "Andy Murray" -- like him, you'll be wimble-done after the second round.
R-11 follows a "one-utensil max" rule for food, with bites like country pork terrine and Tunisian meatballs, paninis like the raclette/sharp cheddar/fresh mozzarella Three Cheese, and desserts like apricot pistachio tarts and almond polenta cake; for the lunch, they're slinging pre-made bocadillos -- one look at yours, and the ladies'll say "nice sandwich, want to flock?".