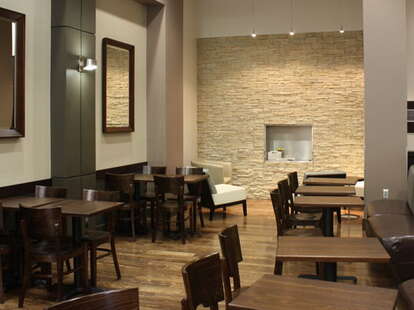 Most people who whine about "corporate coffee" don't have the skill set to do much about it, since starting your own java shop takes more than raging bongo solos while whining about corporate coffee. Giving those clowns someplace to go, Tynan Coffee and Tea.
From a former white-collar lawyer who despite being The Man had tired of big-chain coffee culture, Tynan's an open-all day, food and booze-abetted java house with high ceilings, tons of natural light from huge front-facing windows, free wi-fi, and a "green burning" fireplace, a habit it picked up at Dartmouth. The core offerings: coffee from a Maryland farm helmed by two Venezuelan immigrants, all manner of hot or iced espresso (from Italian macchiato to white chocolate mocha), and a range of loose leaf black, green, and herbal teas including China Gunpowder, Japanese Sencha, Chai, Darjeeling, Moroccan Mint and Raspberry Enchantment, which simulates the zen of having someone blow a farting noise on your tum-tum. The grub's casually gourmet, with salads like a sugared walnut/blue cheese Mesclun and sandwiches like the prosciutto/provolone/roasted peppers "Paradiso Italiano" and the sauteed eggplant/roasted peppers/basil "Mediterranean Hero", soon to be a movie featuring Brad Pitt and and some sort of accent.
So you can truly get your buzz on, they've got wine, a trio of beers including Peroni, and adult beverages like Amaretto coffee, liquor-infused chocolate-hazelnut coffee, or simple Irish coffee, leading to your own oft-repeated whine, "This drink doesn't have enough Irish in it".