Homey comfort food on Ponce De Leon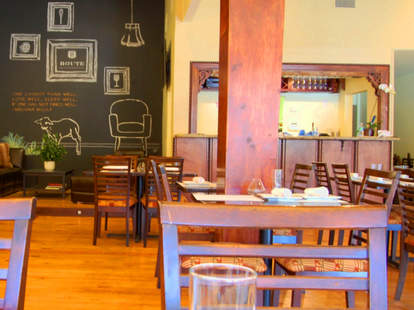 They say there's no place like home, especially when you're alone, and have access to an unlimited supply of aftershave, fresh cheese pizzas, and turntables outfitted with dummies capable of confusing even the most cunning Joe Pesci. Avoid any Wet (or Sticky!) Bandit run-ins by getting out for a home-y meal, at Route 9.
On the quiet end of Ponce De Leon, 9's a cozy neighborhood-feel spot whipping up down-home comfort food with South Florida influences amid homey walnut wood floors, wood beam columns, and a small lounge area with leather sofas under a huge chalkboard wall-mural depicting a living room, a baby calf, and a quote from Virginia Woolf, so clearly they're not afraid of her. They're serving all three meals (plus brunch!), starting with breakfasty goodness involving homemade jams and plates like banana walnut pancakes and homemade maple-bacon sticky buns, then moving to lunch-ness like charcuterie & artisan cheese spreads; a Gruyere, prosciutto, arugula & tomato sandwich on toasted brioche; and sides like red bliss potatoes smashed w/ lemon-thyme, also the name of former Detroit Tiger Chet's new cooking show. Dinner brings more small stuff like marinara-braised mini meatballs and smoked marlin-stuffed piquillo peppers, plus big boys like hanger steak w/ grilled hearts of romaine & blue cheese vinaigrette; prosciutto-wrapped pork tenderloin w/ roasted cippolini onions; and clam chowder-accompanied grilled striped bass, or what they call Chuck when he gets the third degree from Rufus, while wearing stripes.
For the drinking department, 9's stocking independent labels in line with their down-home philosophy (e.g., Left Hand Milk Stout from Longmont, CO), plus a tidy selection of wines by the glass like a 2007 Chardonnay from Firepeak, also what Joe Pesci suffered, despite being as wily as two Daniel Sterns.