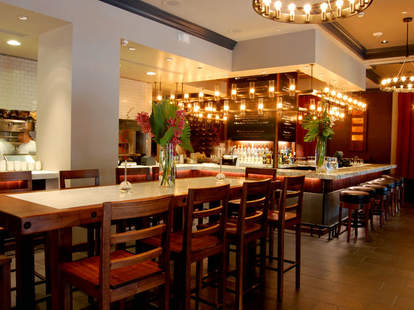 Coming home can really feel good: taking down mom's cooking, beating up on dad in video games, and nostalgically dusting off old trophies, even if they're all for field hockey, and in your sister's room. For nourishment from a prodigal chef returning to the place of his initial success, Norman's 180.
From Norman Van Aken, who pioneered both fusion and New World cuisine and won a James Beard Award at his previous Coral Gables digs, 180 plates "Globally inspired, regionally wired" eats in a space decked with sturdy but clean-lined oak and leather seating, a big "kitchen table" serving prix fixe communal meals, and a shiny steel "theater kitchen", sure to have viewings of Saturday Knife Fever and Braising Arizona. Small plates blend Asian, New World, and Europe via stuff like shrimp & charred octopus ceviche with "salsa of life"; steamed mussels with kabocha pot stickers, speckled soy butter, and mango; and a "Bowl" selection featuring fettuccine with organic cream, pecorino, pancetta, and a big gourd called zucca, plus a soup with beef rib meat and raw herbs called Pho Bo, who Real Bo does not know, except via various licensing disagreements. Entrees get all United Nations as well, with a "Wig" burger topped with ropa vieja, swiss, cumin mayo, and crispy yuca; striped bass with cider creamed tomatoes, black eyed peas, and ham hocks; and a platter for two called East/West Duck, with grilled breast and a bread-like bao dumpling called bang-bang -- who, just on percentages alone, is probably Bam-Bam's real father.
180's also rocking cheese and charcuterie plates with goods like Rogue Oregonzola with fig-guava marmalade; a burrata with Himalayan salt and tomato dust; and organic prosciutto with honeydew and Florida honey -- also what you'll be called if your nostalgia leads you to also throw on her high socks and skirt.