A new Japanese restaurant with an old name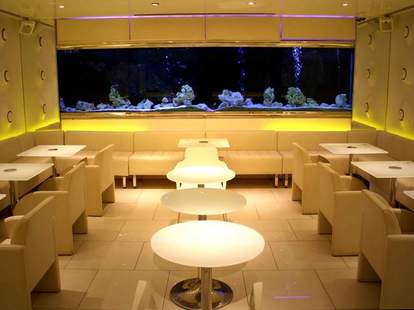 Keeping on an old name can be a good business move -- you maintain customer recognition, and if you're the Dalai Lama, you avoid getting carded for beer, because your ID says you're like six-hundred and eighteen. Keeping the name, but changing everything else, the all-new Kyashii, opening today.
The upscale Japanese restaurant's swinging open the doors with new management, a new chef, and a new, uber-chic look: white walled & black floored, with an upstairs champagne bar rocking DJ decks & 18 plasmas, a ground-floor brasserie where fresh fish is prepped before your eyes, and an underground rentable space encircled by seven tropical aquariums, so your sushi can serve as a warning to the others. Starters see crispy spicy squid with Japanese chilli pepper, a five-variety Pacific oyster platter (from spicy radish to a sake shooter), and honey-glazed baby-backs with a "caramel net", which must be how they catch jelly fish. Signature rolls include the avo-wrapped tempura prawn Dragon, the seared salmon-wrapped crab & mustard seed-mayo Tataki, and a massive, seven-fish Rainbow, which is even tougher to stuff in your mouth when it's been zipped up by that damn pink hippo.
Kyashii's also serving up robata like a Japanese chilli-sauced lamb rack , peppercorn scallops with spinach & shimeji mushrooms, and a fillet slathered with a mustard sauce dubbed "dynamite" -- a name you should recognize as signifying "reincarnation or not, this mustard is going to kill you".