Dear friends, the day is less than a week away: Thanksgiving, that marathon of feasts. To put on a face-stuffing showing that'll impress your friends, alarm your poor mother, and make you the envy of everyone named Kobayashi except the one from Usual Suspects, get yourself ready with a healthy dose of Fat Kid Friday, coming at you with the craziest foodstuffs Thrillist has seen/experienced/ingested.
This time around, we've got a huuuuuge chocolate cake, a boozy milkshake, and a burger with pretty much every topping you could ever want, except for a chocolate cake. Read on:
Recommended Video
Winter Starbucks Beverages Around The World
6. Vending Machine French Fries
Beyondte Electronics Company, China
Approximate Calorie Count: 341
Turns out Japan's not the only Asiatic country getting into the weird vending machine game -- check out them apples (Earth apples... er... potatoes) from China's Beyondte Technology, who's got an automated dispenser that cuts up, deep-fries, and ejects delicious spud sticks in 95 seconds, and passes the savings down to you. They also offer up a few different sauces to make things even awesomer. The only downside is that we're one step closer to Skynet.
Check out their hilarious serving suggestions right here...
5. 16-Hour Brisket
Old Crow Smokehouse, Chicago
Approximate Calorie Count: 845
Because smoking brisket for 15 hours just isn't enough, dammit(!), newly appointed Wrigleyville BBQ restaurant Old Crow Smokehouse is doing it for 16, and just look at those results! The meat is super-tender, and's served alongside stewed kale and twice-baked sweet potatoes on top of some outdated print media.
They've also got bacon-wrapped jalapeño poppers. Yup.
4. Chicken Liver Mousse on Matzo
Butter Midtown, New York
Approximate Calorie Count: 967
Simulate the wackiest Passover ever with this offering from Alex Guarnaschelli's NY eatery Butter (recently expanded!) -- it's a piece of matzo topped with a chicken liver mousse, pickled red onions, crispy non-red onions, and a schmaltz vinaigrette. In case you were wondering, SCHMALTZ IS PEOPLE! Oh, sorry. Schmaltz is chicken fat. No need for alarm on this one.
This place is kinda a temple of good food. Scope out the rest of their offerings here...
3. The Rebound Fling
Ice Cream Bar, San Francisco
Approximate Calorie Count: 981
The wizards over at SF's Ice Cream Bar must've been in a dark place when they made this concoction, but now we're all reaping the benefits of their heartache. The Rebound Fling is a boozy milkshake made with Speakeasy Payback Porter, morello cherry ice cream, sour cherry syrup, and lactart, which simulates a milky acidity. Drink one of these and you'll have all the solace you need.
And we've got a list of the best SF ice cream spots for you to peruse, too...
2. Appa Goober
The Rabbit Hole, Minneapolis
Approximate Calorie Count: 1304
The "goober", as coined by the Rabbit Hole in Minneapolis, is a portmanteau of "good" and "burger", and is most definitely both of those things. The Appa variety, shown here, contains bleu and Gruyere cheeses, tomato jam, kimchi aioli, arugula, smoked bacon, and a fried egg on top. After eating it, you'll probably be pretty happisfied. That's "happy" and "satisfied". Sorry.
What're "adult sodas" and "duck duck duck"? Have your curiosity quelled here...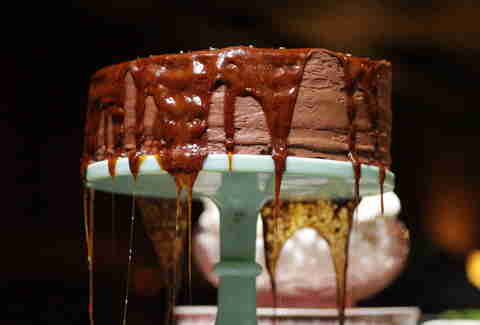 1. Chocolate Layer Cake w/ Hot Caramel
Butter Midtown, New York
Approximate Calorie Count: 2573
This layer cake certainly doesn't star a young, plucky Daniel Craig, but it is "a smart thrill ride with one magnificent finish" (Forrest Hartman, Reno Gazette-Journal) -- this hefty treat contains more chocolate than you can shake a stick at. Seriously, don't shake that stick because this is a restaurant and there's decorum to maintain. It's covered in chocolate ganache and cream, but the piece de resistance here is a topping of molten caramel sauce that cascades down every side. You might not be able to finish it all by yourself, so make sure you bring along Daniel Craig or your friends.
Yeah, this place made our list twice. Because it's so damn good!