Smirnoff
Sponsored By

10 Things You Didn't Know About Smirnoff No. 21
Sponsored By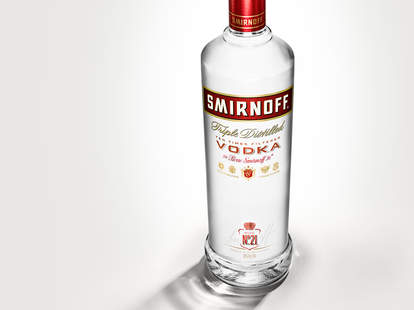 Spanning continents as well as centuries, the Smirnoff brand has a backstory as colorful as that of any spirits brand on earth. Its flagship vodka, Smirnoff No. 21, first appeared when FDR was in the White House, and in the years since then, it's generated no shortage of lore, from launching a cocktail craze in the 1940s to besting more expensive brands in recent taste tests.
Here, find 10 items from Smirnoff No. 21's rich history, each one a conversation starter you can stockpile for your next round of brunch Bloody Marys.
1) It's the best-selling vodka in America.
As of this publication, Smirnoff No. 21 vodka was still holding down the top spot on the list of the best-selling vodka brands in the United States. As one of the first vodka brands established in America, it's no stranger to that No. 1 spot, either.
2) It's made in America, and has been for more than eight decades.
In 1933, a man named Rudolph Kunett purchased the US rights to Smirnoff vodka and began distilling it in the United States. Five years later, he sold the business to John G. Martin of the Connecticut-based company Hueblein, whose flagship product at the time was a steak sauce well on its way to becoming an icon in its own right. Some 83 years later, Smirnoff is still produced in the US. And a Smirnoff
Vodka Martini
goes pretty well with steak, too.
3) The Smirnoff brand has a rich tradition stretching back to 1864.
The Smirnoff brand traces its origins back to pre-Revolutionary Russia, to a distillery established in 1864 by Pyotr Arseneyevich ("P.A.") Smirnov. Smirnoff No. 21 vodka is produced today in the tradition of P.A.'s original Russian distillery. How many other vodka brands do you know with roots extending to the Civil War era?
4) It was regionally marketed as "white whiskey" in the US.
According to John G. Martin's son, also named John, sales of Smirnoff sputtered in the early days, due to Americans' unfamiliarity with vodka. Their go-to spirit at the time was whiskey. Martin told of an enterprising distributor in Columbia, S.C., who saw a way around this: He marketed Smirnoff as "white whiskey" to capitalize on Americans' fondness for the brown liquor, and, at least in his neck of the woods, it worked.
5) It opened the door for vodka in America.
Before Smirnoff landed on these shores in the 1930s, vodka had no track record of success in the US. By the end of the 1940s, Smirnoff had gained a foothold in the marketplace and the brand's sales tripled. Vodka as a general category experienced another major spike in US sales in the 1960s, and then straight-up boomed in the 1980s and '90s.
Courtesy of Smirnoff
6) It invented the Moscow Mule in 1941
John Martin was convinced that if vodka was going to catch on in the US, it would be as a base for mixed drinks. One night at famed Sunset Strip watering hole the Cock 'n Bull, Martin's good pal Jack Morgan—who owned the place—told Martin that he had a surplus of ginger beer gathering dust in the Cock 'n Bull storeroom. It was a Eureka moment: Martin was having trouble moving his vodka, so he suggested combining it with Morgan's ginger beer. The two men tinkered with the formula, eventually adding a touch of lime, and the Moscow Mule came kicking to life. It would eventually help knock down the obstacles to vodka's popularity in the US.
7) There was a lesser-known third person involved in the creation of the Moscow Mule
It most retellings of the tale, Martin and Morgan get the credit for inventing the now-classic
Moscow Mule cocktail
. But there was a third person involved. Her name was Ozeline Schmidt, and, according to Martin's account of the story, she was "a great big, beautiful buxom woman" who walked into the bar while Martin and Morgan were experimenting with the Moscow Mule. Schmidt had recently inherited her family's copper mine, and she had a backlog of copper mugs. She mentioned this to them and—boom—the Moscow Mule got its iconic vessel.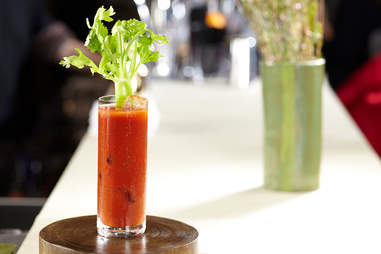 Courtesy of Smirnoff
8) In addition to inventing the Moscow Mule, Smirnoff helped popularize the Screwdriver, the Bloody Mary, and the Bullshot.
A gifted marketer, Martin did not stop at the Moscow Mule. After ingeniously promoting the Mule using instant cameras, which had just been invented, he moved on to other vodka-based cocktails. Smirnoff began touting the
Screwdriver
, the
Bloody Mary
, the Bullshot (vodka and bouillon) and the lesser-known Ice Pick (vodka and iced tea). Consumers took to them all in varying degrees, and vodka finally found a permanent home in the US.
9) It is filtered 10 times.
Smirnoff No. 21 Vodka is distilled three times and filtered
10
times. Filtration, which removes impurities, can be accomplished with a variety of techniques and materials. Smirnoff currently uses a process of multi-column filtration, inspired by the process developed by P.A. Smirnov back in the day. The double-digit filtration process removes a high level of impurities and imparts a smoothness that doesn't go unnoticed by vodka fans. Speaking of ...
Courtesy of Smirnoff
10) It has outperformed more expensive brands in taste tests.
Maybe it's the painstaking filtration process. Maybe it's the triple distillation, or the brand's heritage of vodka craftsmanship. Whatever the reason, Smirnoff No. 21 has performed well in recent taste tests against more expensive vodka brands. Dating back to 2005, when one of the nation's leading newspapers organized a test involving 21 vodkas, Smirnoff has done itself proud. After winning that one, Smirnoff No. 21 came out on top again in 2013, when a major website compared five leading brands, most of them more expensive than Smirnoff. It prevailed again in 2017, when a leading lifestyle website asked drinkers to choose the most "expensive-tasting" vodka among three brands. Smirnoff, the least expensive one in the group, was the pick.
Please drink responsibly.
SMIRNOFF No. 21 Vodka. Distilled From Grain. 40% Alc/Vol. The Smirnoff Co., Norwalk, CT.