Summer 2018's Biggest Bar Openings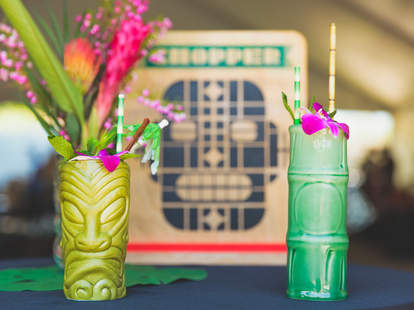 This summer, don't bother looking for us at the beach or inviting us to your backyard barbecue. We'll be spending all our time at the season's best new bars. Industry all-stars Dave Arnold and Don Lee will return to the scene with a new project. Tiki libations will crash over Nashville and midtown Manhattan. Chicago will get a world class cocktail omakase and Portland will welcome a much loved pop-up-turned instant classic. And bar veterans like Dushan Zaric, Eric Alperin and The Bon Vivants are opening new spots. Summer 2018 promises to unleash a heat wave of hot spot after hot spot. Here are the bars we're most excited to see open their doors in the coming months.
Existing Conditions, New York
Opening mid-May
Dave Arnold, Don Lee and Greg Boehm were foundational to the growth of cocktail bars throughout the aughts, with Arnold pioneering avant garde techniques like centrifuging at Booker and Dax, Lee introducing fat-washing to the world at PDT, and Boehm outfitting the world's best bartenders with elegant bar tools from Cocktail Kingdom. And now the trio has come together to open their own boundary-pushing bar.
"The name 'Existing Conditions' refers to the architectural survey that is usually done to assess what currently exists before making a new design," Lee says. Arnold and Lee, who will manage day to day operations, will continue to push into new territory with original cocktails and interpretations of classics, but they are applying their expertise with a controlled hand. "Technology and science are focused on flavor, not presentation," a press release makes clear. The team will apply advanced techniques to ingredients behind the scenes to extract maximum flavor, but they'll serve these ingredients in simple, classic forms. "The goal is not to transport guests to a fantasy, but to ground them in the present through exceptional drinks and engaged service," the release continues. Some innovations are simply focused on supplying the immense crowd that will inevitably mob the bar. "[The bar] will use techniques and tools that the team has popularized in the past but will be streamlining them to handle a larger space," Lee says. "As an example, carbonated cocktails themselves will be similar in how they are [already] made and served, but instead of using a refrigerator to keep them cold we are building a custom glycol system." Similarly, the team plans to bottle their Fifty-Fifty Plymouth Gin Martini and serve it from a 1950s vending machine.
35 W. 8th St, New York, NY 10011
Emily Stocks
Opening late May
In 2016, when the Deadshot cocktail pop-up launched inside Holdfast (itself a pop-up restaurant then inside Fausse Piste urban winery, because Portland), head bartender Adam Robinson knew the project would eventually turn into a permanent bar where he could expand on his avant garde drinks program. "[The pop-up] was the stripped down version of Deadshot," he explains. "I really maxed out at about 10 cocktails. I was putting in 35 hours a week for [a single] six-hour shift." Having acquired an address of his own in a former woodfired pizzeria, alongside Holdfast's own permanent space, Deadshot will now be open all week long with a vastly expanded menu.
Popular hits from the pop-up menu will return, like the Casper's Ghost (mezcal, rhum agricole, lime, pineapple, tarragon, bitter melon), as well as more unconventional tipples like the Who Is Jack Nance? (whiskey, Nance's Sharp and Creamy Mustard, sesame orgeat, egg yolk, lemon juice, sherry) and the Tranquilizer (a dry version of the classic Painkiller served up with coconut oil fat-washed rum along with two other rums, clarified pineapple juice, orange bitters and orange oil). That last one is illustrative of the "modern classics" section of the menu, which does not simply mean drinks by Sam Ross or Jeffrey Morgenthaler, but rather classic cocktails updated with modern techniques, like clarified Daiquiris and Bloody Marys. The bar also inherits a draft system from the pizzeria and will be featuring custom brews from local breweries like Pono. Intertwined with Holdfast from the beginning, Deadshot has always put an emphasis on drinking food, but now the bar will have its own kitchen line to make snacks like fried prawn heads, deviled eggs with foie gras and experimental mac 'n' cheese. Deadshot and Holdfast will even carry on the pop-up tradition. Robinson says that during off nights for Holdfast, they plan to offer the space to other pop-ups.
2131 SE 11th Ave, Portland, OR 97214
Danny Miller
Opening early June
Given the number of bars in New York and a population of drinkers that could fill a literal island, the town is shockingly lacking in quality tiki establishments, especially since the closing of Lani Kai in 2012. The Polynesian is set to return some tiki glory to Manhattan. Captained by Brian Miller, who has for years been turning out arguably the city's best tropical drinks at his Tiki Mondays pop-up parties, The Polynesian is the newest project from kingmaker Major Food Group. With a dazzling turquoise bar fashioned from lava stone and a full-sized outdoor terrace bar to match the indoor one, the space is sure to be extraordinary. But the real star of the show is Miller's cocktail menu.
"My mission is to continue to preach the gospel of tiki, shining a light on its glorious history and perhaps making the world of tiki just a little bit bigger," Miller says in a press release. He'll certainly have a wide audience at The Polynesian. Housed in the Pod Hotel a few blocks from Times Square, the bar brings tiki to tourists, finance bros and tiki fanatics alike. Miller's custom tropical cocktails include signatures like his The Derelict (four rums, bourbon, absinthe, lime and grapefruit juices, lilikoi purée, house blend banana liqueur, bitters), as well as punches, like his homage to the landmark Fort Lauderdale tiki bar Mai Kai called The Exotica Bowl (kaffir lime-infused rum, curry leaf, coriander, lime, lemon, lemongrass, ginger, coconut cream, bitters, served in a snifter inside a huge clam shell spewing dry ice).
400 W. 42nd St, New York, NY 10036
Daniel Dent
Bon Voyage!, San Francisco
Opening early June
The newest bar from the The Bon Vivants' Josh Harris and Morgan Schick began with the name, or rather the expressiveness of the phrase "Bon Voyage" with an exclamation mark. Harris explains that the bar team wanted to express the life of a fictional character, a guy who lives in a hotel in Singapore in the late '50s, travels extensively through Southeast Asia and Africa, collects souvenirs, arrives in '70s-era Palm Springs, and throws parties for all his friends. In short, "It's like a tropical disco safari," Harris says.
While Bon Voyage! is not a theme bar (or a tiki bar, the proprietors make clear), a particular tropical affectation, refracted through mid-century to disco era California, informs every aspect of the project. The decor, collected from flea markets and estate sales (as is Harris and Schicks' habit), features zebra, elephant and other exotic animal figurines (no taxidermy), along with era-appropriate art, wood carvings and three (count 'em) disco balls. The drinks menu too features an unidentifiable global mood. There's a selection of Singapore Slings, Schick explains, a drink that could serve as a boozy mascot for the bar. Along with a house Sling, there will be a half-sized version inspired by Fear and Loathing in Las Vegas, served (as Hunter S. Thompson describes in the book) alongside a shot of mezcal and a beer back, in this case a tropical, unhopped lager brewed for the bar by Ale Industries in Oakland. Others Slings will be even more experimental, like one served dry as a Martini. The leftover citrus from the Slings will end up in a range of Collins cocktails, each built with a different modifier. After much deliberation as to the perfectly craveable bar snack, Schick and Harris settled on dumplings, provided by the Macanese chef Ian Pao of Hitachino Beer & Wagyu and Acquerello.
584 Valencia Street, San Francisco, CA 94110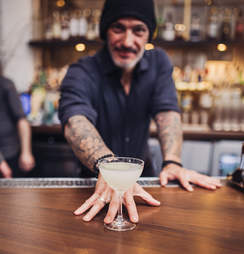 Opening June
The highlight of Bar Alta is not a bar; it's a bartender's table. Dushan Zaric of Employees Only fame, who designed the program along with the other three venues in the Hotel Figueroa, emphasizes that the poker table-shaped bartender's table functions unlike any other high-end cocktail destination. Guests who score reservations for one of the bar stools around the table are greeted by a bartender bearing an amuse bouche-like welcome cocktail. After an intimate discussion about the perfect drink for the occasion, bartenders will retreat behind the bar to take advantage of Alta's vast library of over 250 custom infusions and tinctures, created with a centrifuge or rotovap, before returning to serve the guest a personalized cocktail on a tray.
Drinks on the opening menu, like an Old Fashioned made with douglas fir-infused bourbon and a Mary Pickford spiked with house Campari, show off the bar's technical abilities, and Zaric is excited to make use of California's bounty of fresh, foragable ingredients, like the local flowers that make their way into a wildflower vermouth. But he's quick to add that these complex ingredients are not the singular purpose of the bar. "Using it as a gimmick is not good enough. … It's not just, 'Let me make you something with nine ingredients that's super complex and out there,'" he says. "It's not about, 'Look what we can do.' It's not about us. It's always about the guest." If you're not lucky enough to be seated at the bartender's table and instead settle into one of the other seats in the room, the personalized bar experience will come to you. Zaric designed bar carts decked out with cocktail smokers, liquid nitrogen, several types of ice, vintage glassware and everything else necessary for tableside cocktails.
939 S Figueroa St, Los Angeles, CA 90015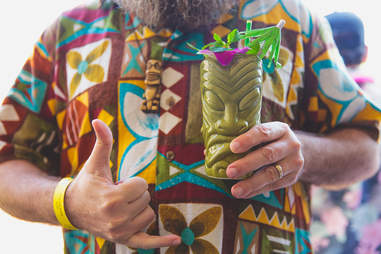 John Brown
Chopper TIki, Nashville, TN
Opening early July
In 2012, as Andy Mumma prepared to open Barista Parlor, Nashville's premier coffee house, he would often visit bartender Mike Wolf at the nearby Holland House, where they would bond over Rum Old Fashioneds and plot a tropical rum bar of their own. Wolf moved on to manage the Nashville outpost of Husk, but the tiki dream never died. After a series of successful pop-ups around town (including one attended by Jeff "Beachbum" Berry himself), the duo are finally opening that bar, along with Isle of Printing design guru Bryce McCloud who will be crafting the decor and custom tiki mugs.
While Wolf loves to geek out about Don the Beachcomber's first wave tiki, Chopper Tiki will turn the classic quasi-Polynesian narrative on its head, imagining a world in which artifacts from the islands are not from native cultures but from a lost civilization of robots. "It's Star Wars meets Jurassic Park meets South Pacific," Wolf says. The bar interior will be a mix of overgrown greenery and robotic design—less cold metal and more robot totem poles, Wolf clarifies. The drinks menu will also be a mix of old and new. Contemporary drinks—like one with pisco, orgeat, orange and lemon juices, and cinnamon—will feature prominently on the standard menu, while a longer leather-bound menu will feature about 30 classic tiki drinks, including a few rarely seen deep-cut libations like the Port-Au-Prince and the Caribbean Punch (a Don the Beachcomber invention that oddly utilizes sarsaparilla). Inspired by Wolf's experience at Husk, whiskey will also have a major presence, with bourbon cozying up in cocktails beside passionfruit and tropical spiced flavors layered on top of rye. Food from Savannah Wright will skew Japanese, with rice bowls and a menu of sandos (sweet with mango and lemon curd, or savory with pork katsu and pineapple) served on milk bread sourced from Bobby John Henry bakery.
1100 Stratton Ave, Nashville, TN 37206
The Streamliner, Los Angeles
Opening July
213 Hospitality continues to broaden its occupation of downtown L.A. this summer with a new complex of bars inside historic Union Station. Non-Angelinos will likely be familiar with the train station from its many appearances in film, its vaulted art deco design providing the perfect backdrop to Hollywood glam. More tourist attraction than commuter hub, the station will be even more worth a visit with the addition of several projects from 213, led by the team's commander in chief Cedd Moses, along with Eric Needleman and Eric Alperin. There will be a brewery and a brewpub specializing in sour beers, as well as a restaurant with chef David Lentz of Hungry Cat. But it's the cocktail bar, named The Streamliner, that we're most excited for. The cocktails will be designed by Alperin, the 213 beverage director who opened The Varnish with Moses and Sasha Petraske, and helped that bar win Best American Cocktail Bar at the Tales of the Cocktail 2012 Spirited Awards. While we don't have much info yet, based on Alperin's resume (and the fact that everything 213 touches turns to gold), we can pretty confidently say The Streamliner will be worth a visit this summer, even if you have to fly there.
800 N Alameda St, Los Angeles, CA 90012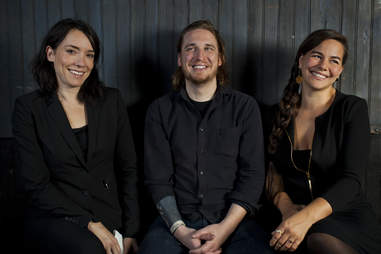 Sammy Faze Photography
Kumiko, Chicago, IL
Opening early September
After helming the cocktail programs at some of Chicago's most well known cocktail bars, The Aviary, GreenRiver and Oriole, Julia Momose is opening a spot of her own, Kumiko. "The name Kumiko comes from a Japanese technique performed by master woodworkers to create patterns with intricately cut pieces of wood," she explains. Elaborate woodworking will help create an intimate space in the bar, but the detail-oriented mindset will also inform the approach to cocktails.
The highlight of the space will be the eight-seat bar where bartenders and chefs—led by Momose's colleagues, Oriole chef Noah Sandoval and GM Cara Sandoval—will craft an individualized omakase of drinks and plates for each guest. "The course of one person's experience may veer towards the bright, light and refreshing, while the person beside them is taking a less citrus-forward path," Momose says. "While at times they may have different drinks paired with the same course, there will also be times when [the food that] is in front of them is entirely unique." Drinks will rotate seasonally, with some involving Japanese ingredients and spirits, along with "spiritfree" cocktails, which Momose has championed elsewhere. Nonalcoholic options will include a boozeless Spanish Gin and Tonic, spiritfree versions of Italian aperitivi like Campari and Suze, and drinks made of custom botanical blends, all of which may tempt omnivore drinkers to forego booze, at least for a moment.
630 W Lake St, Chicago, IL 60661