5 of the Craziest Frozen Daiquiris in New Orleans
The home to classic cocktails like the Sazerac and the Vieux Carré, New Orleans is an historic drinking destination. But anyone who's ever walked down Bourbon Street knows that it's not all craft cocktails. The Big Easy's main boozy attraction comes blended—and, often, in a styrofoam cup.
In the early 1980s, frozen Daiquiris and other blended and boozy refreshments took over the city's raucous drinking scene, and they've reigned supreme ever since. Stands on Bourbon Street boast 32 ounces for less than $10 and feature 20 machines swirling neon-colored slush. Don't want to walk to get your frozen fix? That's okay—drive-through Daiquiri stands offer just as many flavors. They're as potent as they are sweet—which is to say, very—spiked with everything from brandy and rum to vodka and 190-proof Everclear. As you may have guessed, these frozen treats should not be confused with the Daiquiri you'd find at a craft cocktail bar. They are their own new breed of beast.
Today, frozen Daiquiris are as synonymous with New Orleans as beignets and muffalettas. You'd be hard-pressed to find a visitor or a local who hasn't at least tasted one of these frosty concoctions—even Anthony Bourdain indulges every now and then, and Queen Bey herself was once spotted at Gene's, a local 24-hour Daiquiri institution. To pay homage to this saccharine delight, here are seven of the most insane frozen Daiquiri flavors to add to your New Orleans go-cup bucket list.
Daiquiri with the Most Flavors: What the F**k? From Gene's Curbside Daiquiris
Ingredients:
Peach 190 + Orange 190 + Jungle Juice + Hypnotic + White Russian
The outside of this beloved Daiquiri joint may call to mind the shot of Pepto Bismol you'll probably have to take after drinking one of its concoctions, but the inside is a wonder of boozy innovation. The menu features dozens of creations, but, hands down, the most potent is the What the F**k? It combines the shop's five strongest flavors—Peach 190, Orange 190, Jungle Juice, Hypnotic and White Russian—and you'll feel its effects before you even stroll out the door with your go-cup.
Ingredients:
Sex on the Beach + Strawberry + Jungle Juice + Cajun Adjustment
Starting at 11 a.m. each day, Cajun Daiquiri & Café in Marrero opens for business, so you don't even have to wait until after lunch to get your hands on the drive-in's specialty flavors. While the restaurant is famed for seasonal flavors like the Kings Cake Daiquiri, it also has a host of insane year-round flavors. One intriguingly mixed—and named—blend is the Sex in a Jeep, which mixes four flavors: Sex on the Beach, Strawberry, Jungle Juice and Cajun Adjustment. Three of the mixers contain both 190 and vodka, and two contain both light and dark rums, while the Strawberry offers some sense of sanity with only one rum in the mix. Go all in with a 32-ounce go-cup—it'll set you back $6.25 and, perhaps, a bit of your dignity.
Most Mysterious Daiquiri: Purple Rain From Daiquiri Chef
Ingredients:
????
Daiquiri Chef is a popular haunt for anyone who loves a good frozen drink. On Facebook, reviewers praise everything from its "awesome" bartenders to its "hellafide drinks." One reviewer remarked, "I go get my drink everyday coming from the west bank for it that's how real it is." That's commitment. One of the most talked about drinks on its menu is the Purple Rain. While we're not sure exactly what's in it, one reviewer says, "You'll have to pick your face up off the floor" after drinking one. Like Prince said, "Got to party up."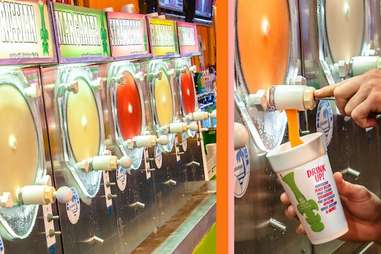 Most Alarmingly Named Daiquiri: 190 Antifreeze From Big Easy Daiquiris
Ingredients:
190-Proof Liquor + Something Orange
A good rule of thumb when approaching cocktail flavors is to avoid things that sound poisonous. Though most of Big Easy Daiquiris' drinks have benign names and flavors like the Bellini and Sangria, the 190 Antifreeze sets off an alarm. We'll trust that this bright orange drink, spiked with 190-proof liquor, doesn't also utilize its namesake ingredient.
Biggest Daiquiri: House Special From Fat Tuesday
Ingredients:
190 Octane + Jungle Juice + Crawgator
Fat Tuesday is known for its "world famous 190 Octane." But when that powerful, drinkable petroleum buddies up with the likes of the Daiquiri house's Jungle Juice and Crawgator flavors (Crawgator is blue and vaguely tropical, if you were wondering what that non-flavor tasted like), that's when you get something really special—the ultra-potent House Special, to be precise. Not only does it contain the 190-proof Everclear that is so incredibly popular among New Orleans Daiquiri makers, but it also uses dark rum, vodka and 151 rum. While we recommend drinking this slowly, you can also go balls out with the 44-ounce go-cup. Just don't blame us when you come down with a crippling case of brainfreeze.