The Jersey Shore Is Your Next Cocktail Destination (No, Seriously)
If you haven't spent much time in New Jersey, you'd be forgiven for thinking it was a mobster-filled strip mall built by MTV as a set for reality shows about awful people. But there's a lot more going on booze-wise on the Jersey Shore than shots with Snooki. Here's five towns that show off the best the Garden State has to offer.
Atlantic Highlands
This is the "Hakuna Matata" Jersey Shore, where you can spend the day seining or scaling lighthouses at Sandy Hook (one of Jersey's only National Recreation Areas), before turning in for a Cranberry Martini at the Inlet Cafe or some single malt at The Wine Bar. Or chill with the locals and a bucket o' rum at Windansea while being serenaded by a Jimmy Buffett cover band.
Red Bank
Featuring a bustling high street, constant sail boat traffic and a central location for accessing the rest of the shore, Red Bank is a hub with new bars and restaurants opening at a frightening clip. Send your underage companions to play Pac-Man at an antique penny arcade and your elderly parents to sip Martinis with the Marina crowd at the historical Molly Pitcher Inn. Meanwhile, you're bar-hopping from 10th Avenue Burrito's tequila bar to The Downtown's open-air cocktail room, to the dramatic Manhattan-style lounge Gotham, to whatever the heck opened up literally last week.
Long Branch
If your boardwalk-hanging, beer-swilling days are behind you and you want an upscale Jersey Shore experience, Long Branch's shopping district Pier Village offers an exclusive vibe not unlike a luxury Florida resort. Fancy cocktail and wine bars boast premiere views over the ocean, while live entertainment keeps the place from feeling too stuffy. Sip some Blood Orange Margaritas on the palm-tree lined beach at Avenue Le Club before swinging by their rooftop nightclub Nuit for a bottle of Champagne and a dip in their pool.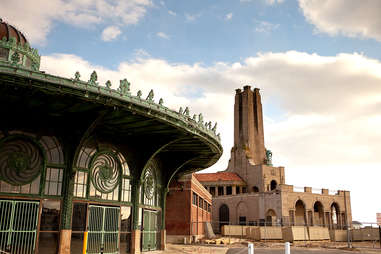 Asbury Park
The Jersey Shore's secret indie hotspot, Asbury Park is the kind of hipster haven where you'll find an abandoned 1920s arcade filled with eclectic bars and street art, a vintage bowling alley that doubles as a music venue, and an industrial warehouse turned experimental pizza-cocktail club. Try a seasonal Gin + Jam cocktail at Talula's or an authentic mojito at Cubacan, or stop in at the iconic Stone Pony to see who's playing the stage where Springsteen got his start.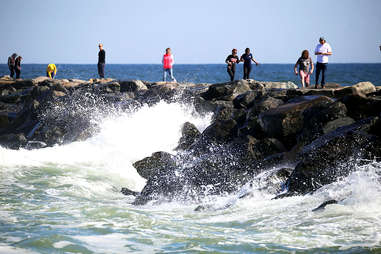 Manasquan
A truly hidden gem, most non-Jerseyans haven't even heard of Manasquan. Here you'll find the same expansive beaches as the name-brand towns but without the crowds. You'll also see a quaint but lively downtown, locals on bikes or carrying surfboards under their arms, and delightful neighborhood restaurant-bars that don't pander to tourists. Enjoy a reasonably priced Basil Bruised Lemon Drop at Remington's, a Maple Smash at The Mill, or the killer happy hour and raw bar at The Parker House. Just keep your fist securely wrapped around a cocktail and not pumping in the air, and you'll blend right in.