5 U.S. Cities Where You Can Legally Drink on the Street (and What to Drink There)
Meet the walktail: a cocktail that can be enjoyed outside, day or night, while taking a casual stroll through the streets. Thanks to their open-container laws, some major U.S. cities are lucky enough to have mastered the art of imbibing on foot. For those who reside elsewhere (but dream of one day visiting and drinking their way through said cities), we've come up with a guide to five of the best walk-while-drinking regions. Live vicariously, or plan a visit, and enjoy these walktails on your next trek.

City: New Orleans, Louisiana
Walktail: Brandy Milk Punch

There are no holds barred in New Orleans, where to-go cups are simply part of the landscape. While a Bellini or Bloody Mary might be your a.m. drink of choice, New Orleanians break the day with a cocktail that's born and bred in the city: Brandy Milk Punch. Made popular by Brennan's Restaurant, this cocktail cleverly masks the slightest trace of alcohol with ice cold milk, sugar and freshly grated nutmeg, making it an ideal companion for a pre-noon meander.
City: Memphis, Tennessee
Walktail: Beale Big Ass Beer

"I'm walking in Memphis / Walking with my feet 10 feet off of Beale…" We'd like to think that catchy tune was inspired by the Beale Big Ass Beer, the go-to to-go beverage of choice in Memphis. Prominently known for being excused from the statewide container laws, Beale Street in the heart of downtown Memphis is where visitors and locals alike can enjoy an alfresco, 32-ounce draft from one of the many establishments on the block.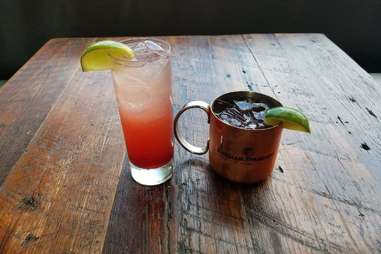 City: Savannah, Georgia
Walktail: Hibiscus Mule

Southern hospitality is taken a step further in Savannah, where folks are encouraged to "take a traveler" when bar-hopping through the city. With warm weather and the beach town of Tybee Island close by, vodka is the base spirit of preference for many of the to-go options. Blowin' Smoke, an open-air eatery that's popular amongst Savannah locals, serves up the Hibiscus Mule, a refreshingly bright cocktail made with Tito's vodka, hibiscus and ginger liqueurs, fresh lime juice and ginger beer.
City: Amagansett, New York
Walktail: Aperol Spritz

While beach house hopping—breaking for the occasional sun bath or to down a dozen oysters—Hamptons regulars can bet on the simplicity of the three-ingredient Aperol Spritz to close a day of Out East affairs. Find a pitcher-sized version of this Italian aperitif at Navy Beach, where a neighboring shoreline and casual, coastal vibes await.
City: Las Vegas, Nevada
Walktail: Corpse Reviver #2

Sin City's all-encompassing acceptance of vices means visitors can enjoy booze from sunup to sundown. On the Strip, alcohol can be purchased 24 hours a day, seven days a week by any licensed Nevada business willing to sell, so the walktail options are endless. Trade the morning (or, more likely, 2 p.m.) yard-long Mimosa for a Corpse Reviver #2. The spirit-forward libation—made with gin, vermouth, absinthe, Cointreau and fresh lemon juice—is often recommended as a breakfast drink, because Vegas. Grab one at The Lobby Bar in Caesar's Palace, which is open, you guessed it, 24 hours.