Willy Wonka's Got Nothing on These Booze Barrel-Aged Treats
As many of you whiskey and añejo rum drinkers know, spirits often benefit from some time spent in the barrel. Now, many spirited entrepreneurs are applying that concept to food. Using spent barrels, which previously held spirits like bourbon and rum, enterprising artisans are aging everything from cacao nibs to coffee to salt, allowing the leftover spirit within the wood to flavor whatever it touches.
Give your taste buds a jolt of boozy electricity with some of our favorite booze barrel-aged treats.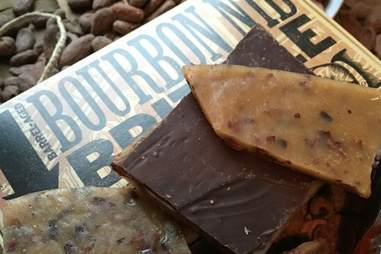 Most brittle gets its flavor from nuts, but Nashville-based Olive and Sinclair make theirs with something even better: bourbon-infused cacao nibs. Aged in bourbon barrels sourced from local Corsair Artisan Distillery, the nibs lend strong caramel flavor, as well as a nice bourbon finish, to the classic Southern treat.
When it comes to salt and spirit combos,
Margaritas
and
Bloody Marys
are the first to come to mind—but the essential tabletop seasoning has a new bedfellow: Irish whiskey. In June, San Francisco Salt Co. launched its Whiskey Smoked Irish Sea Salt in the U.S. To infuse the salt with the flavor and aroma of Teeling Irish whiskey, the producers smoke the salt in barrels that had held whiskey for 10 years. The result is a finely ground salt that smells like it belongs behind a bar (in a good way).
We've been known to add a measure of rum to our weekend coffee every now and then, but now we can enjoy the flavor combination every day of the week without risking workday tipsiness. Cooper Cask Coffee out of Rhode Island is infusing coffee beans with that molasses-and-toffee flavor we love so much. Using barrels from Thomas Tew Rums, the company ages green coffee beans for 60 days before roasting them. You can actually taste the rum's rich molasses notes in the coffee once it's brewed. We recommend adding a bit of sugar to bring those flavors out even more.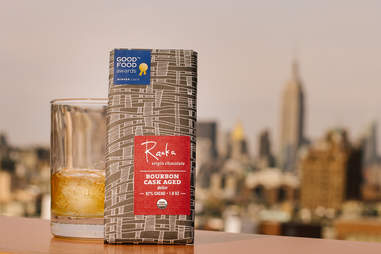 This confection from Raaka Chocolate will make all your barred-aged dreams come true. Chocolatiers age cacao from Belize for four weeks in Berkshire Mountain Distilling bourbon casks before making it into a chocolate bar. The final product is surprisingly rich and creamy for an intense 82 percent dark chocolate.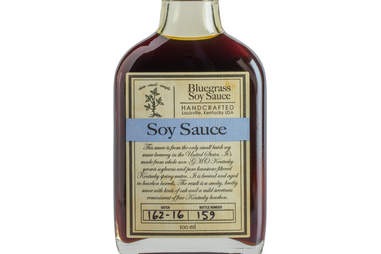 The next time you hit your favorite sushi joint, take this soy sauce from Bourbon Barrel Foods along for the ride. It's a delightful companion to a salmon roll (or anything, really). Producers ferment and age soybean mash in former bourbon barrels, which are primarily sourced from Woodford Reserve, for one full year. The aged mash creates a rich, smoky soy sauce that is less salty than your typical supermarket bottle.
Colorado-based Whiskey Barrel Coffee is aging green coffee beans in bourbon barrels for over four weeks before roasting them. This allows the liquid that's been absorbed by the barrels to soak into the beans, giving the brewed coffee a smoky, caramel-infused aroma and flavor. Needless to say, it's the perfect way to make an Irish Coffee even more Irish Coffee-y.
As Miss Manners always says, "Salt and pepper travel together." Berkshire Mountain Distillery took her advice when the company decided to make not only a bourbon stave-smoked Himalayan salt, but also black peppercorns and juniper berries. Producers slowly smoke the salt, pepper and juniper over bourbon barrel staves for eight hours. For an extra kick of fruity bourbon on your table, mix some juniper berries in with the salt or pepper in a grinder.