Almost everyone in the cocktailing world loves the Negroni—that most perfect, three-ingredient aperitif cocktail that's all booze, all the time. But some people's appreciation for that bittersweet beverage borders on obsession. The cocktail itself just isn't enough—they need more to satisfy their lust. Luckily, savvy internet retailers are here to help those Negroni enthusiasts fill their lives with all things bracing and bright red. Here are eight of the best Negroni-related items that you can buy for the Negroni freak in your life (including you).
*Note: Online Negroni gift shopping is better when accompanied by an actual Negroni.
Recommended Video
Really Dough's Mark & Scott Take a Bunch of Shots, Do Blind Pizza Taste Test, Argue a Lot
While you're wetting your whistle with Negronis on a night out, moisten your lips with something equally flavorful. This lip balm—flavored with spiced orange and juniper—is a collaboration between Campari and lip balm maker Stewart and Claire, and contains some serious moisturizing ingredients, including beeswax and shea butter.
Light this baby and turn your home into one big cocktail. It has notes of gin and vermouth, and once the soy wax candle inside is all burnt up, the votive transforms into a vintage-inspired rocks glass, just waiting to transport a Negroni to your face.
If you don't have the time to make your own Negroni Marmalade, we get it. Now you can buy a jar to give even your early morning toast a touch of Negroni magic. The marmalade is made with the spent botanicals from each round of distillation at Four Pillars Gin, along with a hint of Campari. If it's sold out, don't worry—stocks are replenished after a new batch of gin is made.
Ever wished your popcorn tasted more like booze? This Negroni Salt will make your savory, edible cocktail dreams come true. A collaboration between Imbibe and Jacobsen Salt Co., these cocktail-infused crystals would make a delightful addition to any sweet-and-salty mashup. We're dreaming of Negroni-flecked peanut brittle this year.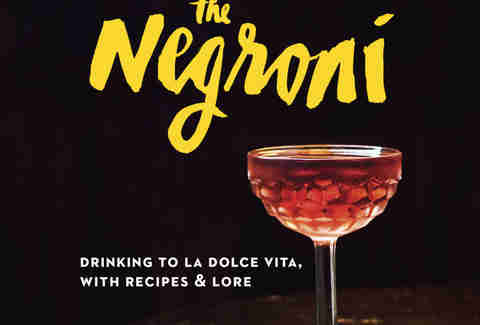 Written by Gary "Gaz" Regan, a storied, eccentric bartender known for stirring his guests' Negronis with his finger, this tome is a study in the art of modifying the three-ingredient cocktail. It includes recipes from bartenders across the country—including a Pizza Negroni—as well as the complicated history of the Italian aperitif.
If you know someone who loves shiny things as much as they love a drink, cocktail and spirits blogger Gastronomista's silver- and gold-plated cocktail bling will fit the bill. The Negroni necklace is the ideal gift for anyone who's eager to subtly and silently profess their love for the cocktail from morning to night.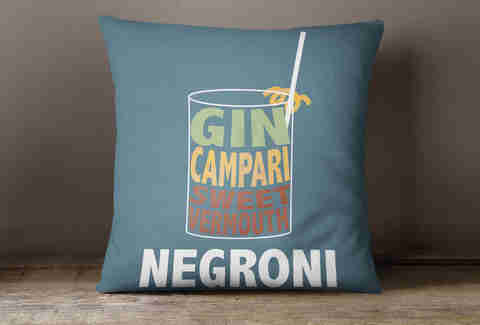 Dream a little dream of Negronis after a night of drinking Negronis on this Negroni-adorned throw pillow. Made by Etsy seller PillowsforthePlanet, it would be right at home on anyone's sofa.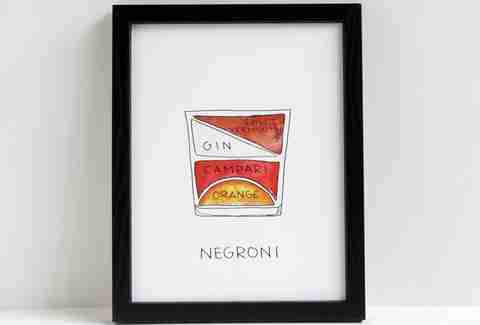 If you know a Negroni freak whose walls are noticeably bare, shop no further. This print is a simple and understated way to declare one's love for the pristine mix of Campari, sweet vermouth and gin. If you're more into Boulevardiers—there's a print for that too.