What to Drink According to Your Favorite '90s Nickelodeon Show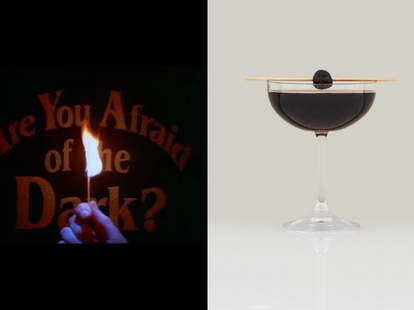 Sanctuary Avalon / Youtube / Supercall
The '90s were a golden age for tooth-rotting candy and brain-melting television—you know, the best things in life. And for many of those programs we can thank Nickelodeon, which provided us with both classic cartoons and live-action mayhem. If you grew up in the '90s, then you definitely had your own personal favorites for which you claimed the television hours ahead of time and then sat far too close to watch. Whether you were an acolyte of Little Pete or Clarissa, here's what you should be drinking according to your top live-action Nickelodeon show.
DanWarp / Youtube / Supercall
This teen-and-tween-staffed sketch show gave us the gifts of Good Burger, Loud Librarian and the pea-loving Miss Piddlin, but it was Sugar and Coffee that inspired this cocktail pairing. In the sketch, two talk show hosts ate straight sugar and drank black coffee, becoming more and more hyper as the bit went on. The White Russian might not get you quite as amped as Buzz and Kaffy, but it'll come close.
NickSplat / Youtube / Supercall
Kenan & Kel: Mimosa
We can't recommend spiking orange soda (Kel's drink of choice, of course), but we can suggest this classic brunch-tail as a pretty good substitution.
NickSplat / Youtube / Supercall
Clarissa Explains It All: Caipirinha
The girl next door with a quirky edge, Clarissa was beloved by all (save for her terror of a brother, Ferguson) but didn't conform to the masses. The Caipirinha follows in suit: It's easy-drinking, but certainly out of the box, thanks to its base of funky cachaça.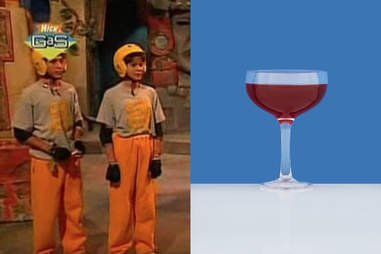 The Perihelion / Youtube / Supercall
Legends of the Hidden Temple: Monkey Gland
The Monkey Gland might not be the same verdant hue as the Green Monkeys (it's more akin to the shirt of a Red Jaguar), but it's as mysterious and alluring as the Shrine of the Silver Monkey. Luckily, it's much easier to make one of these than it is to make it through the (nearly impossible) Temple Run.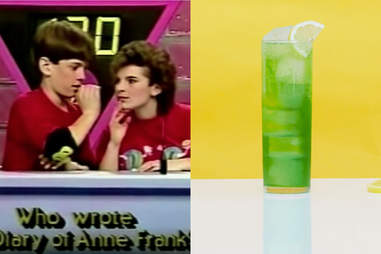 Chad Mosher / Youtube / Supercall
The bright green slime that regularly appeared on Double Dare was essentially Nickelodeon's gloopy mascot. Drink it down in the form of a sweet-tart Midori Sour, which you won't have to fish from inside a giant nose.
Sanctuary Avalo / Youtube / Supercall
Is it going to be a family of vampires? A haunted doll? A scarecrow brought to life through magic? A haunted clown doll? You never knew what you were going to get when the gang gathered around the fire to tell their spooky tales. Similarly, you won't be quite sure what you're getting when you order a Black Manhattan. You'll receive a Manhattan made with an amaro instead of sweet vermouth—but which amaro? We'll never tell. Muahahahah. (If you really want to do the show justice, make the Manhattan with Canadian rye—it was a Canadian-American production.)
Mad Warren / Youtube / Supercall
"Camp Anawanna, we hold you in our hearts / And when we think about you, it makes me wanna…" Well, you know the rest. This Jungle Juice (which is a lot like a boozy version of that camp staple, Bug Juice) is so easy even Ug could make it.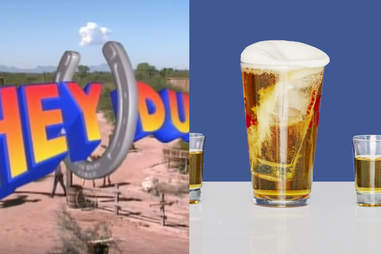 antmaurizio / Youtube / Supercall
This short-lived but often re-run teen-com told the story of Bar None Dude Ranch, run by a New York City accountant-turned-cowboy and his staff of raucous teens. Not only would a Boilermaker (a shot and beer) be one of the only acceptable "cocktails" to order on a wild western ranch, but the show's groan-worthy opening jokes call for something strong to get you through the rest of the episode.
David Marshall / Youtube / Supercall
If you can't reach the peak of the Aggro Crag, settle for achieving fluffy egg white peaks in a Ramos Gin Fizz. Bonus: It'll work your muscles, just like a game of Skyball.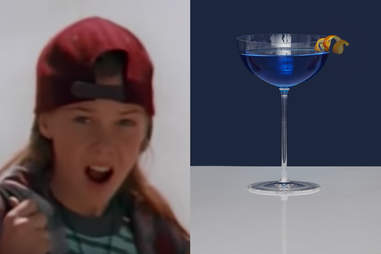 Mill Creek Entertainment / Youtube / Supercall
The Secret World of Alex Mack: Blue Martini
Before she could melt into a chrome puddle or shoot electricity from her fingers, Alex Mack was an everyday, small-town teen. But then she was splashed with a classified chemical and everything changed. This vibrant drink glows like a super-toxin but is actually mild-mannered and friendly.
Mad Warren / Youtube / Supercall
The Adventures of Pete & Pete: Kalimotxo
Poignant, charming and surreal (like Twin Peaks for tweens), The Adventures of Pete & Pete captured the hearts and minds of viewers across the country. The Kalimotxo (whose name may appear surreal to English speakers—it's pronounced kal-ee-mo-cho) is a split between red wine (a nod to the two Petes' fiery locks) and Coke. It's a perfect balance of grownup and kid, just like the show.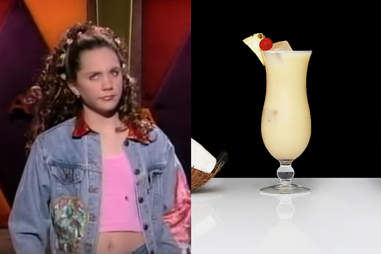 johnnynl / Youtube / Supercall
Bright, saccharine sweet and in-your-face, The Amanda Show helped launch the career of Amanda Bynes after All That. Its collection of nonsense sketches didn't add much to the world, but man, they went down easy—just like a creamy Piña Colada. Doesn't sound good? How about a plate of spaghetti? (If you got that joke, then congrats, you were officially raised by TV.)