These Nostalgic Cocktail Menus Feature Vintage Toys and Throwback Flavors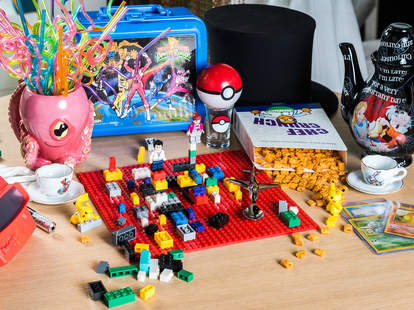 Drinks from the '90s have been all the rage since the internet communally agreed they've been dead long enough to count as nostalgia. Over the last few years, Crystal Pepsi, Surge and Zima have all made appearances on Instagram (they always seem more common on social media than actual store shelves). After one sip of these revivals, though, you may remember why these products were discontinued in the first place.
But now, two bars have created '90s drinking experiences that we actually want to have because the cocktails come with touchstone from the '90s that still stands up after all these years: toys. At Smallman Galley in Pittsburgh and barmini in Washington, D.C., you can find cocktails that taste like childhood treats and come with custom viewfinders, Legos and Pokemon cards. Just try not to ignore your date completely as you relive your younger days.
Taylor Blocksom
Flashback Flavors Menu at Smallman Galley
Pittsburgh, PA
Bar manager Tim Garso says the Flashback Flavors menu at Smallman Galley started as a joke. The team wondered if you could put a cocktail menu inside an old viewfinder toy. "We found a company that makes custom viewfinders online and it really just went from there," he says of the concept that quickly spiraled into a menu full of nostalgic flavors. The bar is known for its creative menu presentations (like a Sandlot themed menu presented in old VHS tape boxes) but the viewfinder is novel even for them. Garso adds, "When people come in and we just hand them the viewfinders, they kind of look at us like, 'You didn't, did you?'" If you don't like old viewfinders or decision-making, you can pick your drink with the paper version of the menu that comes printed on a mini Twister board. It's like bartender's choice but for '90s kids.
Taylor Blocksom
The drinks don't just borrow from the quintessential 9 to 11-year-old age group, but embrace a large swath of youthful experiences. Garso says many bars focus nostalgia plays on early childhood, but the Smallman Galley team wanted to evoke other foundational memories through their drinks. The Saturday Morning 'Toons (Boxer gin, Momokawa coconut-lemongrass sake, Peychaud's bitters) recreates the flavor of Fruit Loops without infusing the cereal into the drink at all (a few loops do act as garnish, though). The 21st Birthday (vodka, Amaro di Angostura, yellow Chartreuse, cranberry, orange, lime, ginger beer) is garnished with an extendable noisemaker, like the ones you haven't used since that regrettable New Year's Eve party or your own 21st shindig. The Baby's First Curry (Maggie's Farm dark rum, Batavia-Arrack, curry syrup, aquafaba, pineapple, lime, Wigle mole bitters) takes the idea of nostalgia (and cocktail flavors) to their limits. But perhaps the strangest and most provocative throwback drink is the LAN Party (Cool Ranch Dorito-infused Herradura reposado tequila, pizza roll syrup, Mountain Dew Code Red bitters, lime). Garso calls it an "umami bomb." We call it 2003.
With all the viewfinders and garnishes stored behind the bar, Garso says, "When we prepped for the first night, we just starting laughing. Our garnish station looks more like your mom getting ready for your birthday party than a bar."
Rey Lopez
Nostalgia Cocktail Flight at barmini by José Andrés
Washington, D.C.
The first cocktail flight at barmini last October evoked Spain, a particular delight for chef and owner José Andrés, who told the bar team how the flavors evoked his own childhood. The bartenders took that comment and ran with it, developing their next cocktail series based on childhood experiences.
The series of seven cocktails proceeds through the life stages, beginning with one that imitates baby food and moving up to cartoons and Legos. Jarmini (genever, Pedro Ximenez sherry, carrot, ginger, sugar snap pea espuma) arrives in a baby food jar, where the Gerber baby has been replaced on the label by a real baby picture of your bartender—just one of the many ways the bar team created excessive custom packaging for their drinks. "Normally [baby food] involves vegetables," says Miguel Lancha, cocktail innovator for ThinkFoodGroup. "We included vegetables there along with a hot sweet pea espuma." The thick, creamy drink is even served with an airplane-shaped spoon.
Rey Lopez
Next comes the Lunch Punch (brandy, lemon, Cherry Heering, Darjeeling tea, milk), a Milk Punch that arrives in a vintage lunchbox featuring Justice League, Teenage Mutant Ninja Turtles, or the Power Rangers, followed by the Gotta Catch'em All, which is actually three cocktails themed for Pokemon. The drinks arrive with playing cards corresponding to each cocktail, with one based on mezcal, one on gin and one on aquavit. "They are handed out by chance. You don't know what card you'll get," Lancha says, adding that each customer also receives a chocolate token which they can use to barter for a different drink.
Next up is the Down the Rabbit Hole (gin, orange, peach, maple, vanilla), which makes real the tea party from Alice in Wonderland. A white-gloved server dispenses the cocktail from a steaming tea pot into delicate tea cups, but the steam is generated by dry ice and the cocktail is cold, giving drinkers a surprise when they take a sip. The Abracadabra (honey vodka, Singani, coconut, lemongrass) uses butterfly pea flower extract to magically turn the cocktail from blue to pink with the addition of clarified lime juice, which looks like plain water.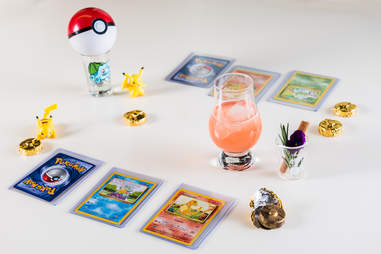 Rey Lopez
If all of the drinks up to this point in the flight have somehow failed to amuse, the Saturday Morning Cartoons is sheer entertainment. The team macerates Captain Crunch with Angostura amaro before drying it to create an infused cereal. Drinkers are instructed to pour the cereal themselves from a custom box—which, Lancha explains, is done up with custom graphics, nutritional info, the works—before retrieving a prize at the bottom. The liquid part of the cocktail, a mixture of brandy, caramelized milk and vanilla syrup, is then poured on top. But the kicker is the mini-DVD player placed alongside, which plays Looney Toons or another classic cartoon as you eat your cocktail.
Finally the If You Build It (mezcal, lemon, ginger, barmini amaro blend, liquid nitrogen) arrives. "You receive two cups," Lancha says. "One is the glassware with the drink, and [the other is] a Lego cup with pieces inside." With a full set of Legos, guests are able to build whatever they want. "You can build your tower or stairway or building or whatever. Some people actually build something with a message, like a 'Thank you a lot.' Some people start playing with the table next to them, mixing and blending the constructions," Lancha says.