August is Tiki Month at Supercall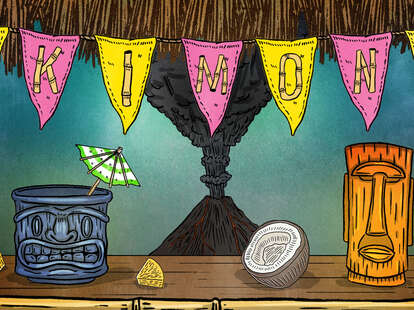 Welcome to Tiki Month at Supercall, a time to discover the best cocktails, people and cultural moments that have made this tropical drink movement so interesting.
A Brief History of Tiki

Born out of a Depression-era need for escapism, the tiki craze started in 1933 with Ernest Raymond Beaumont Gantt. You probably know Gantt as the man who opened Hollywood's famous Don the Beachcomber restaurant (who later legally changed his name to Donn Beach). After the tiki spot gained massive popularity among celebrities of the 1930s and 1940s, it was only a matter of time until other restaurateurs began to copy his tropical style. Close behind Beach was Victor Jules Bergeron Jr. who opened Trader Vic's in Oakland, California, and is widely credited with introducing orgeat to the masses.
As servicemen returned home from the South Pacific in the late 1940s and early 1950s, tropical shirts and Mai Tais in tow, the tiki movement gained mainstream popularity. With the economy strong, many families had the means for exotic tropical travel. Elvis starred in Blue Hawaii and the musical South Pacific was a Broadway hit. Tiki culture was everywhere.
The tiki trend started to die down in the 1970s due to several reasons, such as the high overhead that comes with making high-quality ingredients from scratch, demanding training for staff and a sluggish economy. Many high-end tiki establishments were forced to close their doors, and places slinging cheap, sugary drinks were the only ones that remained.
The Tiki Revival

Tiki made a small comeback in the 90s, but quality drinks didn't necessarily return with it. It seemed people cared more about the Hawaiian shirts and tropical decor than the cocktails. But with the craft cocktail boom of the early aughts came a renewed zeal for tiki, with cocktail historians such as Jeff "Beachbum" Berry leading the charge with books like Beachbum Berry's Intoxica and Grog Log.
Tiki is all about craftsmanship, which only comes with practice. That's why we're dedicating an entire month to tiki culture and technique. Donn Beach and Trader Vic always insisted on fresh juices, homemade syrups and quality spirits in their drinks. Then there's the endless accoutrements and garnishes. Tiki cocktails also have notoriously long ingredient lists, and learning how flavors marry to create a harmonious drink is a very important part of the process. Once you've made a few, however, we think you'll find they offer a richness and complexity not found in simpler cocktails.
This month, we're diving deep into everything from tiki garnishes and glassware, to the history of the Hawaiian shirt and how to make falernum. Come with us on our tropical journey, and you'll be well on your way to tiki master by the time Labor Day rolls around.