This Presidential Cocktail Coloring Book Will Relieve Election Anxiety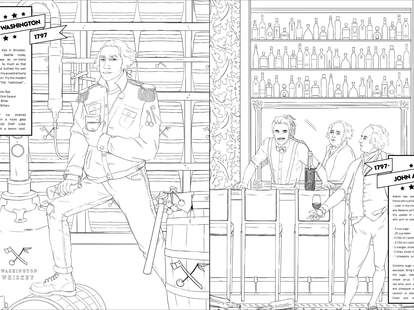 If you've decided you can no longer handle election stress, we have some good news: You can now sip and scribble your way to relaxation with a new grown-up coloring book all about cocktails and former presidents.
Aptly named All the President's Cocktails, the book includes 12 amateur artist-friendly pages featuring former presidents holding cocktails in unlikely situations, as well as an accompanying anecdote and a recipe for each drink. Our favorites include Abraham Lincoln (a.k.a. Sober Abe) taking a spa day while sipping on a cucumber-spiked mocktail, and hipster George Washington guzzling an Old Fashioned in a small batch distillery—which is a little easier to imagine.
The coloring book is a collaboration between W Hotels and illustrator Lindsay Mound, who invite people to "color outside the party lines." The unbiased book features both Democrats like Andrew Jackson, FDR and JFK, and Republicans like Abraham Lincoln, William McKinley and Rutherford B. Hayes.
Right now, the full coloring book is only available to guests who book the Presidential Suite (which W Hotels calls the EWOW Suite), but you can download the entire book to print out and color during tonight's debate. Nothing will soothe your nerves over the days leading up to election day more than meticulously filling in Andrew Jackson's wild hair as he sips a Whiskey Sour or shading the tattoos on FDR's arms as he mixes a perfect Martini. Bottoms up.