I will preface everything here by saying that I love Airbnb. I truly do. It provides an unequivocally affordable and (mostly) authentic way to travel the world, as well as a comparatively private (and safe) alternative to couch-surfing and/or sleeping in the sofa section of a 24/7 Walmart.
That being said, the human race is an amalgamation of horribleness, and somehow finds a way to ruin everything -- Airbnb being no exception. So behold the horrors of human nature, in convenient listicle packaging.
Recommended Video
Please Don't Hang Up: The Best Things to See, Eat, and Do in Milwaukee
The meth, weapons, and cats party
Apparently, meth heads don't make good house guests. Who knew?! Also: Grilled cheese tastes good and getting stabbed hurts. Troy Dayton was a little skeptical about the people he was renting his Oakland home to, and he was so very right to be worried. The group stole a bunch of stuff (including Troy's birth certificate), left behind copious meth paraphernalia plus a live cat, and hacked at the doors with axes and knives. The worst part? They shredded the host's clothes and, for some reason, put his sweaters in the freezer. OK, that probably wasn't the worst part, but my sources confirm they were very nice sweaters.
The temporary Swedish brothel
Two young ladies from Stockholm decided it would be a top-notch idea to rent out their cozy abode while they vacationed for a month. What they didn't plan on was coming home to find their little flat laden with stray pubic hairs, a Ziploc bag full of used condoms, and a note in the mail from the local police force saying, basically: "So, we had to raid your place while you were gone because it was turned into a brothel -- nice job, guys!" The prostitutes who were staying there had been followed by cops for months and were caught literally mid-sex act inside the Airbnb rental, which led to arrests all around.
The old switcheroo
One Californian looking to relax in Austin for a few days was pumped to find a cheap place, but horribly disappointed when the host emailed her saying that he forgot it was "F1 weekend" and that his prices actually needed to be tripled.
The woman had already put down her 50% deposit and had no other place to stay during one of the busiest weekends of the year. The situation was never rectified, and she properly vented about it on her personal blog.
The missing Banksy and empty hippie crack
Jack Donaghy of 30 Rock once famously quipped, "Never follow a hippie to a second location." Sage advice. Another dose of wisdom (this one's from me): If your apartment is worth more than a million bucks, you probably shouldn't rent it out to dirty hippies. Especially with an $8,000 Banksy print chilling in your living room.
Too bad Jack Clarke and Dominic Jones didn't read this before renting out their pricey home while away at a wedding (another reason to hate destination nuptials) to a user with no ratings who claimed he "just wanted to treat his fiancé to a nice weekend." When the duo came home, they found that their home looked as if it had survived a party from American Pie or one of its middling sequels, with condoms, weed, empty cans of hippie crack (nitrous), and other rager aftermath littering the floors. To add guerrilla-art heist to injury, the guests of shame had jacked the prized Banksy print of Leopard and Barcode. Damn, these guys just gave whip-it addicts a bad name.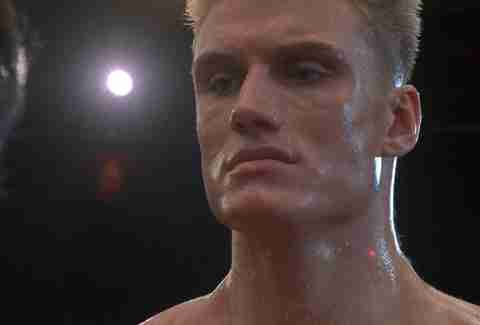 The Russian door-knock
Picture this: You are visiting Berlin, having a very pleasant, German time, and you just rented an Airbnb. It's everything you always dreamed it would be. Then a knock comes at the door, followed by a stern Russian voice asking what the hell you think you are doing in his house. Vacation ruined; undies unexpectedly soiled.
This bout of red shame is exactly what happened to a San Jose iPhone app developer, who described his experience on Hacker News. "For a moment I thought I was in a bad '80s movie," he quipped on one of his expository posts. "I will crush you," the Russian likely responded.
The obese XXX panty-raid sex party
"The worst part of the internet right there was in my apartment," one unlucky renter told the New York Post after renting his place out and later coming home to find it filled to the gills with naked, overweight revelers in the midst of a wild fetish party. Which is totally cool, don't get me wrong. It's just not so cool to do it at someone else's place under false pretenses.
Apparently, the event even had its own internet Evite, which was sent out to hundreds of potential sex-partiers. "I just don't want to touch anything in there," he understandably admitted. It's kind of like Eyes Wide Shut, except appropriately retitled Eyes Completely F*cking Closed No Matter What.
The sex worker-stabbing incident
Apparently, ladies of the night using an Airbnb as a home base is nothing new, and certainly not exclusive to Sweden. In one horrifying case, an NYC-based publicist rented her pad out to a woman claiming to be an Army private that was about to be shipped overseas and needed a spot to crash for a few days.
In reality, she was just a girl who wanted to get cash for showing her private parts. Again. Live your own life. But she drew the ire of an angry John and the cops had to bust up the joint. Thankfully, the woman in question turned out to be fine, and the renter changed her locks immediately.
The ransacking
In one of the first major Airbnb controversies ever, a San Francisco woman returned to her rented-out space to find it completely trashed with most of her valuables missing. The thieves/house guests had broken a hole through her closet door and pilfered her jewelry, technology, cash, and even personal items (the sentimental value must have been off the charts).
They then proceeded to dump bleach over her furniture, leave a crusty, yellow substance all over her bathroom, and... hang up a framed picture of Paris (that she had never seen before). I guess they figured it just tied the room together. These are truly Airbnb anarchists.
The poo-covered abode
A lesson to all would-be Airbnb hosts: Do not always trust profile pics! When Rachel Bassini rented her East Village penthouse out to what she perceived to be an Average Joe -- complete with wife and child --  she probably didn't expect to find her home covered in used condoms, human feces, and unidentified bodily fluids. To add insult to crap-stained injury, Bassini looked the man, "Jeffrey," up on social media and found pictures of her crib and the massive feces-fueled shindig he threw within it. He also failed to return her house keys, so she lives in constant fear of the literal party pooper's return.
The creepy owner
When you rent a spacious pad in Hampton Bays, you expect certain things: amazing beach-side views, world-class amenities, and your host coming back into your rental in the middle of the night and trying to hit on your girlfriend.
Thankfully, one Business Insider employee enjoyed all three during his stay on the bay, with the girlfriend in question receiving a text from their host at 3am reading, "Do you want to try?" before he showed up and asked/told the boyfriend, "The girlfriend, she's cool, right?" and "We do the best we can here." He was probably coming from the poo party in the East Village. We get it.
The squatter who wouldn't leave
Did you ever go on a vacation that you wanted to last forever? A Palm Springs woman rented out her condo to a dude for a month, and when she came back, he refused to leave. And as it turned out, there's a wonky legal loophole that says renting your house (even through Airbnb) is technically a month-to-month agreement, so police had no grounds to kick him out.
Eventually the woman and the man moved in together, learned how to live together cohesively, got married, and landed a reality show on Bravo. Just kidding. But like, it would probably air that. 
The roof is literally on fire
This one comes not from a host, but an ex-customer service rep from Airbnb venting on Reddit. I'll let her take over: "One night at around 4am, I got a call from a guest saying that the place they rented was burning down. Twenty minutes later, I got a call from a host saying that a guest had burned their place down. It wasn't really my job to figure out who was at fault, or even what actually happened, but one thing was certain. That place did burn down."
My own personal nightmare
Though it was certainly not as horrific as most of the nightmares on this list (and it includes zero feces), my own personal Airbnb disaster happened about a year ago in a little town in the middle of nowhere called "Chicago."
At 3am my girlfriend and I woke up to a pounding on our door, with no less than two dozen firemen standing in the door frame. Every man's (and my girlfriend's) fantasy, right? Nah. Apparently, gas leaks are horrifyingly unsafe, and the barbershop beneath us was spewing more hot gas than your Facebook friends on Election Day.
We had to leave and find a hotel room, but at least we got to see three firemen sawing down a metal door lock at 4am, so I have that going for me. And I can rest easy knowing that absolutely no "Big Beautiful Women" orgies or poop-covered couches were involved. I consider myself extremely lucky.
Sign up here for our daily Thrillist email, and get your fix of the best in food/drink/fun.