10 Best Airport Bars in the U.S. That Actually Make Flying Bearable
Courtesy of Cask & Larder
Traveling can really suck, especially when you're stuck in airport security lines behind someone who has no idea what constitutes three ounces, or trapped in a stuffy, lightless airport terminal with a delayed flight. But there's one thing that can make it all better: the airport bar. Sure, some are not worth the $12 it costs to buy a Coors Light, but there are a few that go above and beyond, and make traveling almost bearable. From Portland International Airport's Rogue Ales to Orlando's Cask & Larder, here are 10 airport bars you can count on during your layover.
Courtesy of One Flew South
Hartsfield–Jackson Atlanta International Airport
One Flew South is known as the "first upscale dining experience" in Atlanta's sprawling airport. It features both cocktails and sushi in Terminal E, and also serves up what is known as "Southernational" cuisine. The cocktail menu is especially cool, with drinks inspired by Aeromarine Airways, which carried rich travelers from dry Miami to rum-soaked Nassau and Havana during Prohibition. With a massive photo of a Georgia forest serving as the backdrop for the sushi bar, you're sure to feel some semblance of escape and tranquillity. Just be sure you don't stay too long in the faux forest and miss your flight.
Midway Airport
Midway is not as heavily trafficked as O'Hare, but there's a good reason to change up your airport preference when connecting through Chicago: Reilly's Daughter. The Irish pub is open every single day of the year for all your drinking needs while in Midway. It dates back to 1976 and has a second location in the heart of Chicago (you know, so you can visit twice). It's a bit of a weathered spot, but you'll love it nonetheless for its perfectly poured pints of Guinness and massive burgers.
 
Courtesy of Rogue Ales
Portland International Airport
As you drag your suitcase through Concourse D, be sure to stop for a beer at Rogue Ales. Several of their own brews are on tap, including Shakespeare Oatmeal Stout, Dead Guy Ale and Hazelnut Brown Nectar, and you can also order cocktails with some of their own spirits like Oregon Rye Whiskey and Spruce Gin. There's food, too, so you can pad your stomach after downing a couple of Spruce Gin Martinis in preparation of that red-eye flight.
Nashville International Airport
The live music doesn't have to stop, even as you're heading out of Nashville. Tootsie's Orchid Lounge, an iconic honky-tonk bar, has an outpost in the airport itself. It's definitely not fancy, but it has a good vibe and is a great place to kill time if you're dealing with a flight delay. Keep your order simple: BBQ and a beer.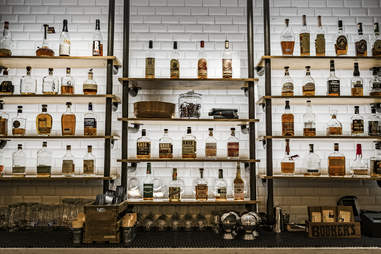 Courtesy of Book & Bourbon Southern Kitchen
Louisville Airport
Celebrate the spirit of Kentucky bourbon while you wait for your flight in the Louisville Airport. Book & Bourbon Southern Kitchen offers an impressive list of 85 local bourbons, including rarities like Pappy Van Winkle, Angel's Envy Cask Strength and George T. Stagg. You can also pick a classic whiskey cocktail or order some Southern grub (the buttermilk fried chicken sandwich comes highly recommended). Don't say we didn't warn you when you max out your credit card on rare bourbons, though.
Courtesy of Cask & Larder
Orlando International Airport
"Farm-To-Terminal" dining might sound like a marketing gimmick, but Cask & Larder is a genuinely great spot to grab a bite and a few drinks while in transit in Orlando. It offers Southern-inspired meals with seasonal ingredients and even features Gin & Tonics on tap. The eight beer taps serve up Cask & Larder beers brewed in Winter Park, FL, and their Public House Old Fashioned will take away any airport-induced stress.
Courtesy of The Apothecary
The Apothecary
John F Kennedy International Airport
Look for a small bar called The Apothecary in JFK's Terminal 4 as you head out on your next trip. Nestled in the Five Boroughs Food Hall, the bar has just a few stools set up in an old VW bus. Grab a taco or sandwich from one of the neighboring stalls and then order up a cocktail—something you can't usually do in a food truck court. It's a great respite from the JFK crowds, especially if you're lucky enough to score one of those coveted stools.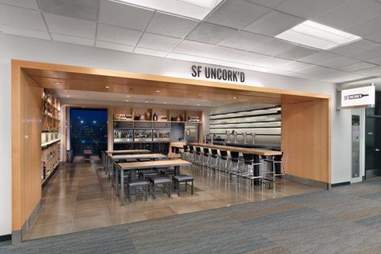 Courtesy of Uncork'd
San Francisco International Airport
You can count on San Francisco to provide travelers with an in-airport wine experience. Uncork'd is a beer and wine bar in SFO's Terminal 3 where you can imbibe or order a (very classy) artisanal cheese plate. The wine list is global, although there are some great California selections like Sonoma Cutrer Chardonnay and Carmel Road Pinot Noir. It's definitely one of the more civilized experiences you can have in an airport, and there are even wine flights on offer in case you didn't get to make a stop in Napa during your NorCal trip.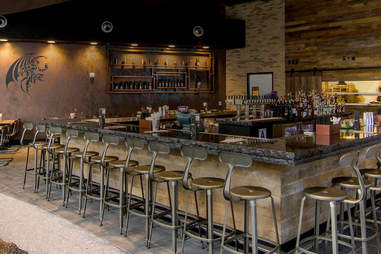 Courtesy of Stone Brewing Co
San Diego International Airport
San Diego hotspot Stone Brewing Co has its own outpost in Terminal 2 of the airport. There, you can try one of their classic brews, like Stone Ripper and Stone IPA, or hold out for one of the special release beers that arrive throughout the year. There are also great food and cocktails available all times of day (check out the BBQ duck hash and a Gin Mary if you're on a morning flight).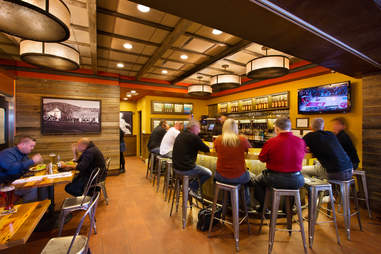 Courtesy of High West Distillery & Saloon
Salt Lake City International Airport
High West Distillery is Utah's first new distillery since the 1870s, but it's already expanded its Park City location into the Salt Lake City International Airport's Concourse E. There's Western-themed food, like baked macaroni and "mountain" cheese or a bison and Black Angus burger, as well as a strong cocktail list. Try the Dead Man's Boots, with Rendezvous Rye and El Jimador Reposado Tequila, or order a High West whiskey flight, which showcases the distillery's best wares. Then toddle on over to your gate for the most relaxed flight of your life.