States' Weird Drinking Habits: Alaska's Smoked Salmon Vodka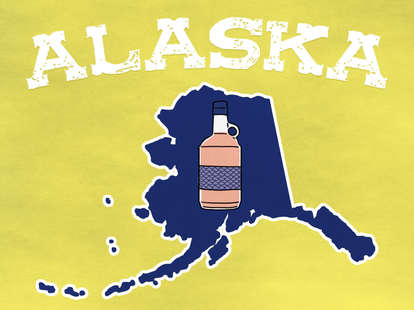 We're all about incorporating fish into our cocktails, but infusing it directly into spirits? In Alaska, where wild salmon swim freely and vodka is a necessary means of defense against the bitter cold, one distiller didn't think twice about marrying the two. The result? Possibly the world's most polarizing brunch drink.
Located in the foothills of the Alaska Range, Alaska Distillery produces a vodka distilled from glacial ice water from the Prince William Sound and infused with wild smoked salmon. First introduced in 2010, the vodka was the funky, fishy brainchild of Alaska Distillery partner Toby Foster, who was in charge of coming up with distinctly Alaskan flavored vodkas. "What's more Alaskan than smoked salmon?" Foster said to the AP when the spirit was first garnering press. He admitted that he may have had some help in coming up with the idea. "I think there was some madness and some drunkenness involved, honestly," he said.
If the idea of smoked salmon vodka already sounds a little gag-worthy to you, you might want to stop reading. Much like sausage, finding out how it's made isn't an appetizing adventure. Still with us? Then let's dive in. The distillery buys smoked salmon from local Alaskan stores, then skins, debones and de-fats them, before grinding them all up together. The masticated salmon is then marinated in a vat of ethanol, strained into a concentrated smoked salmon essence, and finally, cold-infused into vodka.
Though it may seem like a gimmick, smoked salmon vodka isn't a flash-in-the-pan fad sold only as a gag gift. It is actually good in cocktails. The smoky, briny vodka blends smoothly into a Bloody Mary and even has the potential to make a seriously great, seriously dirty Martini. Or if you're celebrating the Russian zakuski tradition of drinking shots of vodka with snacks like pickles and smoked fish, the smoked salmon vodka only enhances the experience.
The fishy, pale pink spirit is available in select markets across the U.S. and Canada, but your best bet at snagging a bottle is at the source—way up in the final frontier. A word to the wise: If you do get your hands on some, try to control the urge to make a Bagel-and-Lox-tini—cream cheese and alcohol just do not mix.