15 Unexpected Ways to Use Alcohol Around the House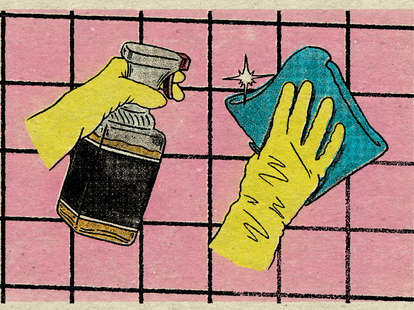 We know, not drinking your precious alcohol sounds like sacrilege. How dare you do anything besides imbibe your booze when there are so many amazing cocktails to be made?! But maybe you were gifted a downright nasty bottle of cheap vodka that you know better than to drink. Maybe you forgot your wine and left it spoiling in the fridge. Whatever the case, alcohol has a ton of other unexpected household uses. From removing stains to giving your hair a beautiful lustre, these 15 alternative uses for alcohol are downright genius.
Freshen Laundry with Vodka
Banish odors, particularly that musty thrift store smell that lingers in vintage clothing, with a DIY laundry freshener made with vodka. Mix equal parts high-proof vodka with water in a spray bottle for a totally neutral deodorizer, or add a few drops of your favorite essential oil, like lavender or lemon, for a lovely scent.
Soften Skin with Red Wine
In general, alcohol is too bracing for the skin, so we wouldn't recommend using a high-proof spirit like vodka on the skin as a toner. But red wine is chock-full of antioxidants and anti-aging properties, making it a perfect ingredient for skin treatment. Try making a natural face mask with three tablespoons of red wine, an egg white and a tablespoon of honey, and leaving it on your skin for about 10 minutes.
Repel Insects with Vodka
All you need to do to get rid of pesky insects invading your personal space is spray a little vodka directly onto yourself. Like we already mentioned, alcohol is abrasive on the skin, so spray it onto your clothing, or dilute the mixture with a little bit of water if you're worried about drying out your skin.
Polish Metal with Gin
If you want to shine metals like copper, stainless steel or chrome, try rinsing them in gin, which is said to help make your pots and pans extra shiny. The jury is out on why gin would be any more or less effective than vodka (we'd guess that it isn't), but at least your cookery will be left with a nice juniper smell.
Loosen Rusty Bolts with Beer
The carbonation in beer helps break down rust, so if you have a stubborn bolt or anything else covered in rust, corrode it by pouring a few glugs of beer over it and waiting a few minutes for the rust to break down.
Preserve Flowers with Vodka
Vodka won't help your flowers live forever, but it can significantly improve their longevity. Put your flowers on life support by adding a few drops of vodka to a vase of water. Some say a teaspoon of sugar in addition to the vodka will also help stave off the flowers' inevitable demise.
Make Perfume with Whiskey
Many colognes feature the scent of whiskey in their blends due to the spirit's alluring aroma, but you can cut out the middleman by just dabbing straight whiskey onto your body like you would a cologne. For a more professional DIY, try mixing whiskey with ingredients like bitters, grain alcohol and tobacco leaf essential oil for a real cologne-like product.
Remove Grease Stains with White Wine
If you left a half-drunk bottle of white wine in the fridge and it smells like it's turned, congratulations, you're halfway to making vinegar. Just as vinegar acts as a stain fighter, leftover white wine can help lift stubborn grease from fabric. Coincidentally, this even works with removing red wine stains, when white wine vinegar can act as a great first responder before the heavy duty stain cleaners arrive.
Clean Glass with Vodka
Ditch the blue bottle of Windex and make your own glass cleaner with vodka instead. The non-toxic alternative is made by combining two cups of hot water, a tablespoon of cornstarch, and a quarter-cup each of vodka and white vinegar. Vodka helps counteract vinegar's potent stench, leaving a virtually odorless glass cleaner for windows, windshields and mirrors.
Clear Up Brown Spots on Your Lawn with Beer
Beer is loaded with fermented sugars and nutrients that your ailing lawn will gladly suck up. Pour a cup of beer on a brown spot in your lawn, and it will slowly act as a fertilizer, letting the soil absorb its nutrients and sprout fresh green grass.
Get Rid of Mold with Vodka
Mold isn't just an eyesore. It's a health hazard. Eradicate mold in your living spaces by spritzing straight vodka on the problem areas, letting it soak for about 10 minutes, and then scrubbing the gunk away. It basically functions the same way as bleach does, just without the toxicity.
Polish Wood with Beer
Preserve antique furniture or even your hardwood floors with a little bit of brewski. Rub beer gently onto wooden furniture with a cloth to spruce up its sheen and color—just use a flat beer to avoid corroding the wood.
Disinfect Fruits and Veggies with Wine
OK, so we don't recommend pouring a nice bottle of Cabernet over your fruit and veg, or letting your produce soak in a wine bath, but if you have leftover wine that's basically spoiled, it doesn't hurt to give the food a quick rinse in the sink with the vino. A study at Oregon State University found that wine can have antimicrobial properties, making it act as a natural disinfectant and killing bacteria like E. coli from the surfaces of fruits and vegetables.
Remove an Adhesive with Vodka
Rather than giving yourself an involuntary body wax, use a little vodka to ease a Band-Aid off your skin. The vodka will break down the adhesive, allowing the bandage to slide off without pain. The same technique can be used for removing sticker gunk and labels from jars.
Shampoo Your Hair with Beer
Some people swear by shampooing their hair with beer—Catherine Zeta Jones allegedly has been shampooing her lushious locks with beer for years. Various experiments from different lifestyle publications put the rumour to the test, with varying results. Some agreed with Zeta Jones, saying that it made their hair softer and shinier. Others lamented that it made their hair greasy and smell like a frat house. You'll have to try for yourself—but we're going to stick with drinking our shower beers instead.