7 Boozy Ice Cream Parlors That Serve Spiked Scoops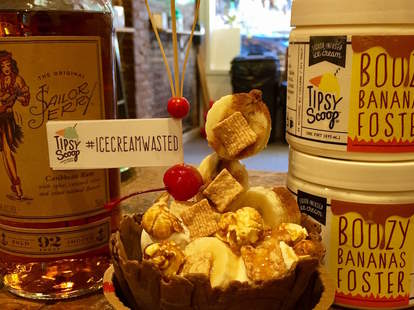 Somewhere, someone decided ice cream wasn't enough, that it needed to be liquor-infused to really satisfy our sweet and boozy cravings all at once. And to that person, we owe our undying thanks. Spiked ice cream brands are filling grocery store shelves, but the quintessential ice cream parlor experience has also gone 21 and up, with scoop shops that serve adult flavors on-site. We're not talking about shops that occasionally feature a cocktail-inspired flavor to seem grown-up or edgy. These scoop shops either primarily serve boozy ice cream or devote serious permanent menu space to spiked options. Here, the best boozy ice cream shops in the country.
When cult brand Tipsy Scoop announced that it was opening a brick and mortar shop in NYC, it basically broke the ice cream-loving internet. Not only can you get the brand's signature flavors (Red Velvet Martini, Hot Buttered Rum, Maple Bacon Bourbon) in individual servings at the shop, but indecisive snackers can also get flights of four flavors. The shop has also released a number of specialty sundaes like a Spiced Mai Tai Sundae with Sailor Jerry and a Margarita Sundae made with Patron for Cinco de Mayo. Of all the boozy ice cream Instagram bait, Tipsy Scoop's is the baitiest.
Upon walking into Prohibition Creamery, you won't be surprised that the place serves boozy ice cream. It looks more like a bar than an ice cream parlor, and a full back bar allows bartenders to serve a comprehensive cocktail menu to boot. But the real draw is still the ice cream, with creative options like Black Magic (charcoal and mezcal), alongside more humble flavors like Sangria Sorbet. An array of floats back up the scoops, including the Bananas Foster (Brugal Anejo rum, Giffard banana liqueur, salted caramel) and Car Bomb (Baileys Irish Cream, milk stout beer, bourbon ice cream).
This shop's name may not flow off the tongue, but its ice creams sure do go down easy. The stripped down interior—simple back bar with a few brews and spirits, vaguely industrial aesthetic, blender for shakes—belies the quality of its frozen treats. A rotating list of 10 flavors always includes five spiked options, like Raspberry Tequila Sunrise and Not the Dude (a White Russian milkshake).
Half the menu of this St. Louis creamery is dedicated to sinfully delicious spiked ice cream flavors. But no matter which side you choose, you can feel good about the all-natural butterfat ice cream bases, made from local, grass-fed, pasture-raised, hormone-free cows. Naughty flavors include the Belgian Beauty (Perennial "Saison de Lis" Belgian ale, organic chamomile flowers, coriander, vanilla, cumin), Caribbean Cool (Malibu rum, OJ, fresh pressed cranberry juice, Midori, peach schnapps, vodka) and Lion's Tooth, which is made with Lion's Tooth Dandelion Liqueur.
Flash freezing ice cream right in front of customers isn't just a gimmick at this Ohio shop; it actually serves a purpose. With the speedy freezing process, customers can infuse any alcohol of their choice right into a base of ice cream, frozen yogurt or sorbet, making Buzzed Bull the most customizable venue on this list. If you find all that choice overwhelming, the shop also offers unique creations with suggested spirits, like the namesake Buzzed Bull (coffee ice cream, caramel, nuts, whipped cream, bourbon) or Tiger Stripes (chocolate base, peanut butter cups, peanut butter sauce, spiced rum).
The flavors at Suga and Ice are split into two categories, exotic and infused, but some of the boozy flavors may as well be cross-listed. Whiskey Lucky Charms, Beer & Pretzel, and something called Jamaica Me Crazy show just how creative the three sister proprietors of this Georgia shop can get. But if you need further proof, look to the "smooshie bun," which is an ice cream sandwich with doughnuts for buns. Get your chosen infused flavor in a smooshie, a cookie sandwich or a sweet potato cone for added flavor.