Some people dream of peering into celebrities' closets, but we're much more interested in getting a peek at our liquor idols' home bars. So we were overjoyed when industry great, Allen Katz, willingly let us get deep into his amazing library of booze.
Katz is the Director of Spirits Education and Mixology for Southern Wine & Spirits of New York, as well as co-founder of New York Distilling Company, based in Brooklyn, New York. There, he and his team create some of the state's most noteworthy bottlings, including Dorothy Parker American Gin, Mister Katz's Rock & Rye and Ragtime Rye Straight American Whiskey. Recently, Katz welcomed us into his home and gave us a tour of his impressive collection of spirits, which he's amassed during his more than 15 years in the industry. It's so big, we couldn't even get it all into one picture. "I would say I have close to 300 bottles total, of just distilled spirits," Katz says. That's our kind of bar.
Recommended Video
Thrillist's Best (and the Rest): What You Actually Need to Know About Natural Wine
But his home bar isn't simply decorated with bottles—it includes a number of family heirlooms, like a set of amethyst-colored coupes that belonged to Katz's great grandmother, and plenty of boozy knick knacks. Here, Katz, his wife Samantha and his father Albert—who happened to be visiting at the same time—talk about the bar's inner workings and their "open bottle" policy.
Allen on his most prized bottles...
"I'd say I've been collecting with humility and good graces for about 15 years, because collecting from my work standpoint often means being the fortunate recipient of gift bottles or special bottlings of spirits. It's a combination of purchasing things that Samantha and I are fond of, but also receiving things that oftentimes people are looking for feedback on. Some of my most prized bottles are my collection of Evan Williams Single Barrel vintages. And my vintage bottles of Chartreuse."
On his love of whiskey...
"As you can see I'm a whiskey enthusiast. Not only because I make rye whiskey in Brooklyn, but also because I'm enamored with drinking whiskeys. To that end, there's a lot of American whiskey—bourbon and rye. There's also some fun bottles of Scotch whisky, Irish whiskey and some interesting bottlings of Japanese whisky. Looking at the different variations of whiskey from around the world, including our own, is something I very much enjoy."
Allen's dad Albert on where the bar came from...
"We always had it as a bar. We never had this type of inventory because it wasn't our business, but we had a good inventory! I made good cocktails in those days. When we moved to Florida, we gave Allen and his sister stickers and said you take your sticker and put it on each piece of furniture you want. Of course, we knew Allen wanted this piece."
Allen's wife Samantha on the gold-flecked Bols music box bottle….
"This was used as a centerpiece in my grandparents' 50th wedding anniversary. I don't think we can get it to work anymore, but it plays 'The Blue Danube.' To be honest—don't laugh—I wash my hands after I touch this bottle because it sat in my grandparents bathroom for years. We talked to our friend about it, who works for Bols, to see if he'd ever seen these bottles, about the gold leaf, how it was made, is it drinkable—but I don't think I would drink it."
Allen on his vintage Tom & Jerry punch bowl…
"We got it on eBay. If you're familiar with the Tom & Jerry, it's existence these days is primarily perpetuated by its popularity in the upper Midwest closer to Christmastime. It's the best damn Eggnog you've ever tasted in your life."
Samantha on the ceramic Cherry Heering bottle…
"My parents and grandparents are antique collectors, so when they see something that they think is relevant to our collection or our bar, they'll send it to us. They sent this because we're friends with the woman whose grandmother created the recipe for Cherry Heering. It's a much longer story of how we're friends, but the friendship is multi-generational starting with my grandparents."
Allen on his "open bottle" policy…
"Friends always want to know if it's okay to taste something from the bar. It's an open door, open bottle policy. Nothing is so sacrosanct or special, whether it's the Pappy Van Winkle or the Evan Williams or our spirits, that someone can't go ahead and have a taste. We're not collecting bottles to have them just sit on the bar. There's hundred-year-old whiskey on that bar. There's Cognac from 1914 on that bar. If somebody is visiting and wants to taste, they're welcome to it."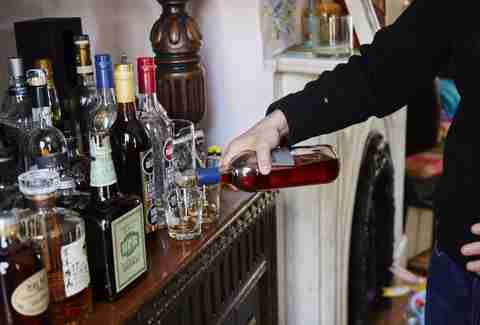 On that 100-year-old Baltimore Pure Rye...
"That was a great gift. It's from someone who knows I'm from Baltimore and that I make rye whiskey and have sort of been at the forefront of the resurgence of rye whiskey from its historical and cocktail standpoint. It's about a hundred years old. I have no idea what the percentage of rye in this is." [Albert adds: "I've had better ryes."]
On what he plans on adding to his bar…
"More aged rum."