Paid Content For
Captain Morgan
America's Most Epic Spring Celebrations
Paid Content For
Captain Morgan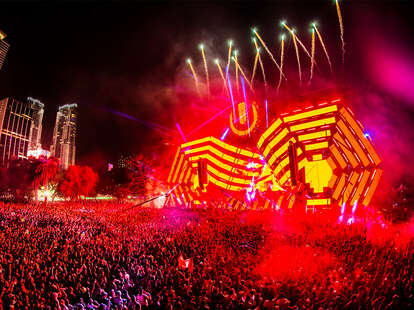 Courtesy of Ultra Music Festival
Courtesy of Ultra Music Festival
The winter season certainly has its charms, but let's be honest: by the time the groundhog creeps out of his burrow in early February, the vast majority of us are pulling hard for team "no shadow" and the early spring it promises. And by the middle of March, the supposed start of spring, we can all use any excuse to get outside and celebrate the fact that we survived another season of wet and grey and cold.
Fortunately, there's no shortage of massive events spread across the nation that give us the opportunity to do just that. We picked nine of the most epic spring celebrations in the U.S. (none of which involve cherry blossoms) to help you shake off the winter blues and party your way toward summer.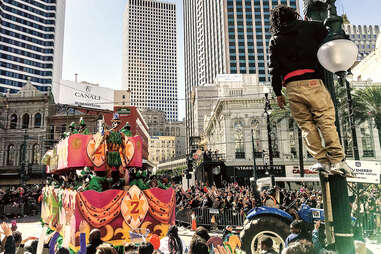 Mardi Gras
New Orleans, LA
Date(s): The dates of the world's greatest Carnival celebration (sorry, Brazil) shift from year to year. In 2017, the party begins in earnest in mid-February and peaks during the extended weekend leading up to February 28—Mardi Gras, aka Fat Tuesday. Sure, it's technically not spring yet, but Mardi Gras still kicks off the spring party season, and does it in style.
411: If you're planning to go, arrive no later than the Saturday before Fat Tuesday to make the most of festivities. More than 50 parades are organized and paid for by the city's innumerable krewes, members-only clubs whose sole function is to organize parades.
While you and your crew may want to make a bee-line for Bourbon Street, a word to the wise: that's not where the locals go. For a different experience, head to the Marigny or Bywater neighborhoods to watch the Intergalactic Krewe of Chewbacchus parade, to name just one amazing alternative. (Grab a parade-tracker app to help your recon.) Wherever you end up, don't forget to wear a costume, or at least some purple, green, and gold. Those are the official colors of Mardi Gras, and though the reasons for that are disputed, here's a related fun fact: Both LSU (purple and gold) and Tulane (green) derived their sports teams' colors from the Mardi Gras palette.
Highlight(s): The Krewe du Vieux parade, famous for its racy themes, some of the city's best jazz bands, and its colorful route through the French Quarter.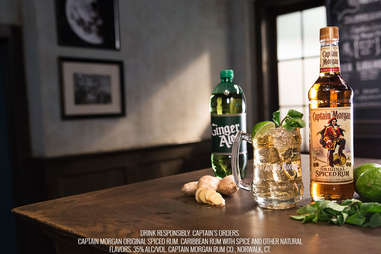 Wherever you go this spring, make it more epic
Whether you're celebrating Mardi Gras, throwing down at the country's largest St. Patrick's Day Parade, or rolling into a massive music festival, elevate the vibe of the occasion with Captain Morgan Original Spiced Rum. It's perfect for any of these five simple and delicious cocktails that are as easy to make yourself as they are to order from a bartender.
Lebowski Festival
Los Angeles, CA
Date(s): March 3-4. The Lebowski Fest has been held all over the country since 2002, and this year it rolls—like a tumblin' tumbleweed—into LA in early March.
411: The Festival started in a Baptist Bowling alley in Kentucky, and has played host through the years to stars from the film, including The Dude (Jeff Bridges), Maud Lebowski (Julianne Moore), and Donny (Steve Buscemi). It's also been held in New York, Los Angeles, Las Vegas, and Milwaukee, among other cities.
Highlight(s): The LA event kicks off with a Big Lebowski screening party, and music from Kyle Gass Band (along with some other special guests). Day two is all about the unlimited bowling and copious servings of The Dude's beverage of choice. Costumes are encouraged, bowling shoes a must.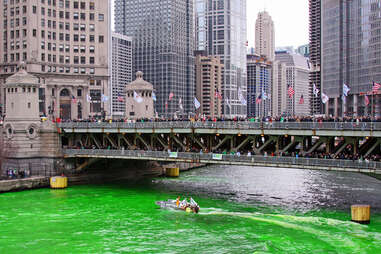 St. Patrick's Day
Chicago, Dallas, and Pittsburgh
We've narrowed it down and there's no disputing it: These are the top three St. Patrick's Day parties in the country.
Date(s): Surprise! March 11. That's right, all three of these legendary St. Patrick's Day celebrations kick off six days ahead of the actual St. Patrick's Day. The 11th is a Saturday, so you won't have to worry about work the next day.
Chicago, IL:
411: Chicago dyes its namesake river green and then runs a colossal parade up Columbus Drive alongside the gloriously altered body of water. Plus, the city celebrates St. Paddy's all month long, giving you every opportunity to survey its many, many bars and pubs. Not sure what more you can really ask for, people.
Highlight(s): The river, obv. The (eco-friendly, in case you were concerned) dyeing process starts at 9:00 a.m. and the parade starts at noon. If you fail to get there in time, the river does stay green for a few days, so you'll still have a chance to witness its majesty.
Dallas, TX:
411: You're not going to hear much Erin go Bragh in Dallas, to be perfectly honest. Their St. Patrick's Day is not so much about Irish pride and traditions as it about the city suspending the open-container law for this one day out of the year and everybody just having a damn good time. The Greenville neighborhood shuts down entirely to host what it calls the largest St. Patrick's parade in the Southwest. Make of that claim what you will, but Dallas does St. Paddy's its own way, and we heartily approve.
Highlight(s): Depending on your personal preference, this may or may not be a highlight, but you can run a 5K before the parade. Post-parade, you'll find live music, buzzing local eateries, along with locals prone to invite you into their own party.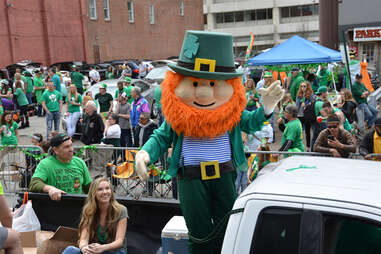 Pittsburgh, PA
411: The Steel City isn't generally associated with St. Patrick's Day, but perhaps that should change: 13.5% of Pittsburgh's population identifies as Irish—the same percentage as in Boston. The city also says its parade is the second largest in the country. That may be debatable, but what's not is that Pittsburgh has the most dedicated marchers in the world: they held—and completed—the parade during the infamous Blizzard of 1993, the worst winter storm to hit the city in more than a century.
Highlight(s): The annual Irish Fair in the Square features free concerts, green beer, and happy masses of Irish-identifying Yinzers! After 2pm it's adults-only, and open containers are allowed throughout the Market Square.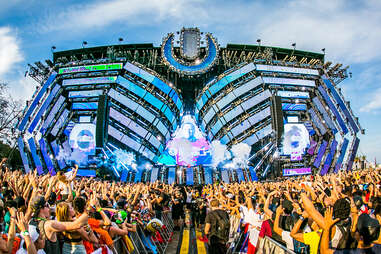 Ultra Music Festival
Miami, FL
Date(s): March 24-26. Founded in 1999, Ultra was a one-day dance-music celebration until 2006, when it expanded to three.
411: This massive EDM fest draws more than 150,000 people to the city's Bayfront Park, where they spend three days writhing in hordes of revelry. It's an all-day and all-night marathon. Plan your nap schedule in advance to ensure you don't miss the headliners.
Highlight(s): This year's top-billed live acts include Ice Cube, Justice, and Major Lazer, alongside a DJ lineup featuring Armin Van Buuren and David Guetta. General admission tickets are sold out, but you can still snag a three-day VIP ticket.
This event is all about sexy fun in the sun, but don't underestimate that Miami heat. Ultra has plenty of free water stations—visit them often.
Interstate Mullet Toss
Pensacola, FL
Date(s): April 28–30, at the Flora-Bama, the the iconic party bar straddling the state line between Florida and Alabama.
411: If you've never been to Flora-Bama, then you need to go. Stat. And there's no better time than the last weekend in April, when they stage the annual Interstate Mullet Toss. While the word 'mullet' may conjure up images of a regrettable '80s hairstyle, the mullets that get tossed here are fish. (Though plenty of the 40,000-plus revelers who show up do sport complementary mullet haircuts for the occasion.)
The contest is simple: from a 10-foot circular launch area in Florida, contestants toss the mullets across the state line into Alabama, longest toss wins. No gloves allowed, and champions are crowned in age groups from 1—really!—to over-70.
Highlight(s): The glories of the Mullet Toss are many, from the come-one, come-all nature of the event to the sensational Gulf Coast location to that one guy who competed in a lime-green, over-the-shoulder banana hammock. But topping the list is the fact that it's all for a good cause: Flora-Bama contributes more than $20,000 in Mullet Toss proceeds to local charities each year.
Memphis in May World Championship Barbecue Cooking Contest
Memphis, TN
Date(s): May 17–20. This year's contest is the 40th edition of the event, and the competition is being expanded from three to four days.
411: Spring celebrations wouldn't be complete without one that involves stuffing your face. The annual Memphis in May World Championship Barbecue Cooking Contest fills—literally—that bill. The secret to really enjoying this contest is purchasing a ticket for the Kingsford Tour of Champions. This allows you to sample barbecue and judge it (otherwise, teams aren't allowed to serve food to the public). You'll also get tours of competition tents, be able talk to the teams, and maybe learn a few tricks of the trade.
Highlight(s): The "Ms. Piggy Idol" competition, in which BBQ teams get on stage and sing or perform skits—with one of their members dressed as Ms. Piggy; the eyebrow-raising headquarters built by team members, some of which are three stories high, contain full bars, and are soundtracked by DJs; oh, and all of the delicious, succulent barbecue on hand.
Sasquatch Music Festival
George, WA
Date(s): May 26-28. Founded in 2002, the Sasquatch Festival is part of the recent wave of regional (as opposed to touring) music festivals.
411: The Sasquatch Festival is your best bet if your musical tastes transcend all-EDM, all-the-time. Held in the 27,500-seat Gorge Amphitheatre, alongside the Columbia River, the event features one of the more picturesque concert locations you could ask for. Add headliners Chance the Rapper, The Shins, and Aesop Rock, along with comedians such as Fred Armisen and Sasheer Zamata, and this epic weekend is well worth the trip.
Highlight(s): Beyond the stunning location and diverse roster of quality acts is the fact that you can camp at the nearby Gorge Amphitheatre Campground for the whole weekend. Camping passes are good for one vehicle and up to six people.