See that ordinary-looking apple there in the fruit bowl on your kitchen counter? Yeah, don't be fooled: that ordinariness is just a front, built by centuries of being a go-to, staple fruit. In truth, apples are like Clark Kent, living a double life as both common household items and superhero products with astounding powers and capabilities—and more than a few quirks.
The apple has also been a part of cocktail culture since—well, since before cocktails were even a thing. From antique varieties like Foxwhelp, Ashmead's Kernel and Esopus Spitzenberg (a favorite of Thomas Jefferson's) to modern cultivars such as Cosmic Crisp (more on that in a jif), apples have a history as rich and complex as the taste of a fresh Honeycrisp.
And make no mistake, they've amassed their share of eccentric factoids in that time. Here are 11 certain to get you looking at that fruit bowl with new eyes.
In 17th century America, hard cider was safer than water
Planted with seeds brought over from England, as well as native crab apple seeds, the colonists' apple orchards bore more fruit than the settlers could keep up with. They quickly discovered that fermenting the apples into hard cider extended their usefulness, created a delicious beverage, and provided a healthy alternative to their oft-contaminated water supplies. Pretty much everyone drank it.
 
Cider was so popular among colonists, it was used as currency
You know what's hard to come by when you're carving out a new civilization in a foreign wilderness? Apart from, you know, food, shelter, and the aforementioned clean drinking water? Currency. Sure, you could bring some over from the Motherland, but, really, what value would it have in the New World? Colonists certainly understood this, and that realization, on top of the simple fact that folding-money was scarce, made them look for an alternative. Since cider was such a prominent part of their lives, it gradually became a viable stand-in for cash money.
 
Hard cider was sold, ballpark-concession–style, at the first battle of the Revolutionary War
At the Battle of Concord, site of the legendary Shots Heard 'Round the World,' there was a—let's say enterprising—local by the name of Elias Brown. After the first shots were fired in what would become a conflict of global proportions, the two sides retreated to opposing positions near Concord's North Bridge. That was when Brown wandered through the lines of both armies, selling hard cider. Hey, nothing ventured….
Some day (fairly) soon, you may be able to "drink the Internet" through hard cider
You read that right. There's technology currently in development to store data inside the DNA of apple cells. According to National Geographic, researchers at Harvard Medical School believe that one droplet of DNA could house 700 terabytes of data (a lot, trust us) without being subject to any of the wear and tear of conventional data storage hardware. There's a project afoot to incorporate apple-oriented Wikipedia entries into the apple genome (seriously). This ambitious (crazy?) project could one day result in a literal Tree of Knowledge, and wisdom-infused apple spirits.
Apples are so familiar, it's easy to overlook how awesome they are. With more than 7,000 varieties and a pivotal role in world culture dating back to ancient folklore, apples have much more going on than most people give them credit for. They're also a sensational cocktail ingredient. Click here for three amazing, apple-tinged drink recipes perfect for fall and featuring Crown Royal Regal Apple, Seagram's 7 Orchard Apple, and Cîroc Apple.
Twenty-five percent of an apple's volume is air
This is why they float, and you are able to bob for them at fall-themed parties while toasting the season with apple-whiskey hot toddies, applejack cocktails, calvados concoctions or Appletinis. Speaking of Appletinis ...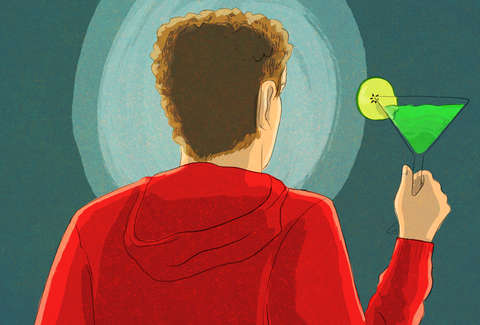 The Appletini is the official drink of Facebook
After the cocktail starred in The Social Network—as the drink of choice at a meeting between several fictionalized future titans of the internet—Mark Zuckerberg made it the official cocktail of his humble startup.
The apple actually does fall far from the tree
Genetically speaking, apples made from seeds are vastly different from their 'parents.' This is a trait known as—fasten your seatbelt, science ahead—heterozygosity, and seedling apples are "extreme heterozygotes." Which means their genetic makeup could hardly be more different from the apples that created them. That's why almost all apples are produced via "grafting," which involves cutting a section of the tree of the desired variety and growing on that to create a kind of clone of the apple tree (and variety) you want. You can make quality cider (and other apple spirits) from almost any type of apple.
George Washington won over voters with gallons and gallons of applejack
Forget super-PACs, back in Colonial times, politicians had a much more sociable way of powering themselves to office. They plied voters with spirits—many of them apple-based. The practice didn't come completely out of the blue: people often traveled great distances over rough roads to cast their votes. When they finally reached the polling station, a little refreshment was in order. Candidates saw an opportunity to curry favor, but in 1757, when he first ran for the Virginia House of Burgesses, Washington refused to go along with the scheme. He lost the election in a landslide. The following year, the Father of Our Country rolled out 160 gallons of spirits—including applejack (a strong, distilled apple spirit not unlike whiskey) hard cider, rum, and beer—for thirsty voters. He won the election comfortably. Washington also produced his own applejack and hard cider.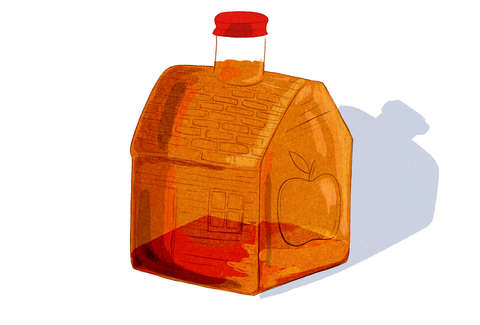 William Henry Harrison used apple spirits as campaign symbols
The eventual ninth President of the United States was accused during the 1840 Presidential campaign of being a hick from the sticks who would rather "sit in his log cabin, drinking hard cider" than run the country. Harrison turned those smears in his favor, using a log cabin and hard cider vessels as campaign tokens, and even commissioning bottles of hard cider in the shape of log cabins.
One bad apple really can spoil the whole bunch
Based on our anecdotal research, more people seem to think of this saying in metaphorical terms rather than in literal ones. Meaning, they think of one crummy person ruining a night out for everyone else (looking at you, Chad). But this proverb has literal roots, which have to do with an actual apple spoiling a bunch of other actual apples. The culprit here is ethylene, a gaseous plant hormone that stimulates ripening. Placed together in a barrel or other container, apples will emit ethylene and help each other ripen. If one of the apples is gashed, mashed, or overripe, it will emit an excess of ethylene and can cause all of the other apples in the bunch to go bad. This isn't a saying, but maybe it should be: You can't make quality apple spirits from bad apples.
Cosmic Crisp is "the most important apple of the future"
Like racehorses, apples can be bred for different qualities. During the past two decades, researchers at the University of Washington have been developing a strain that combines the flavor profiles of some of the tastiest apples there are along with the enhanced durability and shelf life of other varieties. The result, dubbed Cosmic Crisp, was described by the New York Times as "dramatically dark, richly flavored and explosively crisp and juicy." These qualities, combined with its improved shelf life, moved the paper to call it "the most promising and important apple of the future." Watch out, Red Delicious. (Gala and Fuji, you're on notice, too.) Cosmic Crisp will hit supermarket shelves in 2019, hopefully to be infused into a spirit or two soon thereafter.