What to Drink in April, According to Your Horoscope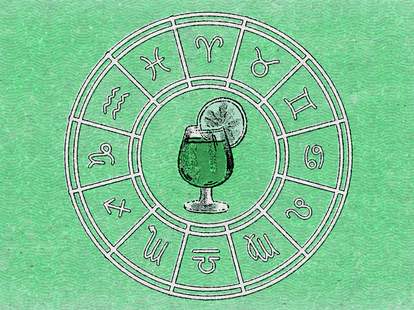 If you're looking for a little drinking inspiration as we head into the first full month of spring, all the answers you need are written in the stars. Whether you're looking for a fresh start or want to celebrate something big, these drinks will work perfectly for whatever life is about to throw at you. Here's what to drink in April, according to your horoscope.
Aries
This is your time to shine, Aries, and you have lots of people to support your decisions this month. If a recent loss is still bringing you down, don't be afraid to rely on your support system to lift you up. With their help (and the aid of this healthy-ish, zingy Lunar Eclipse), you'll be feeling like your old self in no time.  
Taurus
As you wait for the springtime thaw, you've been feeling overwhelmed with your obligations as of late. This week, take a moment to yourself—go home after work, shut the blinds, turn off your phone and whip up a comforting Yuzu Hot Toddy before it gets too warm outside to enjoy it.
Gemini
You've just embarked on something new and exciting, but the haters keep chit chatting, trying to lessen your feelings of success. Chalk it up to jealousy. You're on fire right now! Treat yourself to a spicy, indulgent Flamin' Hot Cheetos Bloody Mary while they sip on something bland and boring.
Cancer
You're usually not one to fully put yourself out there, but the stars are aligned and you're feeling an extra surge of positive energy this month. Great love is within reach, whether it's with a new boo or an old flame. Reach for a Mezcal Mama Horchata to keep the good vibes coming all April.
Leo
You've been on a mission to break some bad habits, and the road hasn't been easy. But you're making progress, and that's what matters most. Gather your willpower, believe in your self-worth and mix up a Martini that's as strong and serious as you.
Virgo
Dear Virgo, you're having cold feet about an upcoming commitment, but there's no reason to run scared. People are counting on you for a reason—because they know you're more than capable. The Rum Runner is sweet but strong, and it's the perfect way to make you feel at ease about your decisions.
Libra
Your social butterfly tendencies make everyone around you feel loved, but the toxic relationships that aren't serving you are creating dead weight in your life. It's time for a spring purge so you can flourish in the new season. A clean, dry Vodka Soda is just what you need to cleanse your mind and your palate.
Scorpio
We know you've secretly been playing two sides as you try to make a big decision, but you'd better quicken your process before both opportunities slip from your fingers. An Espresso Martini will help you to focus and put you at ease in the process.
Sagittarius
You've been playing yourself, Sagittarius, and it's high time you stopped with the BS and started taking control of your own destiny. Sometimes it takes tough love, and we're giving you just that. You need a kick in the pants to start a new chapter, and the Prairie Fire will do just that.
Capricorn
Capricorns are rarely scared of competition because their confidence always gives them strength and courage. If you've been feeling a little doubtful lately, that's OK—we've all been there, and you'll be back on the horse in no time. Mix yourself a Brandy Old Fashioned, a classy libation that'll give you the boost you need.
Aquarius
Sure, something that was going well for you recently took a turn for complete sh*t, but try not to fret. The resilient Aquarius will bounce back in no time, especially now that you have all the facts. Mix yourself a Bullshot and get down to the business of rebuilding.
Pisces
This is a big year for you, and you're feeling the pressure this month as the anticipation builds. Don't let it get the best of your big heart, dear Pisces, for this too shall pass. Everything is rosy on the other side, like this bright, beautiful L.A. Mule.