The Ultimate Boozy Scavenger Hunt for Your Bachelor or Bachelorette Party

Your bachelor or bachelorette party is the last hurrah before your wedding (a hurrah in its own right). Make sure your epic night with your groomsmen or bridesmaids is a great one, and strive to check off everything on this boozy bachelor(ette) party scavenger hunt list.
*We highly recommend you tackle these tasks in teams. The Hangover was a great drinking movie, but there's a healthy middle ground.
1. Drink something blue.
2. Gram a cocktail at the beginning of the night and amass 50-plus likes before the end.
3. Order a Martini "shaken, not stirred," regardless of how bad it is.
4. Have a Jello Shot. (Just one, it's going to be a long night.)
5. Score a free drink from the bartender.
6. Order something that comes in a fishbowl.
7. Ride a mechanical bull.
8. Slam down a good ol' fashioned tequila shot.
9. Hit a bullseye at darts.
10. Drink something out of a fruit.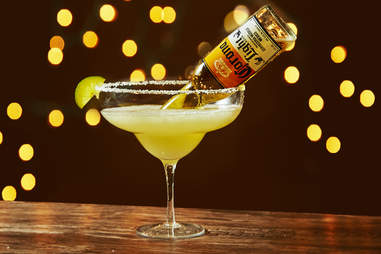 Matthew Kelly/Supercall