In 1765, the colonies that would eventually become the United States headed into two decades of political upheaval as they emerged from beneath the thumb of the British monarchy to establish their independence. Before the war began (as well as during and after), colonists passed the time as people did almost everywhere else—by drinking. 
Amazingly, a few of the bars that opened their doors before the American Revolution are still standing today. Though grog probably isn't on the menu any more, these centuries-old bars have history on their side.
Recommended Video
Charleston: The Ultimate Local's Guide
Opened: 1673
City: Newport, Rhode Island
Opening a full 92 years before the American Revolution began, the White Horse Tavern is the oldest bar in the United States. Originally a private residence, its first owner sold the building to William Mayes Sr., who converted it to a tavern in 1673. Newport was a pretty intense place back then, filled as it was with pirates, mercenaries, politicians and revolutionaries. In fact, a pirate (William Mayes Jr.) even operated the White Horse at one point. The White Horse also served as a meeting hall for the colony's General Assembly, Criminal Court and City Council for the next century. If government operations were still conducted bars, we think more young people would be willing to enter civil service.
Opened: 1681
City: Ambler, Pennsylvania
in 1681, eight years after the Whitehorse Tavern opened its doors, the Broad Axe Tavern started slinging drinks. Situated at an intersection of dirt roads a few miles outside Philadelphia the tavern not only served hungry and thirsty locals, but also provided lodging for travelers. Though you can no longer book a room at the Broad Axe, some say you can still catch a glimpse of its resident ghost, Rachel.
Opened: 1720
City: Sewell, New Jersey
Open since 1720, this Garden State stalwart got its start as a meeting place for locals and visitors who needed a place to crash—not unlike many watering holes of the time. Though it looks considerably different than when it was first built, the original log cabin still houses the dining rooms. 
Opened: 1728
City: Middleburg, Virginia
Added to the National Register of Historic Places in 1997, this Virginian inn and tavern has hosted politicians and celebrities from John F. Kennedy to Paul Newman. Some believe a young George Washington even paid a visit. Originally opened in 1728 as Chinn's Ordinary (ordinaries were taverns or inns where you could get a full meal), today, it's still host to both locals and celebrities.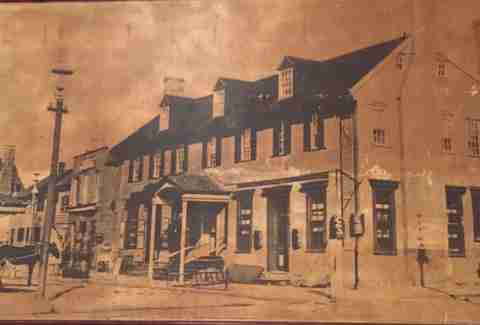 Opened: 1750
City: Annapolis, Maryland
We shouldn't only look to the Founding Fathers for wisdom on running the country. Turns out they were also pretty good at knowing where to drink. According to Middleton Tavern, George Washington, Thomas Jefferson and Benjamin Franklin all frequented its taps. Named after Horatio Middleton, who bought the property in 1750 and advertised it as an "inn for seafaring men," today the tavern boasts a raw bar (featuring spiked oyster shooters) and frozen drinks. Which is only appropriate, as, in addition to his other inventions Ben Franklin created the frozen margarita machine. (Full disclosure: We wish that last fact was true. Sadly it is not.)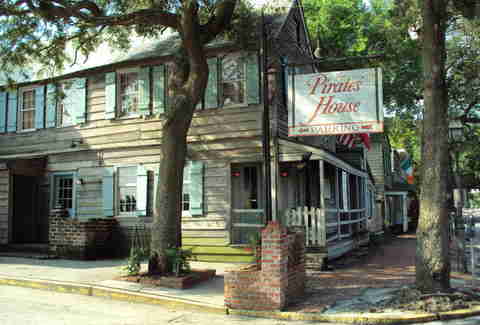 Opened: 1753
City: Savannah, Georgia
Originally opened as a lodge for tired sailors, it didn't take long for The Pirate's House to turn into a raucous gathering place where sailors and pirates drank grog and got into all manner of shenanigans. Today, things are a bit less rowdy; the Pirate's House bills itself as a family-friendly spot. But you'll still find potent, nautically-inspired cocktails on the menu.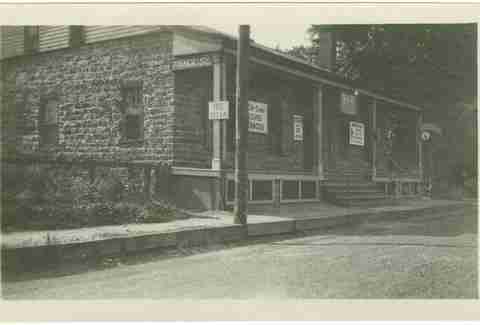 Opened: 1755
City: Tappan, New York
Though the building that houses The Old '76 House was constructed in the 1600s, it didn't become a tavern until halfway through the 18th century. Before and during the Revolutionary War, the '76 House was a haven for revolutionaries. A plaque outside of the tavern commemorates the spot where "Major John Andre, British spy, plotter with Arnold, to deliver West Point, was confined before his execution." It's thought that Andre also stole a a valuable oil painting of Ben Franklin when the British left Philadelphia. No frozen margs for you, Andre!
Opened: 1762
City: New York City
This corner bar in New York's Financial District opened just a few years before the revolution erupted. Originally known as the Queen's Head Tavern, in 1785 it became the headquarters of John Jay's Department of Foreign Affairs. When government moved south three years later, the building reverted to being a tavern, albeit with a less monarchy-friendly name. Over the years, the tavern expanded, and is now a massive five-building space housing a bar, restaurant and museum.