Deciding what you want to drink can be difficult—especially when the bar you're at has dozens of cocktails and spirits on the menu. So imagine the headache of trying to decide on an order at a bar with hundreds—or even thousands—of drink options.
From small local producers to well-known, mass-produced brands, saying these bars have an extensive selection of spirits is a vast understatement. With a little bit of everything boozy, most are also equipped with some of the most savvy bartenders and servers who will help guide your drinking experience when it gets...a bit overwhelming—and that happens fast.
The next time you want to sample a bar's best boozy wares, check out one of these five watering holes that boast some of the most impressive liquor selections in all 50 states.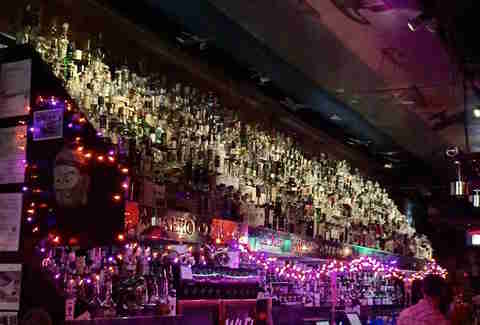 Number of bottles: 800+
This Chicago bar is home to more than 800 whiskies. Though that seems more manageable than a whiskey list of more than 2,000, you'll have no easier a time figuring out what you'd like to drink. The dive bar has been around since 1947, so it's had plenty of time to build its impressive collection. Drink a dram neat or order a classic cocktail featuring one of the many whiskies—we'd go for the Aero Whiskey Sour (bourbon, muddled lemon, simple syrup, egg white, cinnamon), a take on the classic with just a bit of sass.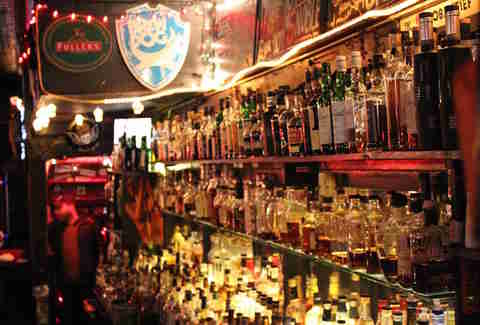 Number of bottles: 800+
If you happen to find yourself in the Windy City, don't miss out on this whiskey-packed gem in Lincoln Park. With more than 800 bottles from an impressive 15 different countries around the world, there's something for every type of whiskey drinker. So whether you're craving a dram of Japanese whisky, a rare scotch or a good old glass of bourbon, you'll find something at this punk-rock joint that whets your whistle—even if it's just a $1 can of beer. Our recommendation: Hole up here for the night. Drink some whiskey, play some pool and you may even catch one of the bar's alt-country DJs.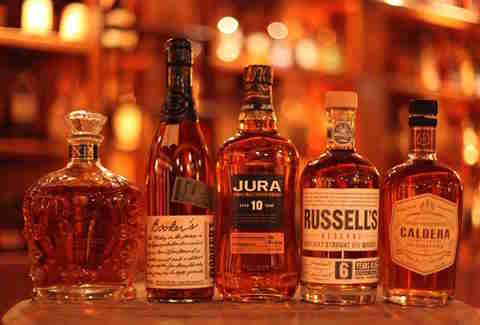 Number of bottles: 900+
You'd expect any bar with "library" in its name to stock a healthy selection of booze, but this New York bar goes above and beyond with nearly a thousand bottles in its collection. From rare bottlings like Castarède Armagnac, distilled in 1967, to the requisite Pappy Van Winkles to more accessible selections like Four Roses and Jack Daniels, the Brandy Library's menu is pretty darn good reading material. If you feel inclined, you can even book a private tasting to try some of the Brandy Library's extra-special wares.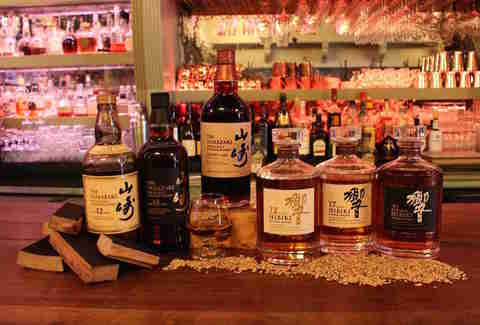 Number of bottles: 1,000+
In New York, finding a space large enough to build an average bar is hard enough—but finding one that packs in nearly a thousand bottles of liquor? The Flatiron Room in the city's Flatiron neighborhood manages to find room to keep more than 1,000 bottles of bourbon, scotch and other whiskies on hand for its many thirsty patrons. The bar also hosts its own "Whiskey School" events, during which experts teach drinkers of all levels the ins and outs of everyone's favorite brown spirit.
Number of bottles: 2,000+
If you have an unquenchable thirst for liquified agave, look no further than this San Diego tequila den. Not only does the bar serve up plenty of tequila cocktails and Mexican fare like chiles rellenos and more than half a dozen different moles, but it's also home to a literal tequila museum, featuring more than 2,000 bottles encased in glass and lining shelves. This includes everything from well-known brands like Patrón to super small producers you'll have trouble finding elsewhere—not to mention the bar's proprietary tequila, called "Tequila Agave Artesanal."
Number of bottles: 2,687
For years, Jack Rose Dining Saloon has been one of the most prestigious whiskey bars in the United States. The bar's website features a ticker, which counts exactly how many whiskies currently adorn its walls—as of writing this, that number is exactly 2,687—and that doesn't even include the bar's additional selections of everything from gin and vodka to tequila. Whatever you do, be sure to arrive thirsty and hungry. You wouldn't want to miss out on the kitchen's sourdough beignets, would you?
Canon, Seattle, WA
Number of bottles: 3,500+
Just thinking about the vast selection of spirits at this renowned Seattle bar makes our hearts go pitter patter with excitement. Not only was the bar a semi-finalist in this year's James Beard Awards for Outstanding Bar Program, but it won the title of "The World's Best Spirits Selection" at Tales of the Cocktail's 2017 Spirited Awards. And there's no mistaking why: The gorgeous bottle-lined bar is home to a mind-boggling 3,500-plus spirits, many of which are whiskies. "We've been hoarding booze forever," Jamie Boudreau, Canon's top gun, told us in March—and we hope they never stop.