The Best Canned Cocktails, According to Bartenders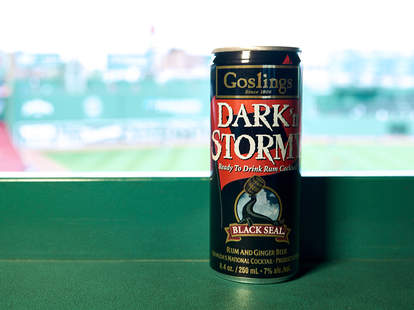 If you've been paying attention to new alcohol releases over the past couple months, you've likely noticed an influx of the canned cocktails available. From Gin and Tonics to Moscow Mules to Bloody Marys, anything is liable to be thrown in a pop top these days. Even breweries like Southern Tier and Interboro have been getting in on the action.
"The idea of bottling cocktails is not new," Cody Goldstein, the man behind Muddling Memories and the cocktail menu at Toro Loco, says. "However, it is very convenient, and I think it's a fantastic idea to be able to enjoy a cocktail at your own leisure (of course responsibly)."
We couldn't agree more, and naturally we have our favorites. So to get a wider sense of canned cocktails, we reached out to the people who know drinks best (bartenders, obviously). Here are the best bartender-approved canned cocktails.
Canned cocktails are "convenient and portable, which relieves some of the stress of entertaining," Sother Teague of
Amor y Amargo
says. "I'm particularly fond of the sparkling
Caipirinha
produced by Novo Fogo
cachaça
. It's full of fresh flavors and intensely carbonated. I tell the cachaça uninitiated to think of it as a fizzy
Daiquiri
. It never misses."
Sean Hoard, bar director at The Mighty Union and founder of The Commissary & Super Jugoso, agrees, noting that the best canned cocktails are those made with quality ingredients. "Two outstanding examples are Novo Fogo's Sparkling Caipirinha and Lorenza's Spritz—both taste great and are made using only the ingredients you'd expect."
"Canned cocktails have a strange reputation that comes from sugar bombed concoctions in 24-ounce cans loaded with speedy ingredients and high proofing," Roman Tartakovsky, beverage director at
Pier 81
, says. "There is also an elegant and refined side of canned cocktails. My favorite of which has to be Disaronno Sour (sold in Europe), which comes in 250-ml cans. It has a decent flavor profile and is good out the can, but even better on some ice."
"I love Goslings [canned]
Dark 'n Stormy
because it tastes right, it's environmentally friendly, and most importantly, convenient," Tenzin Samdo of
Café ArtScience
says. "Not only does it eliminate the use of plastic straws, but provides something quick and easy for when you're on the go without compromising flavor and composition."
"This Sicilian grapefruit wine spritzer has been a guilty pleasure of mine since discovering it,"
Momofuku
beverage director Lucas Swallows says. "It's as much of a cocktail as a
Sangria
, so I'd say it's fair game. It's incredibly well balanced and fresh. The quality of the wine and grapefruit juice is distinguishable separately, but the blend is brilliant and seamless. It tends to fetch a pretty high price tag, but it's no match to the joy it brings me, from the beach to the couch."
"I think canned cocktails are great as long as they're properly made with quality ingredients, James Mauldin, head bartender at
The VNYL
, says. "It's the same way I feel about any product I would have behind the bar or in my home. I've tried the Pampelonne Blood Orange Spritz and it's delicious. For people who want the cocktails without going to the bar, it's perfect."