Bartenders' Favorite Hair-of-the-Dog Hangover Cures
When it comes to curing a hangover, there is no better expert than the person who gave it to you: your bartender. Considering the late hours they keep and their imbibing habits, it's no wonder that many bartenders have devised effective (if occasionally masochistic) remedies for hangovers. Learn from these medicine men and women and beat your morning-after malady like a professional with these bartender-approved cures.
Pickled Okra and Vodka
Laura Bellucci, SoBou
New Orleans, LA
"When I used to work at a bar where we drank a lot during our shifts and stayed open very very late, we would brew some pretty brutal hangovers come opening. We used to make this drink called The Vinegar Terrible, with equal parts Bloody Mary mix, pickled okra juice, and vodka over crushed ice to get ourselves back in the game. It looked disgusting, but it always got the job done. My go to cure for hangovers these days (in The French Quarter) is always a banana and a frozen Irish Coffee, but I will often mix together apple cider vinegar, hot water, and lemon at home to settle my stomach."
Angostura Bitters and LaCroix
"Get a can of LaCroix, any flavor will do. Then put about 50 dashes of Angostura bitters in it. They're pretty alcoholic so you can continue drinking while keeping up with social appearances. Immediately follow with a patty melt."
The Let It Bleed
"My hangover cure is a cocktail that is a play on a well-known cure for an upset stomach: the Let It Bleed."
To make the Let It Bleed, combine 0.3 oz Angostura bitters, 0.75 oz lime juice, and two pinches of kosher salt in a Collins glass. Fill with ice and top with soda water. Garnish with a greasy hamburger.
A Liquid Ferrari
"Based on a belief in the medicinal quality of herbs, my go-to hangover cure for the truly rough mornings is a simple concoction known as a Ferrari. Equal parts Fernet-Branca and Campari, served neat at room temp—because who wants to exert much effort with a wicked headache and a sensitivity to light?"
Mexico's National Cocktail
"A Paloma with fresh grapefruit juice is the best cure. The alcohol will stop the withdrawal, you'll get some vitamins from the citrus, and the salt, along with the sugar from the juice, will replenish electrolytes."
Straight Fernet
Eden swears by a shot of Fernet. "It's herbal, high enough proof that the booze reactivates your blood, it has its own caramel so that it helps your sugar levels and tastes faintly like medicine, so that it tricks your brain that you have found a cure."
Pedialyte, Fernet and a Breakfast Sandwich
"My hangover cure was passed on to me by my husband, a fellow bartender, many moons ago. It's simple: Pedialyte, ibuprofen, and a shot of Fernet! I've adjusted the recipe slightly by finishing it off with a pork roll, egg and cheese bagel."
Pizza and Pilsner
"My go-to hangover food is Domino's (pretty much my go-to in any emergency). There is nothing more I crave than a BBQ chicken pizza doused in ranch and a large Coke to get myself out of the misery I inflict on myself over and over again. Once I slowly feel alive, a nice pilsner (like an Amstel) will finish the job!"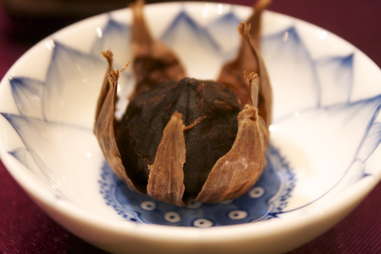 Garlic and Cachaça
"My friend Thiago Ferraz de Camargo from Yaguara Cachaça once told me of an old Brazilian remedy that mixed cachaça with crushed garlic. The concoction is supposed to be a cure-all for anything from the common cold to a nasty hangover. I was inspired by the story to create a version of my own for the brunch menu at Quality Eats. We call it Cura, which means cure in Portuguese."
For the Cura, first make black garlic-infused cachaça by blending one clove of black garlic with 1 bottle of cachaça. Strain it through a coffee filter and store at room temperature until your next hangover. On the morning of your doom, combine 0.75 oz of 2:1 honey syrup, the juice of one lime, 2 oz black garlic cachaça and two dashes of Angostura bitters in a shaker. Shake with ice, then double strain into an ice-filled rocks glass. Top with three more dashes of Angostura and garnish with two green olives.
Mezcal, Tomato Juice and Gatorade
"Go to bed before 10 p.m. at night. After 16 years of drinking, this is truly the only way to cure a hangover, but I suppose that is preventive care? For a hair of the dog, I combine two shots of blanco tequila or one shot of mezcal, one banana, 6 oz of a tomato-based juice (optional), 6 oz of grape-flavored Pedialyte, and one bottle of lemon-lime gatorade. Then a hot shower followed by some quality vitamin E lotion on your face and eucalyptus oil on your temples."
The Furthest Thing From Booze...or Just More Booze
"Apple juice because it doesn't taste like alcohol and the sugar helps keep you going. But if you're really on the struggle bus, it helps to sip on Fernet Branca because it settles the stomach and has good digestive qualities."
A Potent Wake-up Call
Jad Kamal, Lady's
Brooklyn, NY
Lady's signature cocktail, the Believer in Karma, is the perfect breakfast drink. According to Jad, the combination of Parlour cold brew, Cynar, cinnamon and lemon will "snap you right out of your funk."
Pho, Kombucha and Mezcal
"I like some pho and mezcal with kombucha. There is no other way!"
Extra-Spicy Micheladas
"I say get back on the train. Sometimes it's the only thing that brings you back. For me, it's a little food and Micheladas, the spicier the better. And sometimes, just bring me more tequila. This recipe always does the trick: Pineapple juice, salsa verde, cilantro, lime juice, smoky pepper (like chipotle) and Mexican lager."
Shower Beer
"A lot of people will say hair of the dog, maybe a Bloody Mary or Mimosa. I think they're on the right track, but you've got to get an earlier start. My best hangover cure is a hot shower and a cold beer—at the same time. Wash the night-before right off of you and get a new day started right."
A Wild Card Mule
"While I would love to say I have the magic answer involving a whole egg, Tabasco, and two strands of blonde hair from a child born in the summer, the truth is, when I've overindulged, there are only two things that matter: sugar and carbonation. Because of that, my favorite cure is a Mule made with Fever Tree ginger beer and topped with a whole lotta Angostura bitters. The great thing with a Mule is that you can make it with pretty much any spirit you had been imbibing the night before. Whether it's vodka, whiskey, or Cognac, fresh lime juice and the spice of a truly great ginger beer are the answer."
Digestion, the German Way
Oscar Ycaza, Hot Tin
New Orleans, LA
"The best cure is 14 hours of sleep. But if you can't get that, I like to go with three baby bottles of Underberg—a great German digestif that is perfect for settling the stomach. Fantastic after a good meal or a good night out on the town."
Oysters and Tequila
Geoff Lewis, Hot Tin
New Orleans, LA
"If I'm hungover I take a nice warm shower, then get my butt out of the house, because the longer I sit there the worse it gets. If I'm in New Orleans I'll head over to Borgne for a dozen raw oysters and a Dobel Diamante on the rocks. Then I'll bring it home with a 1 & 1 Burger from the Bayou Bar."
Sweet Vermouth and Pancakes
"My mom taught me in high school that a thermos of Baileys and coffee paired with shoveling the driveway was the only remedy. Now, I sip a glass of Carpano Antica sweet vermouth on the rocks with an orange swath after a Denny's Grand Slam."
The Surfer's Solution
"Being from the San Diego-Baja surf background, my best hangover cure has always been a double shot of tequila and a beer…if you don't have anything to do for the rest of the day."
Topo Chico and Tequila
Roger suggests a hair of the dog cocktail that he dubs "Ranch Water." To make the drink, combine Mexican mineral water Topo Chico with tequila and a little squeeze of lime for a refreshing and bubbly drink. He explains, "You don't decide when the hangover ends; Topo Chico does."
Coconut Water and Yellow Chartreuse
"I drink a coconut water upon waking up and after that, what usually works the best for me is drinking about 1 oz of Yellow Chartreuse. The two can't be mixed though. Must be drunk separately. I swear, it works every time."
The Champagne of Shower Beers
Eric Trousdale, Arbella
Chicago, IL
"It varies from one scenario to another, but for me, the key is a shower that starts cold. I feel it's a primitive instinct where the body reacts as if you fell into a river or something dangerous. I follow it with a latte and cigarette, then soda and Angostura bitters. It's an hour-long process but it works every time. In the most desperate of situations, it's never fair to rule out the shower beer, obviously High Life. It's the Champagne of shower beers."