5 Luxe Vacations Where You Can Learn to Bartend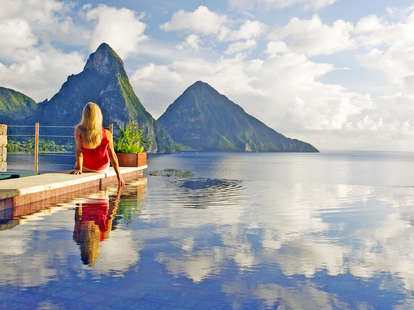 Courtesy of Jade Mountain Resort
While we're happy lazing on a remote beach or touring through distilleries on vacation, sometimes we crave a more hands-on experience in-between bouts of relaxation. Whether you're interested in molecular mixology or want to see how the pros make limoncello, there is a plethora of bartending crash courses available both near and far. Here, five of our favorite drink making adventures to experience on your next getaway.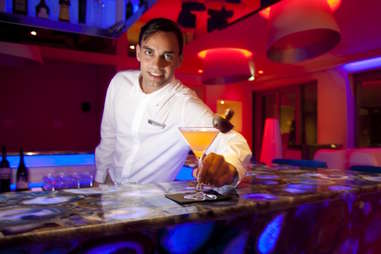 Molecular Mixology in Portugal
EPIC SANA Algarve Hotel, Albufeira, Portugal
This gorgeous Falésia beach hotel boasts five outdoor swimming pools, luxurious rooms and a world-class spa, but their Epic Gourmet package offers plenty of culinary excitement if you want to learn while you luxuriate. The three-night package includes VIP room service, daily buffet breakfast and a dinner at the property's upscale Portuguese restaurant, Al Quimia. Guests are also able to choose two culinary workshops from their roster, which includes classes like molecular mixology, wine and cheese tasting, detox juicing, and cooking lessons with a resort chef.
Bartending In Paradise
Jade Mountain Resort, St, Lucia, West Indies
Not only does Jade Mountain have one of the best all-inclusive drink programs that we've seen, but you can also learn to make their signature libations during the resort's annual Cooking in Paradise festival. In addition to bartending classes taught by the resort's top mixologists, participants can enjoy a guided tour of the historical Anse Mamin cocoa plantation, experience the resort's organic farm, and enjoy a five course wine pairing dinner. Sit back and sip a tropical cocktail like the Spicy Grilled Pineapple Margarita (tequila, celery bitters, agave-chile infusion, pineapple, lime) to toast the fruits of your labor.
10 Days of Culinary Pura Vida
Locations Vary, Costa Rica
Any foodie who wants to experience the laidback pleasures of Costa Rica would have the trip of a lifetime on this 10-day culinary excursion. The journey commences in picturesque Heredia where you'll tour SIBÚ Chocolate and a coffee plantation before traveling to Bajos del Toro Cloud Forest. There, you'll enjoy market shopping and cooking lessons, as well as a wine tasting and pairing dinner. Then it's off to Punta Islita on the Pacific Coast for a night of tropical cocktail making and more cooking lessons with the area's top mixologists and chefs.
The Most Popular Bartending Lesson in Leicester
Hotel Maiyango, Leicester, England
If you find yourself in this English city, book a room at the Hotel Maiyango, where they've been running their popular Cocktail Mixology Masterclass for more than six years. All participants get to experience a hands-on lesson, preparing and consuming three of the property's signature cocktails. The hotel offers classes every day from 3 to 5 p.m., but larger groups can book the intimate tasting room for a private lesson that includes all the booze and tasty canapes to go along with it.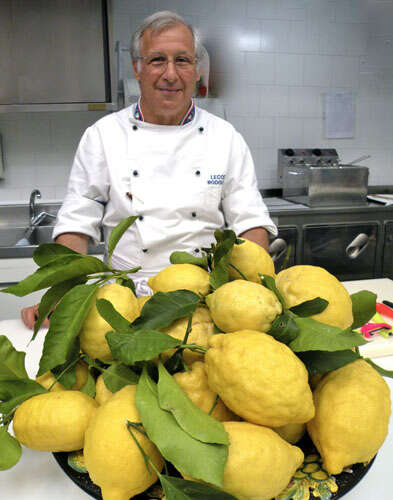 Learn to Limoncello in Capri
Limoncello & Lemon Dessert Making, Capri, Italy
It's not difficult to make limoncello at home, but there's no competing with the Italian pros who've been doing it for generations. For tourists with a sweet-and-sour tooth, this lemon-focused liqueur and dessert making class is a must. First, you'll learn to make limoncello with fresh citrus that comes straight from the instructor's garden. Then, you'll get a lesson on lemon bignès, sweet pastries that are filled with limoncello cream and traditionally eaten with a glass of limoncello. The hands-on experience concludes with a tasting and lemon recipe book to take home.