There's no better way to bond with your favorite spirit than to visit the place it was made. Distilleries these days offer all kinds of educational tours, guided tastings and even lodging so you can rest your head after spending the day sipping taste after taste. And many of our favorites are surrounded by gorgeous scenery that makes the trip even more worth it.
It doesn't stop with American distilleries. If you're planning a visit to our neighbors up north (or are looking for an excuse to venture across the border), there are plenty of distilleries to visit—and they make much more than just blended whisky, although there certainly is a good amount of that. These five Canadian distilleries are some of the most beautiful in all of North America and are definitely worth a detour.
Recommended Video
Thrillist's Best (and the Rest): What's the Perfect Fast Food Meal?
This gorgeous mountain distillery produces a line of Glen Breton whiskies—the eight-year-old was actually the first single malt to be produced in North America. Stop in for a guided tour and tasting, and take a bite of Nova Scotia cuisine like local mussels and battered haddock at the onsite Restaurant & Pub. If you're too tired to travel far after a long day of imbibing, grab a room at the Glenora Inn, where you can choose from accommodations in the main building, the lodge or a private log chalet.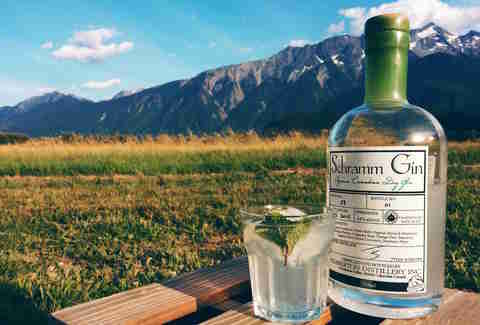 While the tasting room of this BC distillery is fairly bare bones, their stunning mountain views are worth the trip alone. And you won't be disappointed when you sample their wide range of spirits, many of which are distilled from the local Pemberton potato. All of their liquors and liqueurs are organic, and they range from hemp vodka to absinthe to barrel-aged apple brandy.
Not only is Eau Claire surrounded by the gorgeous natural beauty of the Turner Valley, but its distillery and tasting room is the kind of place you never want to leave. When you tour the space, which is actually a renovated 1920s movie theater and dance hall, you'll get to explore their German-made copper distilling towers and barrel warehouse, and sample all the spirits they have to offer. Don't miss Eau Claire's Parlour Gin (which was one of our favorite new bottlings from last year) and unique Prickly Pear EquineOx.
The LB Distillery is classy AF—they have chandeliers hanging in just about every corner of their space, even above the stills. Thirty minute tours and tastings are free, so you can check out their operation and sample signature spirits like Birmingham Dill Pickle Vodka and a Caribbean-style amber rum. Stay for a cocktail and choose from their huge list of classics and signatures, including a Ramos Gin Fizz and Maple Rosemary Rum Sour.
There's so much to see when you visit this grain-to-glass distillery, whether you tour the farms where they grow all of their own ingredients, say hello to the resident chickens, or check out the gorgeous Kinsip House to sample their bounty. You can spring for a full-blown tour of the facilities or simply experience a guided tasting of their spirits. Look out for favorites like their Crimson Rye, Aged Shochu and County Cassis.