11 Genius Hacks for Empty Beer Cans
If you've hosted a backyard bash this summer—or have just had a particularly rough work week—chances are you have a mountain of empty beer cans piling up in your recycling can. Instead of taking over the entire sidewalk with your spoils, put those beer cans to good use with a nifty DIY craft. Not only will you be helping out the planet, you'll also have fun creating something useful from your boozy exploits. Here are 11 creative ways to upcycle those empty brewskis.
Planters
Exercise your green thumb with a miniature beer can garden. All you need to do is wash out a can, cut off the top, and fill it with soil. Small plants like succulents will thrive best in the small aluminum planters, but you can also try growing herbs like mint to use in future cocktails.
Windchimes
While you can manipulate beer cans into truly decorative wind chimes, feel free to just hang up the cans as is, under a sign that says "Redneck Windchime," and really lay into your beer can upcycling. It also makes a particularly funny decoration at a rustic, laid-back wedding—PBR cans only, of course.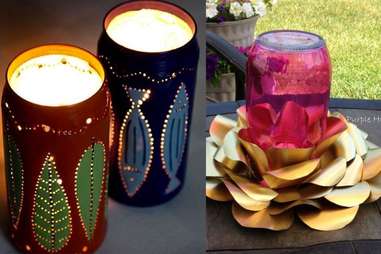 Candle Holders
Turn a beer can into a tealight candle holder by cutting the top off the can, as well as a little entry door for the candle. You can also perforate the can for a speckled effect, or decorate it with paint for an even more charming decoration. If you fancy yourself a pro, turn the beer can into a metal flower petal arrangement, as this crafter did above, to surround a tealight or larger votive candle.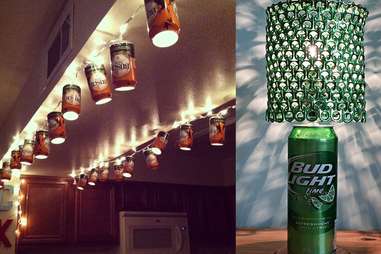 Lighting
Beer cans make for excellent lighting fixtures in case you wanted to take your beer candle holders into the 19th century. Simply weave string lights through them for a backyard bar, or use the pop tabs for a lampshade. This crafter used the bright green tabs of a Bud Light Lime to create a colorful side-table fixture.
Wreaths
Depending on your DIY skills, you can either transform a beer can into a spectacular aluminum leaf wreath spray-painted to look like it cost $20 at a home decor store, or you could go the less fancy route and arrange the beer cans in a circle formation, creating a boozy-and-proud wreath that doesn't hide its beer can origins.
Ornaments
Another way to booze up your home during the holidays, these Christmas ornaments make for easy, charming decorations, as well as gifts for anyone left on your list. All you need to do is curl scraps of the can and place inside a plastic bulb. Or go the extra mile and reshape the cans into aluminum stars or other festive shapes.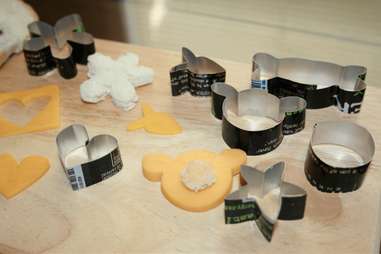 Cookie Cutters
The edges of a spliced can are super sharp, perfect for fashioning into DIY cookie cutters. Don't feel limited by the traditional hearts, flowers and stars you always see in the store. Making cookie cutters yourself means that any shape is possible, including a beer can-shaped cutter.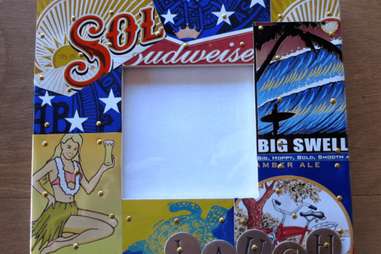 Frames
Create a mosaic from your favorite beer, or a variety of beers, to frame a mirror so that every time you look into it, you're reminded that beer is, in fact, the fairest of them all. Or, use it to frame a picture, ideally a shot of your friends at a party and not your nephew's fifth grade class photo.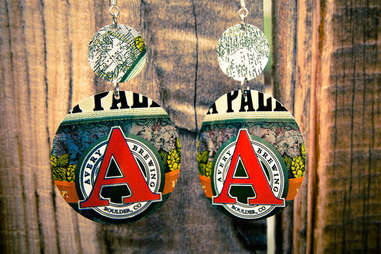 Jewelry
Etsy proves that anything can be made into wearable jewelry, and beer cans are no exception. Fasten a beer can into a simple wrist cuff or slightly more intricate earrings. You can also go one step above the pop-tab necklace you made from soda cans as a kid by creating a necklace from the cans themselves.
Camp Stove
We've all heard of beer can chicken on the grill, but you can actually make a beer can into the grill itself by creating this ersatz camp stove. Since you'll be dealing with a stronger flame than a candle, be sure to follow these instructions from Gear Patrol to a tee. If you do, you'll definitely win the award for most hardcore backcountry camper.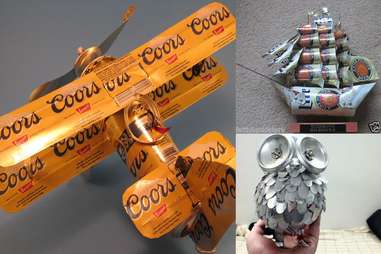 Art Sculptures
A true DIY master can turn a beer can into a showstopping piece of sculptural art. While the opportunities are as endless as your imagination, some of our favorite pieces of art throughout the internet include an airplane, an owl and this insanely awesome ship complete with billowing sails.