If you're a big absinthe drinker and can't get enough of historic paraphernalia, then you need to treat yourself to a classy absinthe fountain. But not just any piece will do to honor the Green Fairy. These six absinthe fountains are both new and vintage and are some of the most stunning pieces you can buy right now.
This absinthe fountain has a classic design that hearkens back to the heyday of absinthe cafes. The handmade piece features a mouth blown glass bowl and water filter to give you the purest flavor possible. The traditional pineapple finial, which represents hospitality, is removable so you can fill the bowl with ice.
If you're looking for a unique piece for your Green Fairy adventures, this fountain is designed with a central tube that was made to hold your absinthe spoons. Not only does this look cool, but it's convenient to have the paraphernalia close at hand. They suggest letting the water warm slightly overnight before emptying the bowl to avoid possible thermal shock.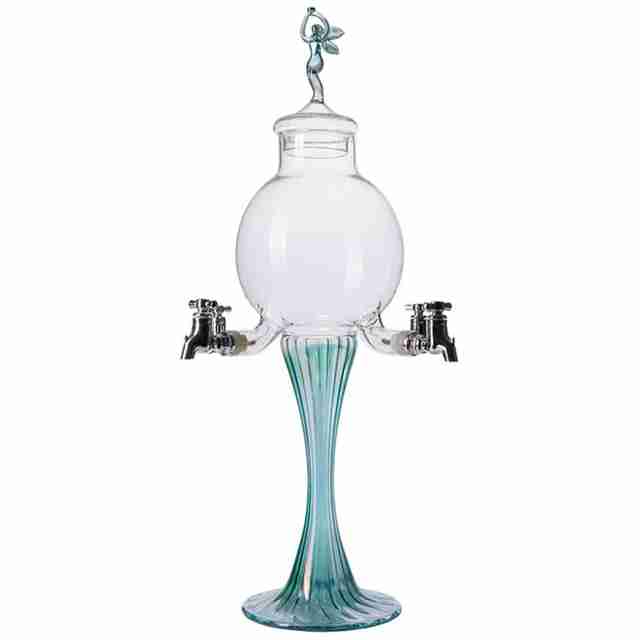 It's not often you see an absinthe fountain made with colorful glass, which is exactly why we love this ethereal blue-green design. To ensure easy handling, the sturdy spigots are made of silver plastic. The Green Fairy lid is the crowning touch and nods to the historic beverage.
Chrome-plated brass gives this ornate absinthe fountain a sleek look. Designed with a sculptural fairy base, it nods to older pieces but still provides a modern touch to any bar cart. Four faucets means you can serve absinthe to a crowd.
Designed with gold-plated metal and a crystal diamond design, this Italian-made fountain is one of the most elegant we've seen. It will add a touch of 1950s cafe class to your home setup.
If you have a cool 3K to spare, this stunning absinthe fountain comes with everything you need to entertain like a boss. Made in France sometime in the late 19th century, the crystal and gold bronze set comes with the fountain itself, glasses, absinthe spoons and a jigger for good measure.