The 21 Funniest Booze Ads Ever
Sometimes drinking is an intellectual pursuit, with esoteric recipes and involved mixing techniques, but more often, drinking is just a good time. A liquor company's No. 1 goal should always be to inspire that good time, and our favorite booze makers manage to do so before the liquid itself even touches your lips. Here, our favorite funny booze ads of all time, from the print era to internet shenanigans.
When in Doubt, Ask Billy Dee Williams
Diddy and Aziz Ansari Have a Smooth Off
Campari: Life is sweet. Life is bitter.
A Quick Palate Cleanser After Too Many Male-Targeted Ads
The Crash Heard Around the World
Dogs Make Everything Better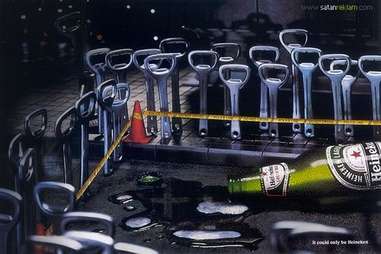 Literally Every Dos Equis Most Interesting Man Commercial
A Punchline Worth Waiting For
Tim and Eric and Zach Make the Weirdest Ad Ever