We've all been there: bleary eyed and awake way too late, mesmerized by infomercials insisting that there "has to be a better way!" Like you, we've scoffed at the ridiculous products—while secretly thinking they're miraculous. Most of the time, these crazy doodads are just plastic embodiments of empty promises, but some are worthy of that 3 a.m. phone call. When it comes to cool As Seen on TV drinking gadgets, the selection is small but mighty. If you're looking to save time, prevent messes or even make your drinks colder in no time flat, then you're in luck. These are the best As Seen on TV tools that'll actually make your bar better.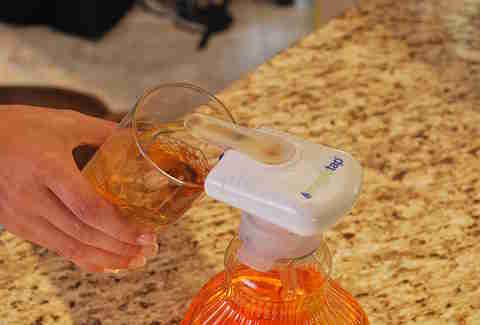 The Magic Tap
This battery powered drink dispenser is marketed as a tool to help the little ones pour their own beverages without spilling everywhere. But as we all know, after a few drinks, adults could also use a little help too. Simply twist it onto the top of a jugful of cocktails and submerge the whole thing in ice. Instantly, you have a cheap, easy way for people to dispense their own drinks at beach parties, barbecues and picnics.
Smart Citrus Spritzer
If you've ever wanted to add a small squirt of citrus to a cocktail, squeezing a whole lemon or lime might seem like a waste. Enter the Smart Citrus Spritzer, a cheap, handy gadget that turns citrus fruits into mini spray bottles. Simply slice one end off of a lemon or lime, screw in the gadget and twist on the spray nozzle. It's easy to use and will keep your unused citrus fresh to boot.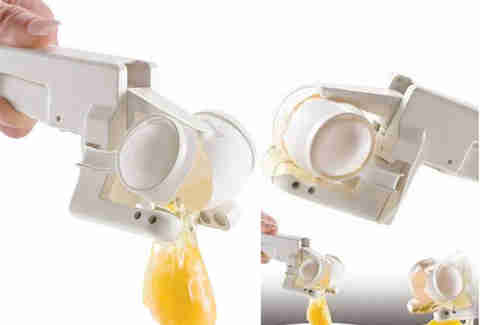 EZCracker
Cracking and separating eggs can be tough and quickly turn into a goopy, yolky mess. If your poor skills are holding you back from mixing cocktails like the Clover Club and Ramos Gin Fizz, look no further than the EZCracker Egg Separator. It neatly separates yolks from whites and delivers a clean break so no egg shell fragments end up in your drink.
SpinChill
There's nothing worse than reaching into the cooler for a cold beverage only to find lukewarm beer or wine sitting on top of the ice. The creators of SpinChill understand the struggle, which is why they developed a product to chill cans and bottles of your favorite booze in under five minutes. Simply attach the SpinChill, press the button, and let the bottle or can spin in the ice until it's chilled to your liking.
Quicktop Soda Preserver
If you're making a Highball or Cuba Libre and don't use up the whole bottle of soda, it sure would be a shame to let it go flat by the time you want another. For fans of bubbly drinks, the Quicktop Soda Preserver is a no-brainer. Simply pop the leak-proof, airtight topper onto your favorite can of soda to keep it fresh and fizzy.  
Super Sipperz Straws
You can build a castle. You can build a plane. You can make a train!  Super Sipperz may be marketed towards kids, but adults can have just as much fun experimenting with shapes and colors while enjoying a stiff drink. The connectors prevent the straws from leaking, so you can occupy yourself and a few of your nerdiest friends for hours without making a mess to clean up later.