The Best Arcade Bars in America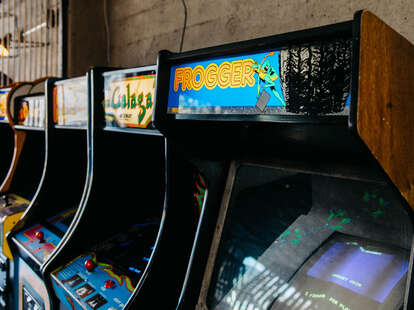 Arcades were great when we were kids, but one very important thing was missing from the experience—booze, duh! Of course, there are places like Chuck E Cheese where parents can drink a cold beer while their children play games and eat mediocre pizza, but we like our bars without a side of the little ones, thank you very much. The old-school arcade bar has been on the come-up for more than a decade, and some pretty cool places have opened across the United States during that time. From the early adopters to the brand new, these are Supercall's favorite arcade bars in America. Stock up on quarters, order a stiff drink and try to beat the high score.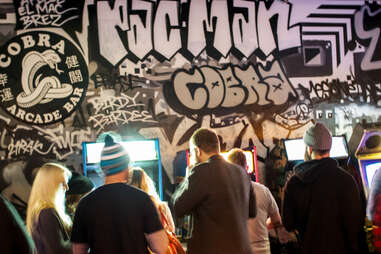 Cobra Arcade Bar co-founder Ariel Bracamonte is serious about vintage gaming—he scoured the United States to find the absolute best selection of games for his bar. Exercise your fingers on ageless gems like Frogger, Galaga and Punch Out while you sip on a signature cocktail like the Crazy Kong—made with Jameson Caskmates, banana liqueur, lemon and ginger beer. They also have a nice selection of wine, beer and energy drinks if you need a jolt.
If you like your arcade games with a side of the best wings in town, Button Mash has your back. Retro machines like pinball and Dragon's Lair will keep you busy as you wait for finger-lickin' good snacks like double-fried tamarind chicken wings and shrimp toast with garlic and sweet tomato. Wash it all down with a solid rotating selection of beer and wine.
We're still partial to the original Brooklyn location of this craft beer arcade bar, but you can get your kicks elsewhere too—they have two locations in Manhattan, two in New Jersey and even a spot in Philly. Grab a cold brew or generous pour and bust out those quarters to play classic games like Arkanoid, Donkey Kong and Tapper. In nice weather at the Brooklyn original, take a break on the front patio while you contemplate how to snag that high score.
This old-school pinball joint almost got bulldozed to make way for a shiny new highrise, but luckily the Landmark Preservation Board stepped in and saved the beloved bar. Try your hand at Taxi or Addams Family pinball while you ponder Shorty's selection of gourmet hot dogs. When you're tired of playing, retreat into the Trophy Room where you'll find a fully-stocked bar with $6 craft cocktails during Friday happy hour.
People say that Logan Arcade has the best selection of vintage cabinets and pinball machines in town, and we wouldn't try to disagree. Hop on something familiar like BurgerTime or Marble Madness, or grab your closest friends and try the latest 10-player indie sensation Killer Queen. The rotating craft beer list runs a mile long, so you'll never get bored with the ice-cold selection.
This 10,000-square-foot, two-story space was transformed from a steel foundry into a restaurant in 2008 and it's changed hands a few times since. Now it's home to Coin-Op Game Room, San Francisco's newest video game haven, where patrons can play favorites like Pac-Man Royale and Street Fighter. Sip on signature cocktails like The Konami Code (house-spiced tequila, mezcal, amaretto, lime, agave) and The Pendennis Club (London dry gin, lime, apricot preserves, Peychaud's) while you nibble on shareable plates like pizzas, crispy buffalo cauliflower, and quinoa tater tots with avocado-lime dip.
Located just minutes from downtown in Cleveland's Lakewood neighborhood, this watering hole is the place to go for old school gaming on Lake Erie. Try your luck at classics like Mario Bros. and NBA Jam, especially if you go on High Score Sunday when a takedown of the top numbers will win you a free beer. They have an excellent whiskey selection and classic cocktails renamed after celebrities—like the Burt Reynolds, which is an Old Fashioned disguised as the mustachioed man. Check out their other locations in Cincinnati and Columbus if you're traveling the state.