If you don't like free food, you're either too proud, or you're a liar. Pairing drinks with complimentary eats is a time honored tradition at some of the homier bars in the suburbs and beyond -- local spots where gregarious regulars will roll out crockpots of nondescript dips fit for Ritz crackers, enjoyed predominantly by other regulars. But here in the City, most bars are strictly transactional: we give them money; they give us drinks; repeat.
 
There's no such thing as a free lunch, or snack, or whatever, but there are some choice spots around the city where you can soak up your drinks with food, compliments of the house. The double bonus is that most of the bars that are treating their customers to these snacks are already dives or otherwise low-cost endeavors. If you could get a beer and a shot for $5 and also skip a Seamless order? That's living the high life, folks.
More: 12 Great Bars to Get a Beer and a Shot for $5 or Less in NYC
Williamsburg
One of the most established dives in Williamsburg, this Texas-leaning hotspot brings Lonestar state-sized generosity with its bar snacks. Free Cheez Balls abound by the bowlful, but the big containers of Twizzlers for the taking are The Levee's low-key free snack hit. Pair 'em with a Gatorita (a margarita made with Gatorade) and yeehaw buddy, you're all set.
More: Follow the Xmas Lights to These Boozy Brooklyn Dive Bars
Hell's Kitchen
When you're talking about free bar food, you have to talk about Rudy's, which remains the gold standard. The Hell's Kitchen institution has been doling out free hot dogs with every drink for as long as Steely Dan has been performing "Black Cow" (which name drops Rudy's, by the way). Are they the best hot dogs? No, of course not. But they're more substantial than a bag of chips, and a delicious counterpart to a $5 beer+shot. It's a real working-class special.
Williamsburg
The Charleston will hook you up with a free personal pizza with every drink you order before 7pm each day. The WIlliamsburg dive has held on at its N. 7th and Bedford location as other iconic dives have perished in the face of the Apple Store/Whole Foodsification of the neighborhood (RIP Rosemary's), and it's managed to keep the pizzas free in the process. Add toppings for $1 and start your night off right!
Astoria
Peanut bars dot cities across the country, and Mad Donkey in Astoria is a worthy local entry into that canon. You get the basket of nuts, you eat the nuts, you throw the shells on the floor—what a concept! Now, nobody would ever accuse peanuts of being a full meal, but as a savory snack to pair with a pitcher of beer, you could do worse. Best to avoid if you have, say, a fatal peanut allergy.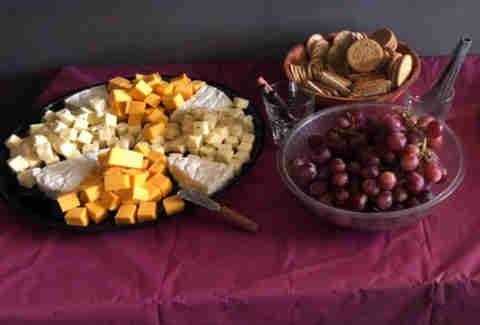 Cobble Hill
Located a stone's throw from downtown Brooklyn on Atlantic Avenue, Brazen Head gives its customers three high-quality free food options throughout the week. On Mondays, Gumbo Bros. caters free chicken wings at 5pm until they're gone (this is also their trivia night hosted by Jeopardy! champ Austin Rogers!). Wednesdays at 5pm they bring in a cheese, crackers, and grapes platter to pair with a happy hour wine special. Sundays starting at noon there's a bagel bar provided by Court Street Bagels. If that wasn't enough, they're also extremely chill about allowing outside food. 
More: Plan a Perfect Visit to the Brooklyn Heights Promenade (Before it Closes)
Williamsburg / East Village
The one-two reptilian punch of Williamsburg's Alligator Lounge and the East Village's Crocodile Lounge is another chance to get a free personal pizza with every drink. Even outside of the context of price-inflated NYC, it's quite a deal. What's more, these brick oven pies are not bad pizza! Like The Charleston, additional toppings are $1 at both locations, but a free plain cheese pizza is more than enough of a snack to get a base in your belly for a few rounds of drinks.
Nolita
Known for its "Early Morning Drinker's Society," Spring Lounge remains one of the few third shift bars still operating in NYC, opening at 8am every day. And its twice-a-week free food options are a low-key great customer appreciation act. On Wednesdays at 5pm, they offer free beer-boiled hot dogs (while supplies last), and at high noon on Sundays they cart in a bagel bar with all the fixins to help ease some of those Sunday scaries.
More: NYC's Best Bagel Shops
Greenwich Village
One of the few "gourmet" free food options, Greenwich Village craft beer institution Blind Tiger Ale House cheeses it up every Wednesday. At 6pm, they bring in a selection of cheeses from high-end purveyor Murray's Cheese along with fresh baguettes. The cheeses are different every week, and supplies go fast, but it's one of the best complementary ways to get your grub on in the city.
Park Slope
There are a number of bars with popcorn machines in the neighborhoods west of Prospect Park, and they're all good (see also: Canal Bar, Angry Wades, Commonwealth). Take-what-you-want baskets of popcorn are kind of the perfect bar snack, made all the better when you have some topping options. High Dive in Park Slope offers multiple ways to dust your kernels (Old Bay all the way) to custom make the perfect free savory snack to have with your drink.
More: Get Change From a $10 and Still Catch a Buzz at These NYC Dive Bars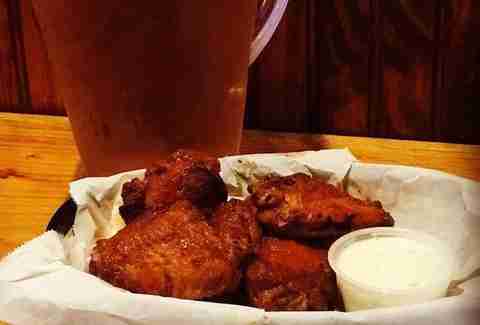 Chelsea
There is no better pairing than wings and beer. This big time New York Islanders bar is here to hook you up with five free wings for every pitcher you order on Thursday nights and Sundays during NFL games. They also have stand up comedy Thursday nights, so you'll have two reasons to smile.
More: The 5 Best Wings in NYC
Sign up here for our daily NYC email and be the first to get all the food/drink/fun New York has to offer.