When you're toes-deep in sand on a Caribbean beach, even a subpar frozen Daiquiri hits the spot like no craft cocktail served in an urban setting ever could. But if that Daiquiri is expertly made with actually good ingredients and quality spirits? Well, that's just a little taste of heaven. So we were ecstatic to discover St. John, the smallest, most well-preserved and gosh darn beautiful of the U.S. Virgin Islands, where the cocktails are as delightful as the beaches.
From Cruz Bay to Coral Bay, more than half of the island is occupied by Virgin Islands National Park, and the rest is dotted with charming beach bars featuring rum-laden tropical concoctions. And with no rules against open containers anywhere on the island, you never have to go without a drink in hand. Consider St. John the drinker's paradise; and the next time you find yourself in need of a boozy tropical vacation, make sure you hit these six stellar cocktail bars along the way.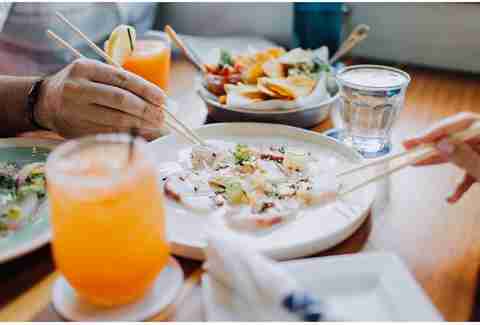 The Longboard is home to the best frozen drink we've ever tasted. A frosty Painkiller pulled from one of those infamous swirling machines, there's no question the drink is made with fresh ingredients and good rum. It's ultra creamy and, like any good Painkiller, topped with a healthy dose of freshly grated nutmeg. If you happen to miss happy hour when the Frozen Painkiller is a cool $5, be sure to check out the bar's list of signature drinks, like the Heart & Sol (grilled pineapple, jalapeño-infused reposado tequila, Grand Marnier, lime, Thai basil, pineapple, honey syrup and a smoked sea salt rim) and Swell Chaser (lavender-infused gin, dry curaçao, St-Germain, grapefruit juice, rosemary, grapefruit bitters). The Island Guacamole, ceviche and other dishes made with locally grown ingredients will hold you over for another round. Ready to book that vacation yet?
Just around the corner from The Longboard you'll find Umami, with all the sushi, sashimi and funky cocktails you'll ever want. Its menu is replete with drinks named for the high seas, like The Filthy Mermaid (rum, Asian pear, mint, cinnamon, lemon, grilled pineapple, blackstrap rum), The Drunken Octopus (Thai chili-infused tequila, watermelon grilled pineapple syrup, lime, smoked chile-lime salt) and The Pickled Pirate Pounder (shot of tequila, sriracha and lime with a pickleback and can of Pabst Blue Ribbon). Sit at the bar long enough and you may even get a show from the bar team, complete with rainbow shots, fire and maybe even a little flare bartending.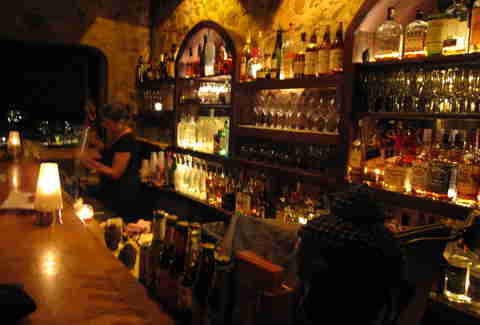 Aside from fantastic food and a killer view, Asolare is home to an impressive selection of rums from all over the Caribbean. If you're new to the spirit and want a primer, start with Asolare's rum tasting that comes with bits of dark chocolate and two distinct rums: Plantation Gran Reserve from Barbados and Brugal XV from the Dominican Republic. Then, depending on what you like, the knowledgeable waitstaff and bartenders will be able to recommend more good options. The bar also has a fun selection of cocktails, like the Caneel Hill (aged rum, lime, passion fruit, house-made falernum), that stand confidently beside dishes like scallop tataki, okonomiyaki and sesame-encrusted tuna.
If you're in the mood for live music, beach games and plenty of rummed-up frozen and "un-frozen" drinks, The Beach Bar is the place to be. It's easily accessible from the port, so it's the perfect spot to grab a drink if you're waiting for your ferry back to St. Thomas or if you just arrived on the island. The bar opens up on Cruz Bay beach, so you can relax in the sand while sipping on a Banana Daiquiri, Dark 'N' Stormy or Cherry Limeade Slush (black cherry rum, citrus). If you get the munchies, the bar also has plenty of classic bar grub, including nachos, chicken wings, and—our favorite—crabmeat wontons.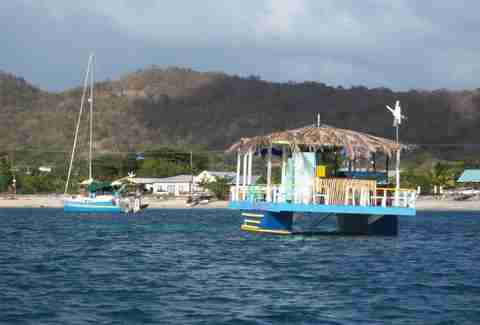 For those rare times that sipping a cocktail on a pristine beach isn't enough, St. John is happy to oblige with this floating bar. Though its location is always a bit unpredictable, when you happen upon this idyllic 40-foot pontoon boat stocked with booze, don't hesitate to swim out to meet it and get your fill of Captain Peter Hoschl's signature Rum Punch. And don't worry, Capt. Pete is more than happy to take your soaking wet cash.
Fair warning: If you don't have a car, you'll probably have a hard time getting to this smoothie shop. Located off a short driveway along Highway 10, it's easy to breeze right by if you're going too fast. Slow down, though, and you'll see the sign promising the free addition of rum to any smoothie of your choosing. Booze up single-ingredient smoothies like soursop—a spiky tropical fruit that tastes similar to a pear—or go for one the fresh fruit blends like the St. John Special with mango, banana, passion fruit, soursop and coconut. The hefty pour of rum is just the icing on top.