Bartenders' Favorite New York City Bars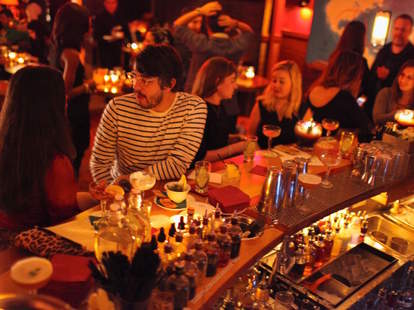 Believe it or not, bartenders in New York spend just as much time on a bar stool as they do behind the stick. If they're not slinging back beers and shots at their favorite dive bars, bartenders are usually hanging with close friends and coworkers at their former places of employment or at bars where they can find inspiration. Whether they're in need of a last call after a long night of work or out on the town on a day off, here are the bars that New York City bartenders call home.
Opened in 2008, this Carroll Gardens cocktail luminary has trained some of New York's best bartenders—many of whom you can still spot cozied up to the bar. With a cocktail menu as dense as a Russian novel, drinks are divided into nine different categories, ranging from Collins and fizzes, to communal punches, to sours and cobblers. Drinking at Clover Club can be an educational experience for anyone—seasoned pro or not—and with the bar's functioning fireplace and cozy Victorian air, it's hard to leave, especially after a long week behind the stick.
With a crazy roster of all-star bartender alumni—many of whom went on to start several of the bars on this list—Pegu Club is one of New York's must-visit cocktail bars. It was named after an infamous 19th-century British officers' club in Martaban, Burma, whose guests included Rudyard Kipling and spirits writer
Harry Craddock
, and whose menu featured the nearly forgotten eponymous
classic cocktail
, which has since become a staple at the New York spot. The bar and the cocktails have a late 19th-century feel to them, with a touch of the exotic roots of the original club evident in drinks like the decadent Champagne Apricato, which features a purple orchid garnish, and in the palm plants and wooden shades that cover the windows. Many young bartenders train here to work with Audrey Saunders, the cocktail-guru behind Pegu Club's menu and concept, who in turn trained with Dale Degroff, one of the founding fathers of mixology. If you're an out-of-towner, come to Pegu Club to experience New York cocktail royalty.
Helmed by Pegu Club alum Jim Kearns, this secret, subterranean cocktail hideaway beneath
The Happiest Hour
is a mecca for inspired, next-wave libations. With a dense back bar stocked with unusual spirits that you're not likely to find elsewhere, the bar's menu features nouveau, high-brow takes on classic cocktails (like a
Vieux Carre
with Louis Royer Force 53 Cognac) and out of this world tiki creations like the Cleopatra, an electric green cocktail made with lime and banana cordials, bison grass vodka,
cachaça
and pandan (a psychedelic-looking extract from a Southeast Asian plant that tastes like cereal milk). If you're in the industry, you'll definitely spot fellow barmen (and women) having a drink and taking notes.
Attaboy
Hidden in plain sight, this unmarked, East Village bar had cocktail street-cred before it even opened its doors. The space was formerly occupied by
Sasha Petraske's
famed speakeasy Milk and Honey, and Attaboy is helmed by two of the original Milk and Honey bartenders, Michael McIlroy and Sam Ross. More casual and loose than its predecessor, Attaboy not only rivals its former occupant in quality, but also in ingenuity and dedication to craft. With no written or printed cocktail menu, the bar serves as a mood ring for its customers' drinking desires. Go there to be charmed by the bartenders' knowledge and technical prowess, as well as some of the finest cocktails in Manhattan. According to New York bartender and rum cocktail savant, Captain Brian Miller, Sunday night is the night when you'll find the owners holding court at the bar with a few of their fellow bartender comrades.
This unassuming and unpretentious Creole-inspired Red Hook gem is one of Brooklyn's top drinking destinations. Owned by spirits writer and Pegu Club alum St. John Frizell, with former Nomad bartender Tyler Caffall running the bar, Fort Defiance is seriously dedicated to the quality and craft of its cocktails. The two best times to come are on Thursday nights—when the bar transforms into the Sunken Harbor Club, a tiki haven hosted by guest bartenders—and weekday hours—when the bar hosts a cantankerous crowd of regulars and local bartenders. Ivy Mix of
Leyenda
fame says that she frequents Fort Defiance for the day drinking camaraderie and because she can bring her dog when outdoor seating is available.
Whether you're a bartender or not, this beyond hip, outer-Williamsburg cocktail destination is the place to be seen. With a bleached white interior that gives off cocktail-bar-meets-Spanish- cathedral vibes, Donna is the brainchild of Leif Young Huckman (of Freemans and 5 Leaves fame) and designers
Evan and Oliver Haslegrave
. According to
Lantern's Keep
bartender Ginger Warburton, Donna is the perfect spot for industry mingling, great cocktails, a chill atmosphere and an excellent soundtrack. The best time to visit Donna is a weeknight during happy hour when the bar is still somewhat relaxed and you can get two tacos and a draft cocktail for $12. Also of note—and a favorite among bartenders—is the bracingly bitter and refreshing Brancolada, Donna's signature variation on the
Piña Colada
made with Fernet Branca Menta.