A bartender's tattoo isn't just ink, it's a story—and like bartending itself, it's not just a man's game, either.
We asked three of our favorite female bartenders for the tales behind their tats. And because great art is great but it's never everything, we also got them to tell us about bars, bartending, and life viewed from behind the stick.
They all shared some interesting thoughts about both ink and drink. Take a look:
Anna Wingfield, Mother's Ruin, Manhattan
You have a bat on your right bicep. What inspired that?
I am a huge horror-film fan and wanted a tattoo to represent all my favorite spooky things, like a spooky bat.
You have a finely detailed bird—maybe a sparrow?—on your right forearm. Is there a story behind it?
The bird is a White Crown Sparrow, and it's for my parents. They are both ornithologists and they met while studying this bird. This was my second tattoo, and I wanted it to mean something close to me. While tending bar in Baltimore, I had group of grad students comment on the bird, and then found out they had all studied my parents work!
Can you tell us about the cat and coupe glass on your left bicep?
The cheeky cat and the coupe glass is a stick and poke tattoo by Jenna Bouma, who's based in Greenpoint [Brooklyn]. A good bartender friend and I have a tradition of getting a tattoo, and then feasting on nachos. This year we got matching kitty cat cocktails.
What makes a great tattoo artist?
A steady hand! No shakes. A great tattoo artist can't be afraid to get a little weird, and be sociable. Tattoo appointments can take from 10 minutes to hours long—the worst is when you have to sit there in an awkward and painful silence for hours on end.
What makes a great bartender?
Same thing! It doesn't matter what kind of bar you frequent—a bartender who is standoffish creates an awkward and cold environment. Not necessarily a place you want to spend your time or money.
What are the keys to a great bar?
A great bar has a balance of where I can feel at home but also get away; where I can see some friends or make some new ones. It doesn't have to have a big selection but the ability to get a cold glass of white wine, or a cider and a shot. And comfy stools.
Tonia Guffey, Dram, Brooklyn
How would you describe your overall tattoo style?
Well, my boss says I look like a Lisa Frank notebook! I'd say patchwork–y. I've been getting tattooed for the last 17 years! And I'm clearly not covered. I never was the kind of person that wanted full sleeves, though now I am wanting to fill in more. I like to take my time thinking about a tattoo for a while before getting it. Of course I'd be lying if I didn't say I also have a lot of impulse tattoos.
Do you have a favorite of all your tattoos?
I don't have one favorite—I forget about some of them sometimes and then remember, like, Oh yeah I have that guy…. You always get a little obsessed with your most recent, I think. I'm in the middle of a lower leg sleeve. I have some big pieces that are on my legs and back that people don't get to see much. Most of my tattoos are either food-and-drink related, animals, or band tattoos. Because I'm never going to be like, Man, f*** bacon. Or, F*** bunny rabbits, they suck now.
Which one has the best story behind it?
They all have some stories. I have a stick and poke that took six hours with a quilting needle and a pencil eraser. I have a giant Danzig skull tramp-stamp I wanted since I was 15 that I got when I turned 30. One time this dude who was a tattoo apprentice put this big Wu Tang tattoo on me that was a bit bigger than I'd hoped. Oh, I was working a shift one night and a couple friends of mine came in while they were waiting to get tattooed at this shop around the corner, and I got envious. So I had one of them watch the bar—he was a great bartender—and I went over there and got my feet tattooed.
What makes a great tattoo artist?
The ability to listen, but also to be honest and tell you what will and won't work. Skin isn't like paper. It's lumpy and moves differently. Not everything transfers to the places you want them. If you have a really great artist you have to trust that they're going to try to give you their best tattoo because it's representative of them. If they say not to get something in one place because it will be better somewhere else, they probably know better than you.
What makes a great bartender?
See above! We want to make you a great drink, just trust us and let us guide you toward what you want. Again, the ability to listen, but also to tell it like it is.
What are the keys to a great bar?
Great staff. Great music. I don't care if the only thing the bar has is amaretto and crappy canned beer—if the staff is awesome and there are good vibes there I'm having amaretto and canned cold ones!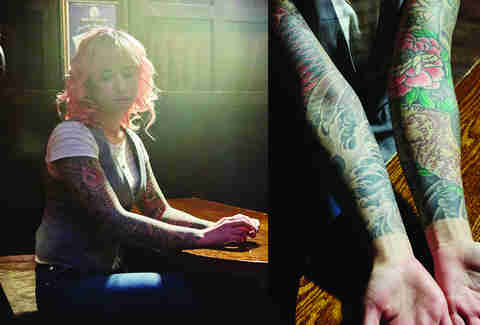 Natalie Jacob, Dutch Kills, Queens
Can you tell us the story or stories behind your sleeves?
I've always really loved the history behind traditional Japanese tattooing and the stories that go along with the imagery. I knew that for my larger more curated pieces (like my arms and back) I wanted to focus on this style of tattooing. Mike Rubedall did them both about 10 years ago and I'm currently working on my back—that's not yet finished.
How long did they take to complete?
Each arm was 33 hours.
You have most of your upper back and shoulders inked too. Can you tell us about that work?
I have my whole back tattooed but it's only outlined and shaded currently. It's still a work in progress. It's a tiger and snake battling and it hurts a lot.
Do you have a favorite?
They're all special to me and remind me of certain times in my life so it's hard to pick. I do really love my cartoon portrait of Bruce Springsteen, though!
Which one has the best story behind it?
The one that makes me laugh the most is the Grim Reaper drinking a Piña Colada. Andy Perez did it for me right after PKNY [former Lower East Side tiki bar] closed. It is my RIP Tiki tattoo.
What makes a great tattoo artist?
A great tattoo artist is able to translate your ideas into art, make you feel comfortable, and hopefully allow you to leave happy and with a tattoo that you're going to love for the rest of your life.
What makes a great bartender?
A great bartender has the ability to adapt to certain situations, work well under pressure, be respectful to coworkers, be a great host, and make a guest feel welcomed enough to want to come back again and again.
What are the keys to a great bar?
A great bar starts with your staff. If the staff is happy, the guests are happy. Of course, atmosphere, a great menu, and delicious drinks don't hurt either—but the staff is responsible for delivering the whole experience to go along with those things.