All glassware breaks eventually. OK, maybe not all glassware, but everyone is guilty of dropping and shattering a glass now and then. And while certain occasions may call for crystal stemware, everyday bar glasses need to be workhorses. They should look gorgeous but not be so expensive that you'll spiral into a state of despair if one accidentally hits the floor. To help keep your bar looking on point and your wallet happy, here are nine of the most beautiful cocktail glasses you can buy—at a price you can actually afford.
Cool mugs are aplenty in the tiki world, but it's not often you see them made from blown glass instead of the usual ceramic. These exotic ombre glasses from artist Andrew Iannazzi can be purchased individually if you're on a budget or in a set of four if you have a little more money to spend.
The perfect vessel for sipping a Japanese Highball, this gorgeous set of gold-flecked Collins glasses will add a touch of sparkle to an otherwise boring bar cart. The golden Koi pattern gives the illusion that fish are swimming around in your drink, which will add some whimsy to your happy hour. Bonus points if you fill the glass with a Maki Mary, a Japanese spin on the classic Bloody Mary.
This ornate pint glass features a bright, European-inspired pattern that totally transports us to a faraway land. Use it to dress up your favorite Michelada or Gin & Tonic this season.
If you're an agave fanatic, this beautiful stoneware shot glass set is exactly what you need in your life. Use the glasses to sip your favorite tequila, mezcal or raicilla. The stand even acts as a tray for citrus slices and salts.
Cocktail hour isn't always cheery and bright—sometimes we feel moody and want that to be reflected in our glassware. This elegant, gray-tinged coupe will bring plenty of drama to its contents, no matter if it's a cheerful glass of bubbly or something more mysterious like the Widow's Kiss.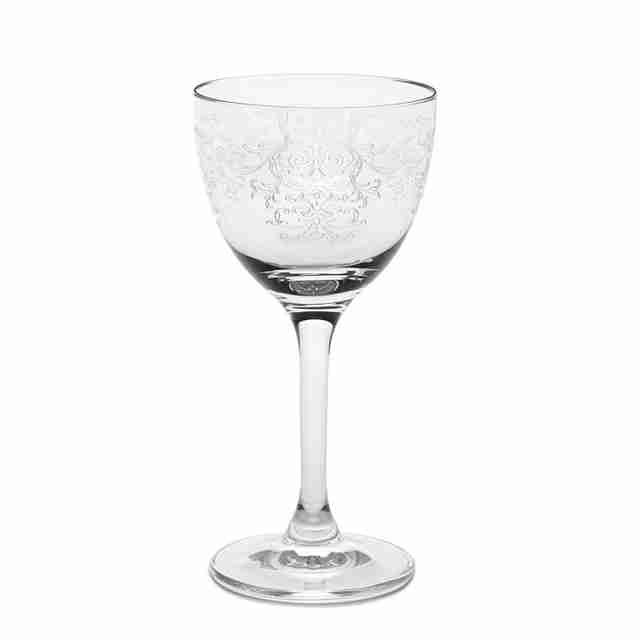 Delicate Nick & Nora glasses will never go out of style, so every cocktailian should own a set. These crystal glasses are crafted in Europe using 1920s molds, so you'll be sipping pretty like vintage flappers and silver-screen stars.
This gorgeous glass one-ups Don Draper's fancy drinking vessels—and that's not an easy feat. This gilded lowball was made by master craftsmen at Krosno, a European collective that's been designing glassware since 1923, and is exclusive to Crate and Barrel. Use it to sip an Old Fashioned or a double pour of your favorite spirit.
At once modern and retro, these gorgeous glasses will catch the light and turn heads at every gathering. We would use them for everything from wine to a citrusy, refreshing Paloma.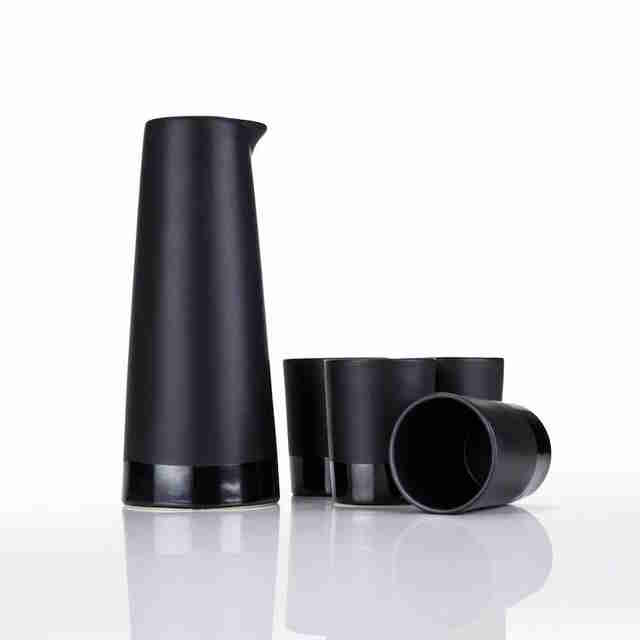 Matte ceramic stone is accented with a glossy obsidian base to give this carafe and quartet of matching glasses a sleek, textured look. The eye-catching sake set may not be traditional, but it will look gorgeous alongside a spread of homemade Japanese eats.