The Most Stunning Beach Bars Around the World
Picture the best place in the world. If a sandy beach bar overlooking crystal clear water doesn't immediately come to mind, then you might want to get yourself checked out. We can't think of a better way to spend a day than basking in the sun, drink in hand, while cool blue water laps away at the shore. And there's no better place to do exactly that than at one of these amazing beach bars. It's time to start thinking about your next vacation.
Blue Waters recently went through a resort-wide renovation, and now the property is more stunning than ever before. One of our favorite new additions is the expansion of Carolyn's Beach Bar, which is situated on a secluded stretch of sand that wraps around Soldier's Bay. There, you can sip on tropical libations like a Dirty Banana or Planters Punch as you plan your next exotic adventure. On second thought, maybe there's no need to move from this spot for the rest of the day.
Lola's, Playa Avellana, Costa Rica
As a friend noted when we posted this photo of Lola's beach bar, "This looks like a computer screen background." But the incredible view is, in fact, real, and anyone can enjoy it with an icy drink in hand. Choose from a list of tropical favorites like a Cuba Libre or Caipirinha, or spring for an exotic fruit cocktail (guanabana Margarita, anyone?). Savor it under a palm leaf umbrella or in one of Lola's oceanside hammocks.
There are two ways to get to this secluded Mediterranean beach bar: You can jump on a shuttle boat from nearby Marina Piccola or make your way down a pathway that wraps along a steep cliff. Either way, the journey is worth the reward of sitting under a blue and white striped umbrella, watching waves lap around the Faraglioni rock formations. The drink of choice at Fontelina is their chilled white Sangria, which is loaded with sweet, juicy slices of the island's peaches.
This oceanfront restaurant and bar is part of Uruguay's Bahia Vik beach retreat, which is a short walk from the chic town of José Ignacio. It's one of the best places to catch an ocean sunset in South America, and imbibers at La Susana do it with a Christiana Clericot, which is kind of like a tropical Pimm's Cup. Sip away at the sunny libation, snack on locally-sourced grilled meat and fish under a thatched cabana, and enjoy one of the best night's of your life.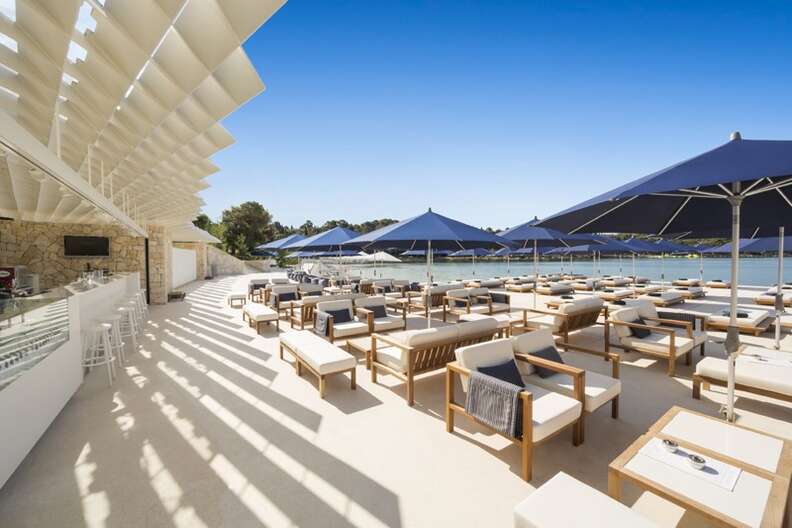 This bayside bar is open from 9 a.m. to midnight every day, so you can get your fix anytime—whether it's with a spiked morning coffee or an afternoon spritz. Sink into a plush chair in the shade of an umbrella or take your bevvie right up to the water and enjoy the view. If you're in the mood for a location change when your drink runs dry, head up to Hotel Monte Mulini's swim up bar and wade up to one of the sunken stools.
Spend one evening on the sand at this oceanfront hotel and you'll understand how the resort got its name. Located on Shelter Island, which is smack dab in the middle of Long Island's North and South Forks, Sunset Beach is the place to be if you're looking for a fun spot to imbibe on a hot summer night. The sand creeps into the bar where you'll find a backyard full of fire pits and possibly the best sunset view in all of New York State.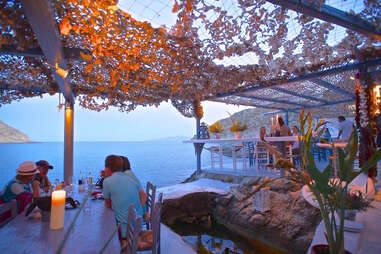 If a view from a cave is what you crave, a visit to Spilia on Greece's favorite party island is definitely in order. Situated next to Kalafatis Beach, this restaurant and cocktail bar overlooks the sparkling Aegean Sea for a breathtaking scene. Sip a light afternoon cocktail with a fresh seafood lunch, take a brief siesta, then come right back for an evening of drinking and dancing to a live DJ.