The Most Beautiful Beach Bars in America
Great beach bars aren't just reserved for exotic destinations and life-changing vacations. In fact, there are tons of great oceanfront watering holes right here on our gorgeous Atlantic and Pacific coastlines. Whether it's a tropical Florida Keys hideaway or moody Northwest brewery, feast your eyes on the most beautiful beach bars in America.
This classic Cape Cod oceanfront bar and restaurant is a favorite among locals and visitors alike when it opens its doors for the summer season. Sweeping views of the Atlantic, live music and a killer raw bar keep people coming back year after year, but we're really here for The Beachcomber's outdoor bar. Settle in for a classic Daiquiri or go for their signature Goombay Smash, made with a secret house blend of rums, juices and a Myers's rum float.
Malibu is one of the most beautiful places in the country, but there aren't a ton of beach bars situated between the multi-million dollar homes along the area's coastline. Thankfully, there's Neptune's Net, which has been serving surfers, vacationers and bikers traveling up the PCH since 1974 and appeared in movies like Point Break and The Fast and The Furious. The restaurant's main draw is its famous clam chowder and generous seafood platters, which are best washed down with an ice cold beer, Piña Colada or Strawberry Margarita.
Hawaii's Big Island is picturesque enough, but Lava Lava Beach Club makes enjoying the island's vast beauty even more of a treat. Take a seat on the open air patio or opt for a table right on the sand as you enjoy one of the bar's signature cocktails, like the Green-Tini, made with a refreshing mix of gin, housemade jalapeño syrup, muddled pineapple and cilantro. Visit them on Sunday to indulge in Lava Lava's Bloody Mary brunch, which features seven well-garnished variations of the classic.
Go early to snag a table if you want to catch the sunset at this local Islamorada favorite, as the breathtaking view is a hot commodity. Lorelei boasts live nightly entertainment, which can quickly turn into an impromptu dance party if the mood is right. Sip on a frozen favorite like the Key Lime Colada, drink up a tropical Planter's Punch, or grab a bucket of ice cold beers for a price you can't refuse.
The Pacific City outpost of Pelican Brewing is arguably one of the most beautiful locales in the country. And considering the surroundings, it's not difficult to see why—moody Cape Kiwanda, with a horizon marked by the famous Haystack Rock, is one of the most stunning places we've ever been. Stop in to sample their seven-beer flight, which includes five year-round brews plus two seasonal specialties.
The Jersey Shore still gets a bad rap because of certain ridiculous reality shows, but you'll discover the state's strip of Atlantic shoreline is one of the most beautiful in the country if you give it a chance. Attached to the historic convention hall in Asbury Park, The Anchor's Bend is the place to come day and night for live entertainment, tasty snacks and booze galore. Go for a classic Mai Tai or rum punch by the bucket.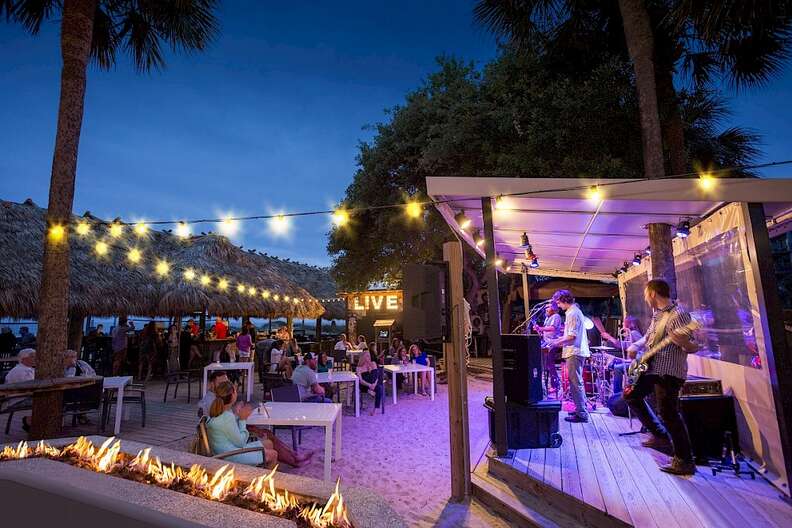 There are surprisingly few beach bars along Hilton Head's 12-mile stretch of coastline, but Tiki Hut makes up for it. It's nothing but blue skies and white sand at this watering hole where you can listen to live bands, brush up on your volleyball skills, or simply relax with your toes in the sand. They have a long list of frozens along with fresh-made options like a Peach Margarita and traditional Mojito.