13 Insane Bloody Marys That Have Gone Too Far
In what has become the nuclear arms race of the brunch cocktail world, bars and restaurants are topping their Bloodies with more and more crazy "garnishes," which have more in common with a three-course meal than an olive on a pick. Here, 13 Bloody Marys that have gone way too far.
Baltimore, MD
If you're coming to Baltimore for the crabs, be sure to stop at Phillips Seafood for the seafood smorgasbord known as the Crab Deck, which comes topped with a tangled net of crabs, shrimp, potatoes and chicken wings (for some protein variety).
Milwaukee, WI
Sobelmans is known for their rotating menu of wild Bloody Marys, but none is more legendary than the Bloody Beast, which comes with not only skewers of sausage, cheese, veggies, olives, shrimp, bacon-wrapped jalepeño cheese balls and cheeseburgers, but an entire fried chicken. The meaty monstrosity redeems itself by donating $5 of its $50 price tag to a local charity.
Nashville, TN
This retro-casual burger joint offers the Big Fix for brunch. Served in a big frosty mug with crispy bacon, skewers of olives, pickles and peppers, a skewer of chicken and potatoes, and a massive snow crab claw, it's even intimidating to Instagram dog-lebrity Doug the Pug.
Long Beach, CA
In a world where garnishing a Bloody Mary with a cheeseburger has somehow become passé, this southern-style eatery mixes it up by swapping in a barbecue pulled pork slider instead.
Austin, TX
While we aren't totally sold on eating a powdered doughnut, chocolate doughnut and huge cinnamon roll with our spicy tomato juice cocktail, we'll gladly indulge in the Hail Mary's sweet garnishes afterwards for dessert.
Pittsburgh, PA
The hardest part about consuming this seafoody Bloody Mary is getting past just how gosh darn adorable that deep-fried crab looks.
Vancouver, BC, Canada
Our Northern brethren love their briny Caesars, and this Vancouver bar is known to have the country's craziest. The bar is constantly coming out with new, ridiculous concoctions, but their two most recent offerings are particularly intriguing: the Egg McCaesar (garnished with a skewer of tater tots and a ham, cheese and egg sandwich on an english muffin) and the KFCaesar (garnished with fried chicken, a mac and cheese ball, onion rings and a slice of chocolate cake).
Chicago, IL
This Asian-fusion restaurant condenses an entire Chinese buffet into their Sumo Mary, which is garnished with Chinese broccoli, loompya stick, Oshinko, a baked snow crab hand roll, duck bao, braised pork belly and more.
Montrose, TX
A '90s-inspired, boozy pizzeria sounded good enough, but a Bloody Mary topped with an entire pizza slice? That's it, we're officially moving to Texas.
Traverse City, MI
This seafood restaurant is only open in the warmer months (which, in Michigan, are few and far between) but the Chubby Mary is worth the wait. An otherwise traditional Bloody Mary, the cocktail gets a touch of local flavor from a whole smoked chub—little fish face and all.
Las Vegas, NV
Leave it to the king of over-the-top himself, Guy Fieri, to serve an insane Bloody Mary at his restaurant in Las Vegas. The Hangover Recovery Bloody is 52 ounces—more than the human stomach can hold—and comes with whatever combination of garnishes you choose. Pick between proteins such as candied bacon, pepperoni, chicken apple sausage or shrimp, along with other garnishes like cheese cubes, banana peppers and fruit slices. Then kiss your hangover goodbye.
Fond du Lac, WI
A few years ago, a Brewers-themed Bloody Mary hit Reddit and went viral thanks to its baseball-themed garnishes, like popcorn, nachos, hot dogs and peanuts. Its creator, Sarah Jayne Pickart, makes these themed masterpieces on the first Sunday of every month and sells them for just $5. Considering they can probably feed a family, that's one heck of deal.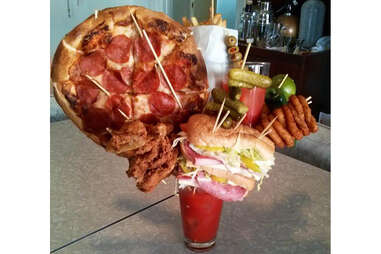 If you couldn't tell that this Bloody Mary, garnished with a whole pizza, fried chicken, a cold-cut sub, onion rings, french fries and a second Bloody Mary, was not from a real bar, but a joke from comedian Randy Liedtke, you're part of the problem.