Admit it: Drinking on the beach is great, but it can get a little boring. As beautiful and relaxing as ocean waves and the beaming sun can be, you eventually just end up buzzed on the hot sand with nothing to do, like a tipsy fish out of water. Fortunately for those who love the beach but need more entertainment than just lying around and tanning, boardwalks exist. Here are the best, most drinking-est boardwalks in the country.
Coney Island, NY
Coney Island, aka America's playground, isn't just famous for the annual Nathan's Hot Dog Eating Contest. There are plenty of places to get your drink on in between rides on the Cyclone and trips around their enormous ferris wheel. Hit up Coney Island Brewery's outdoor biergarten and grab a bottle of their famed Mermaid Pilsner or one of their hard sodas. Then, when the sun goes down, get your party on at one of Coney Island's awesome dive bars like The Freak Bar, Brown's Lounge or the Mermaid Club, and satisfy all of your Boilermaker and bar food cravings.
Myrtle Beach, SC
For a boardwalk with a country vibe, head down to Myrtle Beach and put some honky in your tonk. Bars like The Bowery and the Myrtle Beach House of Blues pride themselves on delivering top notch blues, country and bluegrass performances. Enjoy some homestyle eats at the all-you-can-eat buffet at Mammy's Kitchen or stop by Big Mike's Soul Food for their famous fried chicken. Then, cap off your night with some liquid nitrogen cocktails and smoked meats (if you still have room) at The Chemist, an absolute must for cocktail and science buffs alike.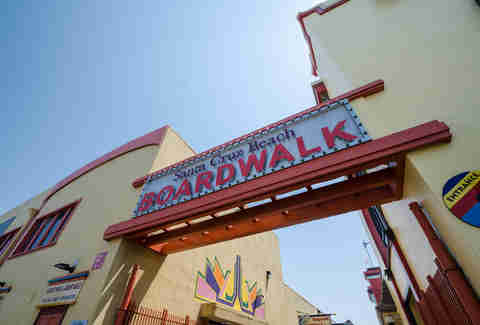 Santa Cruz, CA
The recent winner of Amusement Today's Best Seaside Park award, Santa Cruz is full of action-packed rides and rollercoasters, surfy Mexican joints and oceanfront concerts. Be sure to free up some time to stop by Santa Cruz Mountain Brewing's taproom for some of their award-winning flagship ales before the show. Then, after you're done snapping pics of the band under the sunset, keep the party going at one of their many beachy Irish pubs like Rosie McCann's, or take it down a notch at 515 Kitchen and Cocktails for some craft cocktails like their Provencal Sour, made with herbes de Provence-infused gin, pear liqueur, triple sec, lemon juice, and lavender bitters.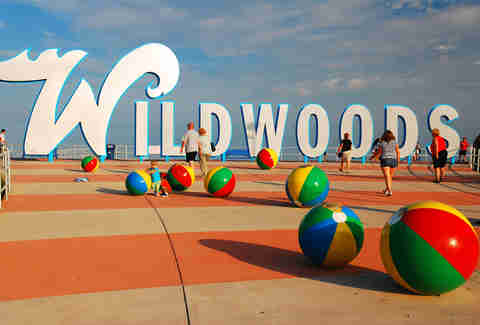 Wildwood, NJ
Wildwood is New Jersey's own little bike-friendly Coney Island, full of group-pedaled wagons, amusement park rides, seafood, Jersey-style pizza and live music bars. Listen in to the bands playing at Beach Creek Oyster Bar or Boardwalk Bar and Grille, and enjoy your choice of whiskey with clams, steak and fish at either spot. On your way back from your night of drinks, music and seafood, stop by Mack's Pizza for a personal boardwalk pie from a family-owned pizzeria. But do your best to keep your wits about you, and "watch the tramcar, please"—an automated phrase spewed from tourist trams that you'll hear over and over and over again.
Virginia Beach, VA
Virginia Beach's boardwalk stretches three miles, and is a hot spot for clubbing and cocktails. After a day of beachside activities or swimming in the near-Caribbean-levels of clear waters, have yourself a hearty seafood dinner at Rockafeller's, where the fish is fresh and local, or Tautog's for some shrimp and crab. Then, prepare for a long night out. Head up to the Virginia Beach Hilton's Skybar for some spectacular ocean views and Margaritas, and dance the night away at Central 111 Tapas Lounge, open until 3 a.m. Just try not to spill your Martini as you shimmy away the night.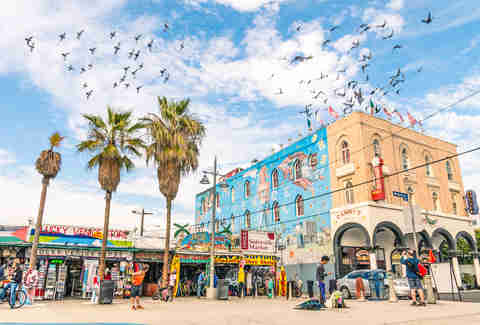 Venice Beach, CA
Tattoo places, food vendors and street performers galore, Venice Beach is one of SoCal's main attractions, known for its beautiful beaches and entertaining people-watching. Grab your rollerblades and hit the bike paths (or skateboard ramps, if you're really daring) that stretch 1.5 miles down Venice's boardwalk. Once you've built up an appetite, you have a few options: Crush some Margs and burgers with the locals at Venice Whaler, guzzle some IPAs or cocktails at the Otheroom, take down some exotic sausages and German beer at Wurstküche, or whet your palate with some Pinot Noir and cheese at Venice Beach Wines. Don't worry, there is no wrong answer.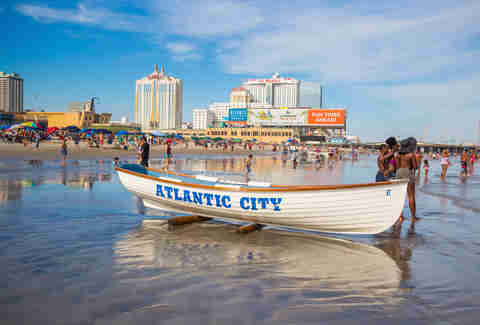 Atlantic City, NJ
If you've never been to Atlantic City, imagine what it would be like if you took Las Vegas out of the desert and stuck it on the beach. There is something for every kind of drinker here: Fancy yourself a cocktail? #BarWithNoName, the region's first craft cocktail bar, has a selection of signature drinks like their French Canadian—made with Lot 40 rye, Cointreau, maraschino liqueur, St-Germain and orange—or an upscale Gin and Juice, made with Brooklyn gin, cherry herring and Aperol (as well as classics like Sazeracs and Negronis). More of a beer guy? Stop by the Cape May Brewing Company Taproom for an IPA. Will drink anything you can get for free? Put a few chips on black or play the pass line at the craps table and score free drink after free drink at the Borgata. When it comes to boozy boardwalks, AC is paradise.