There are tons of ways to booze cruise, but common charter services often don't take place aboard ultra-luxurious boats. We're talking about yachts with more than two bathrooms, sleeping arrangements for 12 people, and jacuzzis on the upper deck. While most of us will never own one of these high-sea masterpieces, we can now rent them thanks to Boatbound. Like an Airbnb for boats, nautical vacationers can choose to rent these beauties—with a full captain and crew—for anywhere from four hours to multiple weeks, depending on when and where they want to sail. Because being on an ultra-luxe boat really means nothing without indulging in fancy drinks, we scoured Boatbound for the rentals with the coolest on-board bars. Browse the selection and dream about lounging on one of these beauties with an ice cold beverage in hand.
Recommended Video
Charleston: The Ultimate Local's Guide
Miami Beach, FL
This 68-foot yacht has four bedrooms, four bathrooms and comes complete with a captain to helm the ship so you can focus on what's important: getting turnt. Simply bring your favorite bottles to stock the roomy bar and play mixologist for the day.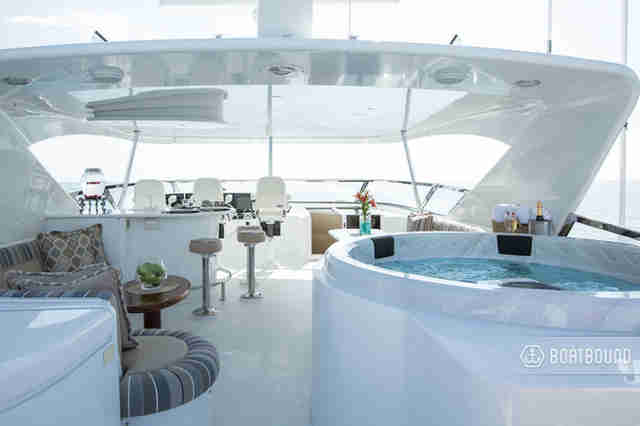 Fort Lauderdale, FL
This is one of the best looking boats we've ever seen, as the interior easily rivals most tin-can city apartments. The bar is conveniently placed on the deck, almost within an arm's reach of the hot tub, so you don't have to travel far for another Mimosa when the craving hits.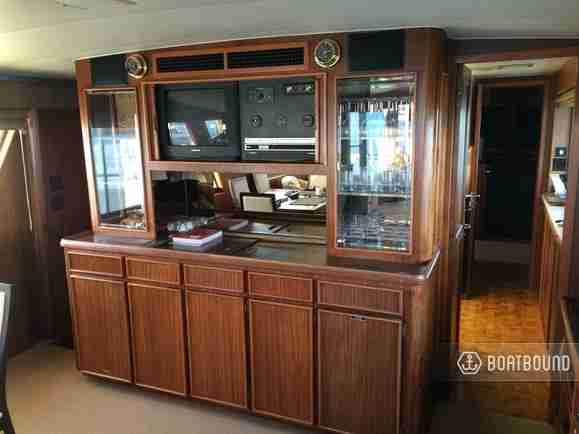 Alameda, CA
You can't pull a stool up to the large bar aboard this 77-foot yacht, but no matter—there are plenty more places to lounge after you pour a dram. It's equipped with four bedrooms and four bathrooms—which doesn't include the separate captain and crew quarters—so you can bring a full-blown party squad along for the ride.
Miami Beach, FL
Adventure lovers will swoon over this stunning yacht, which includes inflatable water trampolines and slides, jet skis, kayaks, snorkel gear and paddle boards. After you're done splashing around, retire to the deck for cocktail hour while someone else throws lobsters on the grill.
New York, NY
This 58-foot motor yacht comes with a fully-stocked bar, which you and your guests can raid if you buy one of the optional food and drink packages. Or you could bring your own budget bottles on board and stare at whatever expensive swag is locked behind the onyx bar.
Miami Beach, FL
You'll feel like a billionaire aboard this luxury yacht, which comes equipped with two jet skis, a jacuzzi, an inflatable party raft and a paddle board. Take a seat at the plush bar and let the on-board stewardess whip you up a tropical libation.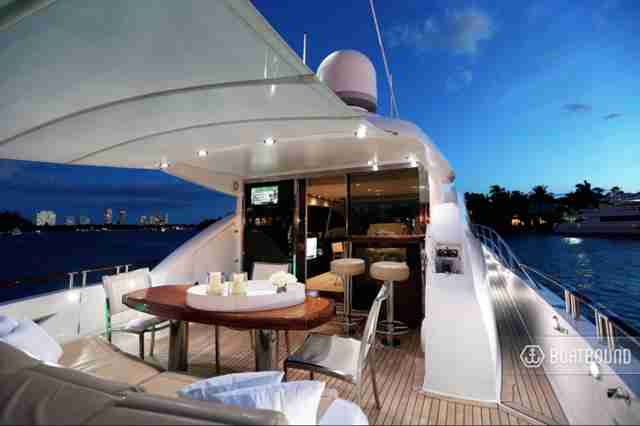 Miami Beach, FL
The bar on deck of this 75-foot Lazzara yacht is small but mighty—perfect for two people looking to get cozy or share a piece of juicy nautical gossip. After watching the sunset, retreat with your libations into the chic white and grey interior.
Chicago, IL
The bar aboard this colorful boat can serve up to 40 passengers, so it's the ideal way to take a big celebration out to sea. We suggest stocking up on bubbly and setting up a proper Champagne bar so guests can customize their libations.